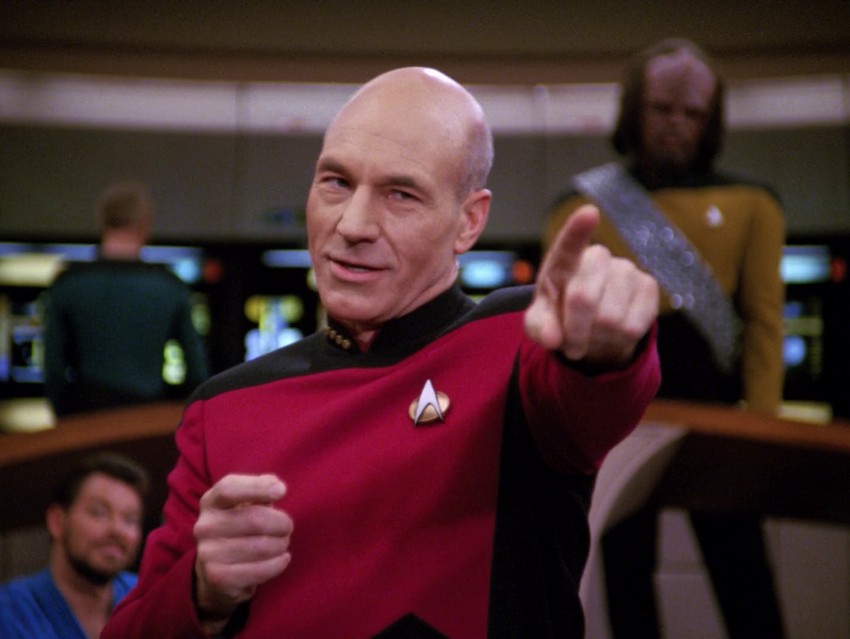 The previous reports were true! Sir Patrick Stewart's Captain Jean Luc Picard will be back to lead a brand new Star Trek TV series on CBS All Access, following on from the streaming platform's relaunch of the long-running sci-fi franchise with Star Trek Discovery last year. In a time where one is rather saddened just to open Twitter or watch the news for that matter, the news that Stewart will reprise his role brings some much-needed light! And of course it does, his character represented logic and compassion over baser elements and was also addicted to Earl Grey tea, hot! Of course it's hot, you plonker!
Stewart famously played the beloved USS Enterprise captain in Star Trek: The Next Generation, the first official sequel to the original Star Trek show, which ran from 1987 to 1994 and then spun off four more movies until 2002. In a post on his Facebook page the brilliantly diverse actor (really, have you seen him as a Nazi in the Green Room?) confirmed what had just been unofficial rumblings until now:
I will always be very proud to have been a part of Star Trek: The Next Generation, but when we wrapped that final movie in the spring of 2002, I truly felt my time with Star Trek had run its natural course. It is, therefore, an unexpected but delightful surprise to find myself excited and invigorated to be returning to Jean-Luc Picard and to explore new dimensions within him. Seeking out new life for him, when I thought that life was over.

During these past years, it has been humbling to hear stories about how The Next Generation brought people comfort, saw them through difficult periods in their lives or how the example of Jean-Luc inspired so many to follow in his footsteps, pursuing science, exploration and leadership. I feel I'm ready to return to him for the same reason – to research and experience what comforting and reforming light he might shine on these often very dark times. I look forward to working with our brilliant creative team as we endeavor to bring a fresh, unexpected and pertinent story to life once more.
I am so happy to hear that! As mentioned up top, we had some reports a few months ago that CBS was making a larger investment into more Star Trek, with several projects in development including this one for Stewart. The US studio brought in stalwart Alex Kurtzman on a five-year deal to oversee the new direction of Star Trek after the huge success of Star Trek: Discovery. Yes, as divisive as the series is, CBS All Access had more signups as a result of the show than any other in their history, so it makes sense to go where the money is.
The new still-untitled show featuring Stewart will take place after the events of The Next Generation. If you have seen the last episode of that series which took place, in part, in the future, we find a Captain Picard suffering a neurologically degenerative disease (I wonder whether they will just leave that as 'not set in stone'?). I for one am delighted about this. Sadly, no indication on when the show will land on our screens though.
Last Updated: August 5, 2018