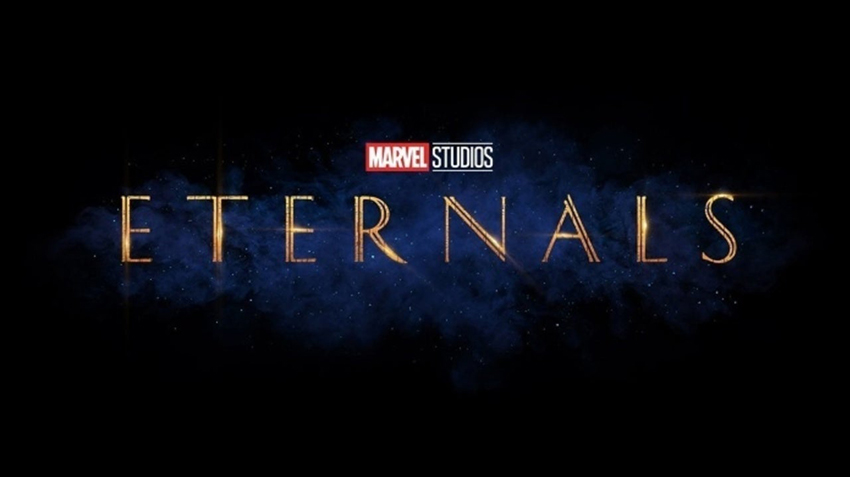 How was your weekend? Mine sucked as I ended up having to work for large chunks of it. Oh and I wasn't in Brazil. Specifically, Sao Paolo for the Comic Con Experience because it was apparently a blast. Not only was the first trailer for Wonder Woman 1984 debuted there by Warner Bros., but Marvel was also on hand to show off their goods. Marvel Chief Creative Officer Kevin Feige personally took to the stage at CCXP, even though he was originally supposed to just video call ("It's much more exciting in person," he replied to the crowd's chants of "Kevin! Kevin! Kevin!").
After thanking the crowd for making Avengers: Endgame the biggest film in history, Feige stated that "It's exciting because now we get to talk about what's coming next." And one of the biggest things in the MCU's future will be The Eternals, the massively casted superhero epic from director Chloe Zhao starring Richard Madden, Kumail Nanjiani, Angelina Jolie, Salma Hayek, Lauren Ridloff, Brian Tyree Henry, Lia McHugh, Don Lee, Kit Harington, Barry Keoghan and Gemma Chan. And those lucky son-of-a-guns in attendance at CCXP got to actually see the first footage from the film. According to Feige, this "raw footage, just pulled out of the camera," and so would not be made available online. Bugger.
Most of the big publications were in attendance though and noted down descriptions of what was shown. I'm including multiple quotes because some people noted some things that others didn't.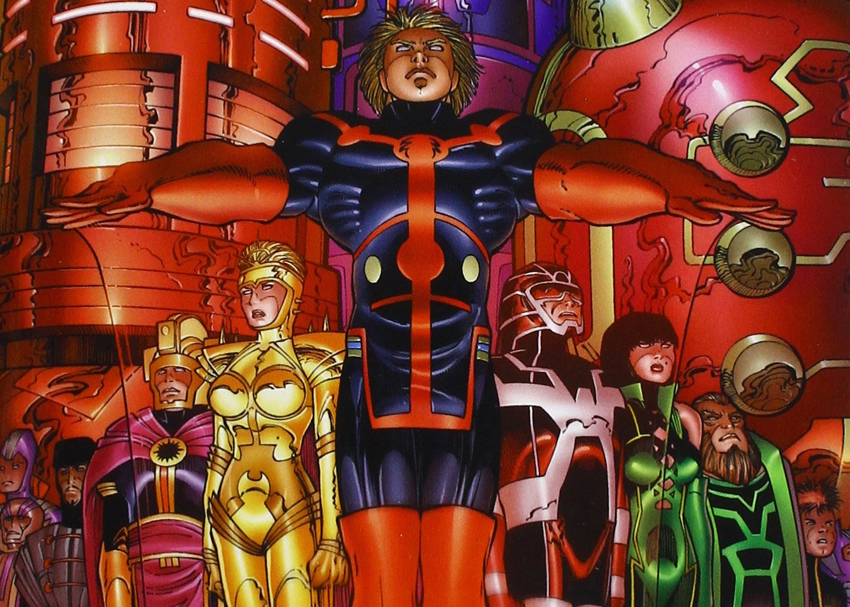 The footage starts with Keoghan's Druig welcoming Sersi (Chan), Ikaris (Madden), Kingo (Nanjiani), Makkari (Ridloff), Sprite (McHugh) and Thena (Jolie) to some sort of ranch. "Make yourselves at home," he tells them.

From there, it cuts to various scenes which are woven together in an epic tapestry that Feige said will "redefine and change" the MCU. We see various members of the group in different parts of the globe, showing the film's diversity. We see brief glimpses of the characters using their power as well as what seems to be a romance developing between Chan's Sersi and Madden's Ikaris; Nanjiani's Kingo in some sort of Bollywood scene McHugh's Sprite clearing dust and, of course, Jolie's Thena (as a blonde) kicking some major ass.

We get more glimpses of the other character with no defining narrative, but close to the end Hayek's Ajak says, "This world has changed us. We must protect it."
The footage starts with a door opening. An old man says he "missed them" to the beings before him — the Eternals, with Ikaris (Richard Madden) out in front — and asks them to make themselves at home. The Eternals are wearing casual clothing rather than their costumes here. We then see the heroes laying on the beach, the sky's color indicating dusk is coming. It seems like they don't know where they are. During the evening, the Eternals are gathered around a fireplace. Ajak (Salma Hayek) is the leader of the group.

There's also a shot of Sersi (Gemma Chan) reacting to something off-screen. In the following scenes, we see what seems like the beginning of a battle. Ajak says: "This land and these people… They changed us. Now we must protect them." Thena (Angelina Jolie) is the highlight of the scene, wearing white armor and striking an enemy's face.

The Eternals are then shown flying. Slowly, all of them get further away from the ground and seemingly absorb some type of energy, showing off the unimaginable power they share. The trailer ends with the Eternals logo formed by golden lines presented on a purple background that resembles a galaxy.
The footage began with a shot of Keoghan's Druig walking out of a door straight into the assembled Eternals, all costumed up in their mythological-looking armor. From there, we got a tapestry of snippets that showed the various Eternals in different locations, showcasing the film's diversity and international casting. –We got some gorgeous close-up shots of Jolie back in blonde, decked out in her white costume. In one shot, she grins — though we have no context why. We also caught a peak at Ajak in action and a sighting of some kind of monstrous army (the Deviants, or just another classic MCU monster army? TBD.)

We also saw what seems to be a romance between Chan's Sersi and Madden's Ikarus, holding hands in some sort of fountain-like structure and standing together in a field. We saw Hayek's Ajak riding a horse in the countryside, heading towards an isolated farmhouse on the horizon. We saw Nanjiani's Kingo, decked out in colorful garb and makeup, danging, surrounded by ensemble dancers in a seemingly Bollywood-inspired scene. We see Druig standing beside a giant temple in glowing orange light (there's a lot of temple stuff in the footage, giving the whole thing an appropriately mythological feel.

Not much in the way of dialogue in this footage, but we did hear Hayek's Ajak say, "These people have changed all of us. We must protect them," before seeing the costumed heroes slowly take flight into the air. In the end, hieroglyph-marked glowing gold lines merge to form the Eternals logo.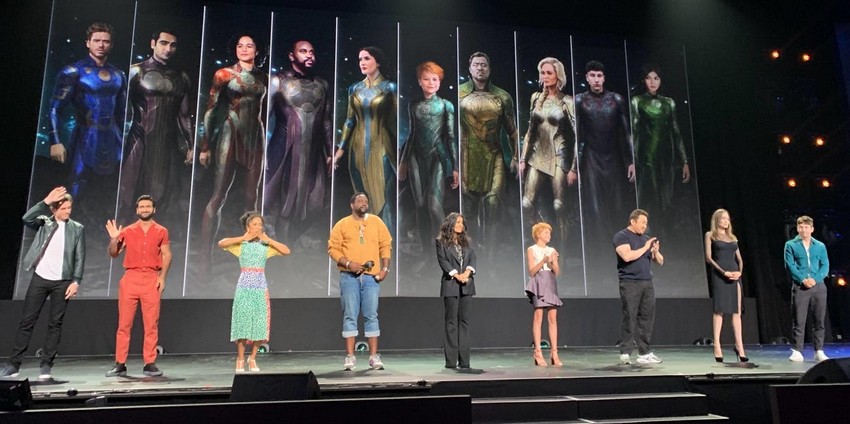 That all sounds pretty damn epic, with a few publications commenting on how incredible Zhao's cinematography is in the footage, including very colourful action on a massive scale worthy of a film that is basically about a group of gods more than superheroes. A few places noted that the footage looked very Jack Kirby-inspired, which has me seriously hyped. Feige wrapped up the footage by claiming that Eternals would be "unlike anything you've ever seen before" and that it "redefine and change the MCU in Phase Four." Now if only Marvel would redefine and change that policy to not release this online, that would be awesome!
To add to that hype, MCU Cosmic's Jeremy Conrad also added some additional details revealed later by Feige, and one very intriguing bit of speculation.
Marvel's The Eternals is currently in production and scheduled for release on 6 November 2020.
Last Updated: December 9, 2019