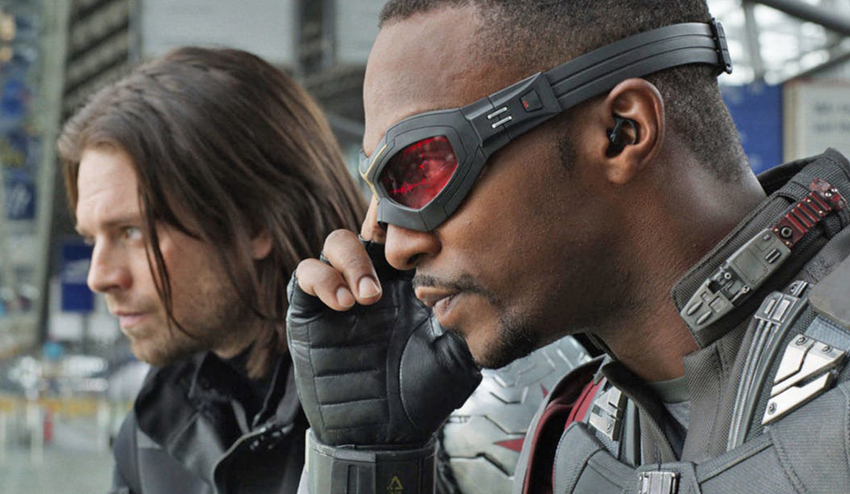 Kevin Feige blew the roof off the Comic Con Experience in Brazil this weekend past when he exclusively debuted the first footage for The Eternals. But that's not the only goods the Marvel Chief rocked up with. Feige also unveiled the first official looks The Falcon and The Winter Soldier's Anthony Mackie and Sebastian Stan as the two titular Avengers, among a few other nuggets of awesomeness. None of this was meant for release outside of CCXP, but this is the internet and so naturally they leaked out.
While the pics are admittedly not all that exciting, just showing off the two men in civilian clothes standing around, it's what Feige says about the upcoming Disney+ show that is. Speaking to the audience later (via ComicBook.com), Feige confirmed what many suspected, which is that Falcon and The Winter Soldier will deal with the events at the end of Avengers: Endgame in which Chris Evans' Steve Rogers chose to travel back in time to grow old with his love, Peggy Carter, passing on the mantle of being Captain America to Mackie's Falcon aka Sam Wilson.
We saw Old Man Cap hand that shield to Sam Wilson at the end of [Endgame], and the question is, what did he do with it next? What does it mean for Sam Wilson and that shield? That's a big responsibility, and that's very much what the show focuses on and is about.
This is, of course, a reflection of what happened in the comics a few years back where Sam Wilson also became the new Captain America when Steve Rogers was no longer able to. There will be one major difference though. As Mackie told Variety recently, he will not be Captain America.
I am The Falcon, I will always be The Falcon. The moniker will stay the same.
On top of Falcon and The Winter Soldier, Feige also teased the upcoming WandaVision to the fans in CCXP. Showing off a mysterious black and white pic with stars Elizabeth Olsen's Wanda Maximoff and Paul Bettany's Vision done up like a 1950s suburban couple, Feige continued the Disney+ show's very off-kilter and cryptic marketing by asking the audience "What's going on there?".
Feige did spill some beans though, revealing that Wanda will finally be adopting her comic book name of Scarlet Witch. And it sounds like all the comic book history and power that comes with that name will be represented in the show as well.
Having the opportunity to tell more of their story, to see more of what Wanda can do, more of what makes Vision Vision, and — most importantly — reveal a name that I'm not even sure we've said in the MCU yet, but we absolutely make a big deal of in the show, which is that Wanda is in fact the Scarlet Witch. What does that mean, that she is the Scarlet Witch? And that's what we play into in this show, in ways that are entirely fun, entirely funny, somewhat scary, and will have repercussions for the entire future Phase 4 of the MCU.
On top of that, while we've already known WandaVision will lead directly from the small screen to the big screen with Doctor Strange and the Multiverse of Madness, Feige revealed that there will be one other earlier show that will tie into the Doctor Strange sequel. A good bet would be the Loki series on Disney+, but it could be Falcon and Winter Soldier as well.
Or it could be something else entirely, as Feige had a last Disney+ surprise up his sleeve: despite only being recently announced, the respective Moon Knight, Ms. Marvel, and She-Hulk series will all be ready to debut on Disney's streaming service by the end of next year.
Damn, that's unexpected. And a bit annoying as it means even more stuff that we can't watch legally here in South Africa until Disney decides to actually give us an alternative to get the Disney+ shows. And with Feige reiterating again at CCXP (via ComicBook.com) that the Disney+ shows will "interlink" with the movies "and then go back and forth", it really leaves Marvel fans in those regions where Disney+ is not launching at a complete legal loss to get the complete story of this universe.
Last Updated: December 9, 2019