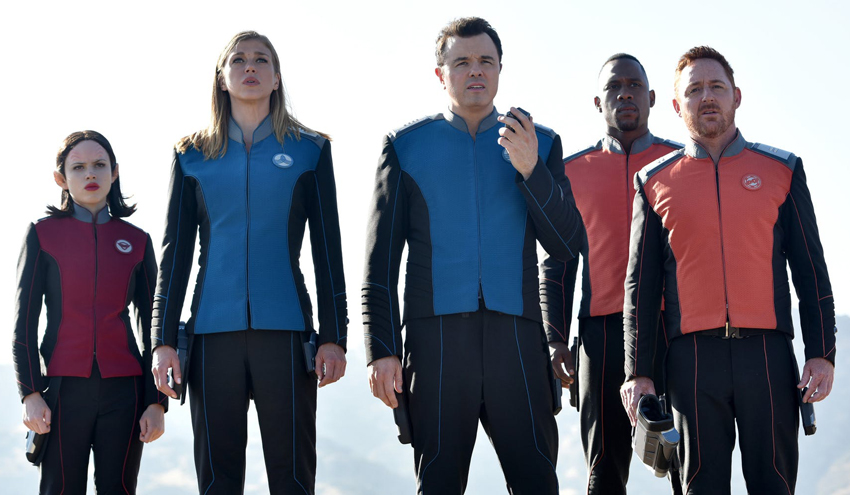 I am most definitely not above admitting when I was wrong. I'm still not sure we're quite at that point when it comes to The Orville though. As I said before, I hated the sci-fi series when it launched, not delivering on the Star Trek parody promises its initial trailers had been making, but instead being a rather boring knock-off interspersed with terribly immature toilet humour. Even creator/star Seth MacFarlane admitted at San Diego Comic-Con in June that they had messed up in both incorrectly representing what type of show they were making and in all the gelatinous alien penis jokes with Norm MacDonald, but they were fixing that.
And he was right, as over time the show got markedly better as it laid off the gags more and more, and instead ended up being a decent stand-in for fans craving those classic Trek vibes. In fact, by the time season 1 ended, I was actually enjoying it, even though I still wouldn't call it great due to its blatant lack of originality. With that said though, I liked it enough that I'm intrigued with where the next season of The Orville takes us. And it's a destination that is definitely seeming to continue its increasingly less juvenile approach based on a brand new trailer that dropped over the weekend.
There is a very noticeable lack of gags and a focus on solid sci-fi adventure action here, as we see glimpses of future episodes, including MacFarlane's Captain Ed Mercer seemingly being separated from his crew and needing to rescued. That may be tougher than it looks as some new alien enemies will seemingly be introduced as well.
Season 2 of The Orville is set to premiere on FOX in the US on 30 December, and also stars Adrianne Palicki as Commander Kelly Grayson, Mercer's ex-wife and his first officer; Penny Johnson Jerald as Dr. Claire Finn, Scott Grimes as Lieutenant Gordon Malloy, Peter Macon as Lieutenant Commander Bortus, Halston Sage as Lieutenant Alara Kitan, J. Lee as Lieutenant Commander John LaMarr, and Mark Jackson as the android Isaac.
Last Updated: October 29, 2018