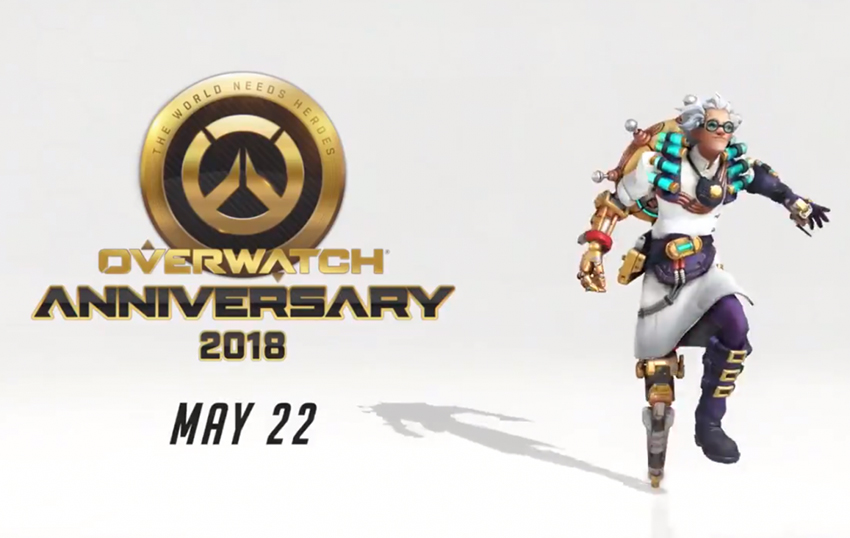 Overwatch's new Anniversary Event kicks off tomorrow, running through to 11 June. As we mentioned last week, this new event is celebrating the second year anniversary of the release of Blizzard's popular arena shooter and just like the first time, alongside returning game modes, this year's event-specific lootboxes will give players the opportunity to unlock all the special cosmetic items ever released in the game. It's not all about that nostalgia though, as we will also be getting new sprays, emotes and character skins. Skins we can now get an early look at.
Officially, these skins were only supposed to be unveiled tomorrow when Anniversary launches, but reportedly a server bug on the game's Taiwanese servers allowed local players to view the content ahead of schedule. Blizzard has since fixed the bug, but not before screencaps popped up on Imgur and Reddit. As previously advertised the new Anniversary event will be bringing with it 8 legendary skins and 3 epic ones. We now know that the latter will be going to Soldier 76, Tracer and Lucio, with Lucio being the most boring of the bunch (it's essentially just a new colour scheme and sunglasses).
On the legendary skin front though we have the pirate Junkrat which had leaked previously, Doomfist being the "dapper gentleman" game director Jeff Kaplan had previously teased, Brigitte rocking bearskins, Torbjorn going full cybernetic, Symmetra pulling a page out of DC Comics magician Zatanna, McCree seemingly doing a Sherlock Holmes cosplay, Orisa looking mean as hell in a tribal-inspired getup, and finally the first Bastion skin I genuinely love as it appears to be influenced by Soundwave from the Transformers. All in all, a great selection of skins, if you ask me.
Along with the Anniversary cosmetics and returning game modes, the event will also be introducing a brand new competitive version of the free-for-all deathmatch mode. To bolster this new mode, a new deathmatch-dedicated map titled Petra is being included into the roster alongside the current Chateau Gillard. And over the weekend we actually got our first official look at Petra as a video preview was released on the official PlayOverwatch Youtube channel.
I play very little FFA deathmatch in Overwatch, but I might have to make an exception now as this map is actually based on the real Petra in Jordan, one of my most favourite real-world historical locations. Because nothing says revering history quite like killing a bunch of cartoon characters on a UNESCO World Heritage Site, of course.
Last Updated: May 21, 2018