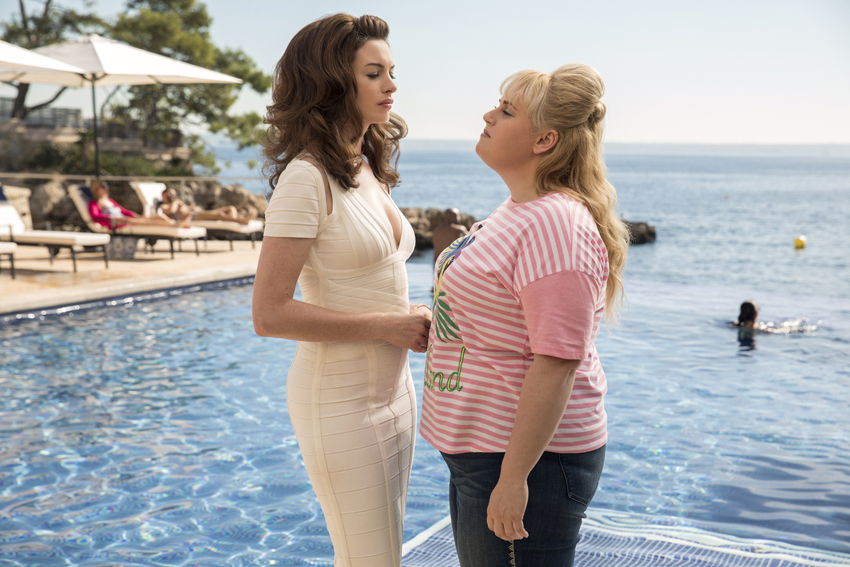 I'm all for way more diversity in movies, and for a short while there, Hollywood really got behind the idea as well with gender-swapped female-fronted productions being announced every other week. Then Ghostbusters happened. Paul Feig's women-led reboot of the classic supernatural comedy drew reviews that were "not too bad" at best, but it absolutely tanked at the box office losing the studio tens of millions.
As a result, while a couple of other gender-swapped remakes still soldiered on, most everything else went radio silent. One of those that went quiet was a do-over of classic 1988 comedy Dirty Rotten Scoundrels… but now it's back and making some noise.
The Hustle stars Anne Hathaway and Rebel Wilson standing in for the respective roles played by Michael Caine and Steve Martin in the original (well, not quite the original original as Dirty Rotten Scoundrels was itself a remake of the Marlon Brando/David Niven-led 1964 film Bedtime Story). Hathaway is a sophisticated and slick con-artist working the rich and famous, who takes Wilson's scrappy and bumbling street con-artist under her wing after a chance encounter in order to pull off a big job.
The Hustle – or as it was originally titled, Nasty Women, after a comment Donald Trump made about Hilary Clinton – was filmed back in 2017 already, but it's been sitting on a shelf ever since as distribution deals got worked out. Maybe it's a good thing though, as it means it avoided the stink that sprung up in the wake of Ghostbusters, and can now be judged on its own merits. And you can start judging right now as the first trailer dropped last night!
That looks… alright, I guess. Can't say that I would be rushing out to book a ticket, but I'll probably not change the channel if it happened to be the Sunday night movie on M-Net and I chance upon it while channel surfing. The chemistry between Hathaway and Wilson seems to be on point though, and that can carry a movie far, so we'll have to see how it plays out.
Chris Addison makes his feature film directing debut here after helming a large number of episodes for award-winning comedy series Veep, while the script was written by Jac Schaefer who has another tiny movie coming out this year that you may have heard of called Captain Marvel. The Hustle also stars Alex Sharp and Dean Norris, and is scheduled for release on 10 May 2019.
Last Updated: February 13, 2019