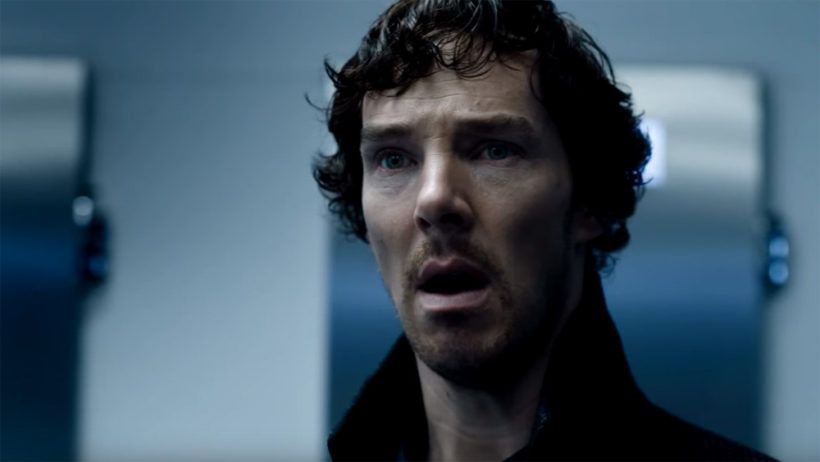 After a lengthy hiatus – barring a time-jumping Christmas special – Sherlock is coming back, which means that the game is once again afoot! And this time these podiatry activities are really serious! At least that's what I can pick up from the first trailer for the fourth season of BBC's award-winning drama, which was released yesterday during the show's Comic-Con panel. Sherlock has never been laugh-a-minute, but showrunners Steven Moffat and Mark Gatiss have always infused it with a sense of fun, giving stars Benedict Cumberbatch (who you may have seen getting up to some strange things this weekend past) and Martin Freeman a lot to work with.
But things are looking mighty dark for Cumberbatch's titular master detective in this preview. In fact, according to Gatiss, this season will be "the darkest yet," though Cumberbatch was quick to add that "It's an emotional roller coaster. With great jokes!". Well, those jokes are nowhere to be found in this trailer, but it does have Toby Jones's villain cackling all evil! Check it out below.
It seems that we may be getting to know a lot more about Sherlock's past, specifically his "demons", in this new season. And there's a chance that one of those demons may just be his brother. No, I'm not referring to older brother Mycroft Holmes, played to snooty perfection by Gatiss himself, but rather perhaps to Sherlock's other brother.
Let me explain: As is their tradition with each season, Moffat and Gatiss dropped three words during the series' Comic-Con panel that hints at what is to come. In this case, the words were "Thatcher", "Smith" and "Sherrinford". While the first two could refer to a number of things, the last is almost certainly referring to Sherinford Holmes, the "hypothetical" brother who never actually appeared in Sir Arthur Conan Doyle's original Sherlock Holmes stories, but which was hinted at in the author's notes and which fans have speculated about.
He was first proposed by William S. Baring-Gould who wrote in his biography "Sherlock Holmes of Baker Street" that Sherrinford was the eldest brother of Sherlock Holmes. Holmes once stated that his family were country squires, which means that the eldest brother would have to stay to manage the house. If Mycroft were the eldest then he couldn't play the role he does in four stories of the Sherlock Holmes canon, so Sherrinford frees them both. This position is strengthened by the fact that Mycroft's general position as a senior civil servant was a common choice among the younger sons of the gentry.
Another point that fans have been speculating about is whether this upcoming season will be the last of the show. With Cumberbatch and Freeman having become immensely popular Hollywood leading men since the show first debuted, it's made production on the show increasingly difficult as the BBC needed to work around their big screen commitments. This led to some reports that the cast and crew were finally just going to call it quits after one last hurrah. But that's total hogwash, according to Moffat.
"[We've] never said Series 4 would be the last. We love the show and would love to keep doing it."
Cumberbatch also confirmed that he has already signed on for a fifth season of the show. Just don't expect the future of said show to include an alien timelord who travels around in a blue police box. With Moffat also the showrunner over on Doctor Who, there's been some interest in a possible crossover between the shows, despite the fact that they're in completely different genres and universes. Well, that idea was shot down pretty decisively when the panel wrapped up with a behind-the-scenes video during which Moffat and Gattis can be seen standing in front of a wall filled with various sticky notes with potential story ideas on them. One such note reads "A Doctor Who/Sherlock spinoff?" with a very definitive "Over my dead body" written underneath it. Ok then.
Sherlock is currently still busy in production on its fourth season – Moffat says they're two weeks away from wrapping – and is scheduled to premiere on BBC sometime in early 2017.
Last Updated: January 4, 2017