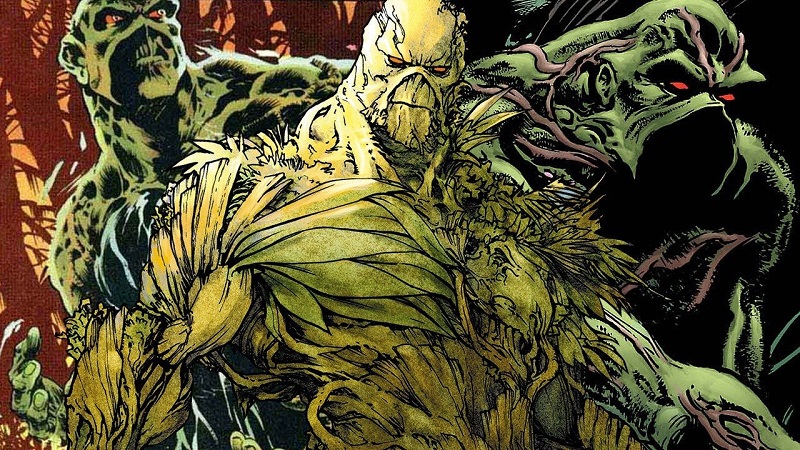 If you're a fan of classic DC Comics character Swamp Thing and were looking forward to his upcoming live-action adaptation, then I got good news and bad news. Let's get the good out of that way as Warner Bros' DC Universe streaming service dropped the first teaser trailer yesterday afternoon, giving us our very first look at the elemental superhero in all his swampy glory.
That actually looks pretty cool. Swamp Thing (who is the alter ego of deceased scientist Alec Holland, resurrected by nature itself to become its protector) has always had a very difficult look to nail, as he can appear rather silly. DC Universe has done a good job here though, leaning a bit towards the source comic books' horror feel as well.
That's where the good news ends though.
This teaser was actually dropped on the heels of some other news about the production… specifically, that there is no further production as local news outlet Star News Online first reported that producers had assembled cast and crew on site of the series' filming location in Wilmington, North Carolina, to inform them that production had been halted short of its original mid-May scheduled date. This was reportedly a huge surprise to all working on the project. Actress Virginia Madsen confirmed the news in a now-deleted Instagram post, saying "I'm beyond sad."
What a terrible decision. We have been cut to the core by those who have never set foot into the Swamp.
Initially, reports suggested that the show had been cancelled entirely, and also that this was due to DC Universe as a whole being in jeopardy. However, /Film was quick to dispel the latter as they reached out to sources in Warner Bros to confirm that DC Universe is doing just fine. Better than fine, in fact, as its flagship live-action series, Titans, had exceeded expectations when it launched in the US last September, kicking off a whole new cinematic universe with the equally well-received Doom Patrol spinoff. The services' DC Comics portion – subscribers get access to digital comics as well as streaming programming – has also been growing from strength to strength, with it just being announced last week that DC's entire Golden, Silver, and Bronze Age library of comics (around 2700 titles) would be added.
So what's happening on Swamp Thing then? Seems it's that old chestnut of creative differences. That's the official response from Warner Bros, who have not confirmed that Swamp Thing has been cancelled completely but have indicated the show's episode count has been cut from 13 to 10. The tenth episode will now be retooled as a season ender.
Just what those creative differences are and who is doing the differing is a mystery right now as showrunners Mark Verheiden and Gary Dauberman have remained mum on the situation. Also on the production team is James Wan (Aquaman, The Conjuring, Saw) and Len Wiseman (Underworld, Total Recall), with the latter set to direct the show's opening episode. That episode is currently still scheduled to debut on the service on 31 May, and we'll have to see how things play out after that.
Swamp Thing stars Andy Bean as Holland, while Derek Mears will play his monstrous alter ego. Joining them will be the aforementioned Madsen, Crystal Reed, Jennifer Beals, Will Patton, and Maria Sten. DC Universe is also set to release an R-rated animated Harley Quinn series later this year, and a Stargirl live-action series next year. Let's hope they don't run into similar teething issues as Swamp Thing.
Last Updated: April 18, 2019