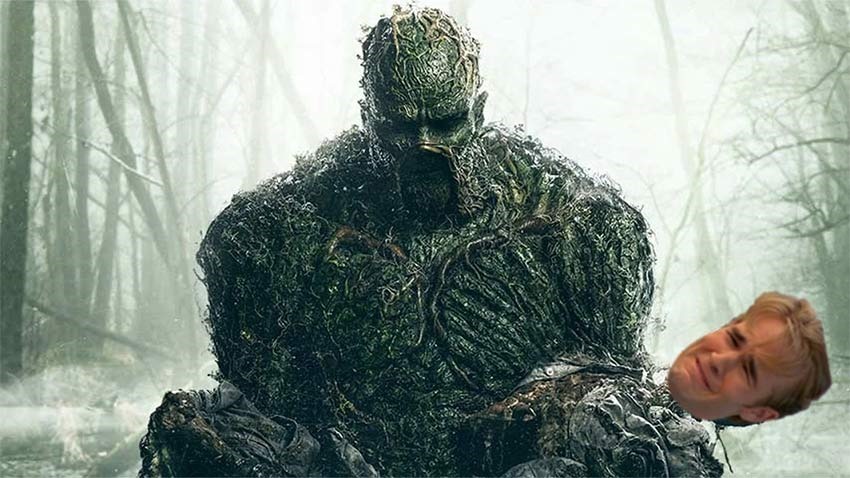 DC just can't seem to get a break, whether it's on the big screen or the smaller one. Most of the DC TV shows on the CW have taken turns for the lame, while the newly released DC Universe streaming exclusive Swamp Thing was met with largely positive reception.
Annnnnd it's been cancelled after just one episode. Swamp Thing, which is not about the inside of Darryn's underwear, but rather about (and I quote) "Abby Arcane as she investigates what seems to be a deadly swamp-born virus in a small town in Louisiana but soon discovers that the swamp holds mystical and terrifying secrets. When unexplainable and chilling horrors emerge from the murky marsh, no one is safe."
The production has been bogged down with problems since its inception though. In April it was rumoured that the production of the niche show was halted completely. Then it was revealed that its original 13-episode run was cut to just 10 episodes. There have also been reports of numerous "creative differences." It's moot now, because the creature from the swamp is sunk. Apparently by a calculation mistake.
According to some reports, Swamp Thing was canned because somebody made a clerical error. Apparently the series was expected to received a monumental tax break for filming in North Carolina, but somebody forgot to carry the one or something, meaning that the tax break actually offered wasn't enough to offset production costs. North Carolina's film office director Guy Gaster rubbished those claims, however, telling io9 that:
"The state offered Warner Bros. an incentive of just under $5 million for the series pilot and an additional $12 million—the maximum the state can offer as designated by state legislation—and Warner Bros. accepted those offers before production on the series began. Once their audit is completed to verify the production's qualified spends, the rebate will be paid as agreed upon."
Whatever the reason, it means that DC's promising Swamp Thing is now dead.
Last Updated: June 7, 2019