As someone with an undomesticated fight-or-flight response the idea of putting myself into a situation where I'm subjected to jump-scares is just not on. That's why I'm not a big fan of horror movies, and I definitely don't go to haunted house attractions and the like. The upcoming slasher movie Hell Fest combines both of those things.
Amy Forsyth (Channel Zero), Reign Edwards (The Bold and the Beautiful – true horror if there ever was), and Bex Taylor-Klaus (Scream: The TV Series) star as three friends who, along with their boyfriends, decide to spend Halloween at the Hell Fest, a travelling horror carnival full of haunted houses, rides, and more that's in their area. However what should've been a night of ghoulish amusement turns to true horror when they attract the attention of another patron of the carnival – someone who uses the all-to-real surroundings to indulge in murder while in plain sight of an appreciative audience.
The official plot synopsis is as follows:
College student Natalie (Forsyth) is visiting her childhood best friend Brooke (Edwards) and her roommate Taylor (Taylor-Klaus). If it was any other time of year these three and their boyfriends might be heading to a concert or bar, but it is Halloween which means that like everyone else they will be bound for Hell Fest – a sprawling labyrinth of rides, games, and mazes that travels the country and happens to be in town. Every year thousands follow Hell Fest to experience fear at the ghoulish carnival of nightmares.

But for one visitor, Hell Fest is not the attraction – it is a hunting ground. An opportunity to slay in plain view of a gawking audience, too caught up in the terrifyingly fun atmosphere to recognize the horrific reality playing out before their eyes. As the body count and frenzied excitement of the crowds continues to rise, he turns his masked face to Natalie, Brooke, Taylor and their boyfriends who will fight to survive the night.
Let's take a look:
This looks like a decent horror movie for fans of the genre. It's got plenty of attractive young people getting killed, a threatening and imposing killer stalking them in a location tailor-made for his proclivities, and plenty of jump scares along the way. Yes it's not particularly original, but then it doesn't need to be – it just needs to be well put together and have some half-decent acting, and Hell Fest certainly looks like it does. Switch off your brain, eat your popcorn, and enjoy the ride.
What do you think?
Hell Fest is due for release in the US on 28 September, and locally on 12 October. Directed by Gregory Plotkin (Paranormal Activity: The Ghost Dimension), it also stars Christian James, Roby Attal, Matt Mercurio, and yes that was the always awesome Tony Todd you briefly spotted as the ringmaster – or would that be the scaremonger in this context?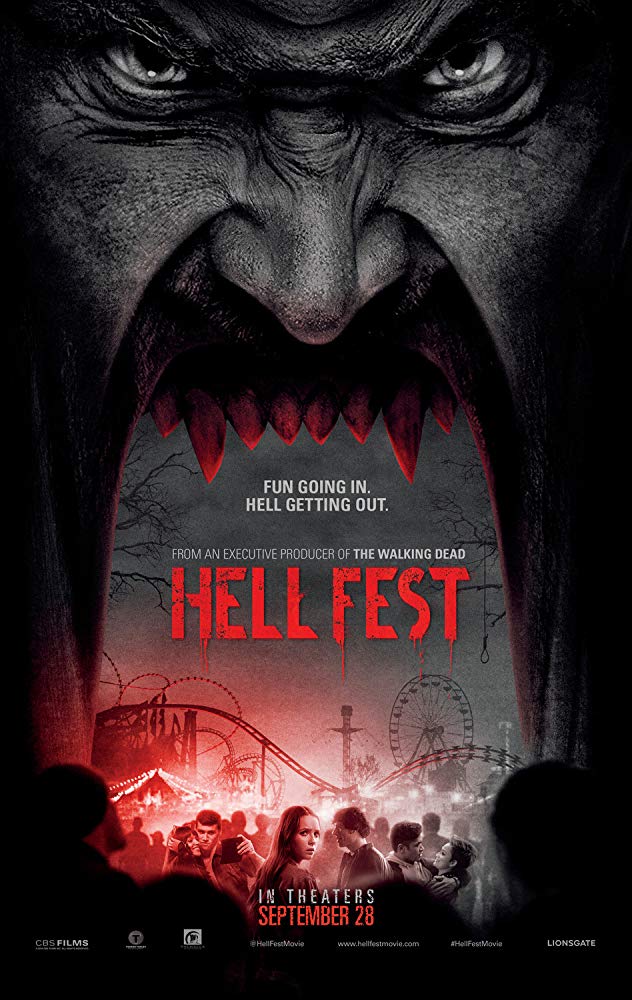 Last Updated: July 19, 2018