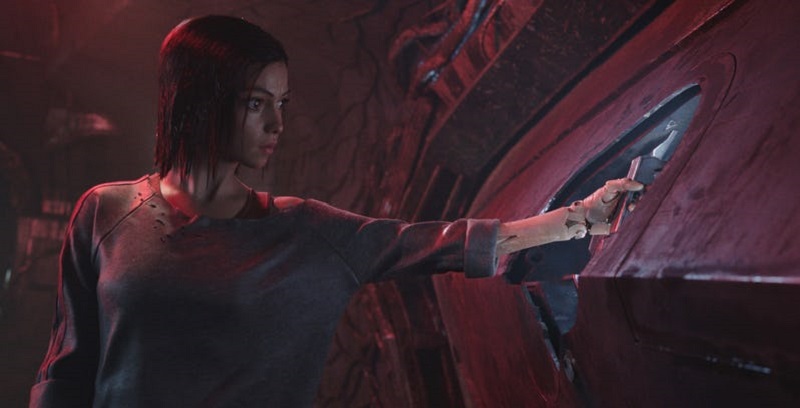 Ever wondered what it takes to make freakishly large eyes? Well thanks to a new Screen Rant video where they went behind the scenes of Alita: Battle Angel to New Zealand's Weta Digital to speak to several of the people involved about the incredible effort that went into bringing this popular manga classic to life on the big screen. And yes, it turns out they did indeed spend a lot of time on crafting those eyes…
Alita: Battle Angel has been a movie many years in the making. It was more than 10 years ago when James Cameron started work on this passion project and the technological effort that it would take to bring the story to life. It's an effort which got very side-tracked by his deeper love of another passion project, which turned out to be the highest grossing film of all time in Avatar. However, that was not before he was able to put together several hundred pages of script and notes for the movie and for Cameron it then simply became a struggle to find a director capable enough of utilising the technology to tell the story right.
And  in that he found the perfect person on Robert Rodriguez, whose willingness to experiment and work with cutting-edge technology (like The Limit) meant that he could not only help shape the movie that Cameron and many fans have been wanting to see, but also provide the digital magicians at Weta with the right foundation to enact their wizardry. And those eyes. Yes, I can't help but be captivated by those eyes, something producer Jon Landau reveals they were also quite fascinated with in terms of getting it right:
The most difficult part of realizing the Alita character was two-fold. One, it was honing in on the right size for the eyes. And in that, it's the head, it's the pupils, the iris, all those things are tied together. It's not just the eyes, it's everything that goes into it. It's also the refinement of the mouth, and how that really works and how that can be compelling. Even in an action scene. Because in an action scene, you might have the wide shots, but what makes an action scene work is when you cut in for the close up for that moment where you see her flying towards Grewishka and you see that expression on her face. So, if we're not getting the right facial expression, the action all falls apart. So, the mouth and the lower facial region is something we spent hundreds of hundreds of hours working on.
The video is only 5 minutes long, but does provide some interesting insight into the efforts taken to make this movie look as good as its trailer make it out to be and exactly why they spent so long on post-production for it. The end result looks like a gorgeous film that captures the look of a manga comic. All that's left now is to hope that the rest f the story and its characters can seal the deal and we could have one of Hollywood's first true success in adapting a Manga story for the big screen.
While the eyes may be the most immediately noticeable thing when watching the trailers, it's not distracting like Justice League's moustache efforts and does actually bring out the emotions of star Rosa Salazar. Mostly because the team spent a lot of time going through different iterations to make sure that the final product looked just right, as senior visual effect supervisor Joe Letteri details:
Yeah. So, when you talk about 5,000 iterations. One of it might be like, you're looking at the shape of the ears. One might be looking at the shape of the nose. We put those all together into a character, and what that really means is there were probably around 200 or so different versions of the character. Because you look at Rosa's performance, which was beautiful, and you look at Alita as a design and where you need to go with it. And you come up with your best guess of what that character needs to be. And you match the two together. And you look at what works and what doesn't work. And you just go back and keep refining that.

So, there's a technological aspect to it. Because there's a lot of detail that you have to carry through. Not just for the motion, but for how the eyes look, how the texture of the skin responds to light. But there's also a holistic way of just looking at the character, as a character. And just running the scenes and saying, "Does it work?" It's almost like a casting process. And it's like, "Well that's not quite right. Let me go back and try this again." So, you're really constantly iterating on the character until what you see just plays across all the scenes. It should be able to capture it all, all the beats, but you've also captured a consistent character.
Alita: Battle Angel release on February 14, 2019. So, consider your valentines plans for next year sorted. Just try not to make too many comments about your partner's eyes on the night…
Last Updated: November 22, 2018