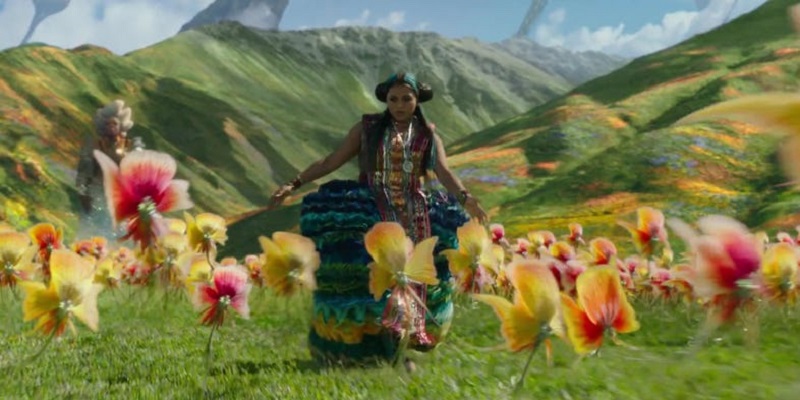 Disney's upcoming A Wrinkle in Time, directed by Ava DuVernay, has looked incredible from the moment we saw the first trailer. With the release of the movie drawing ever closer though, Disney is intent on keeping the interest in it even higher and has released yet another trailer, this time revealing a little more of the story and making it look even better.
It's easy to see why A Wrinkle in Time is such a highly anticipated movie. Not only is it based on a popular children's science fiction novel by Madeleine L'Engle and feature a stellar cast including Chris Pine, Gugu Mbatha-Raw, Reese Witherspoon, Mindy Karling, Oprah Winfrey, Zach Galiafanakis and Michael Pena alongside its capable child cast, but its visual effects look incredible, the world and production design highly imaginative and the sci-fi elements of the film mind bending while still relatable and understandable to the average person. Which shouldn't surprise considering it's based on a children' book, so even the likes of Nick will be able to figure out exactly what is going on.
More importantly though, it's a movie that Disney needs considering all of their recent film successes have come from either sequels or remakes (aside from Pixar's Coco). The studio needs a new franchise or set of stories to tell to show that it doesn't just know how to print money from established franchises, but still has it in them to build new ones as well.
It's a fantastic world to behold with exceptional characters and one that should certainly appeal to pretty much everyone when it releases this March. A good time for Disney because people should have money again to go watch this movie by then after blowing their salary on watching Marvel's next big blockbuster, Black Panther (including its isiXhosa dialogue) about 5 times. In fact, some of us are still trying to recover from all the money we spent watching Star Wars over and over again.
Last Updated: January 24, 2018