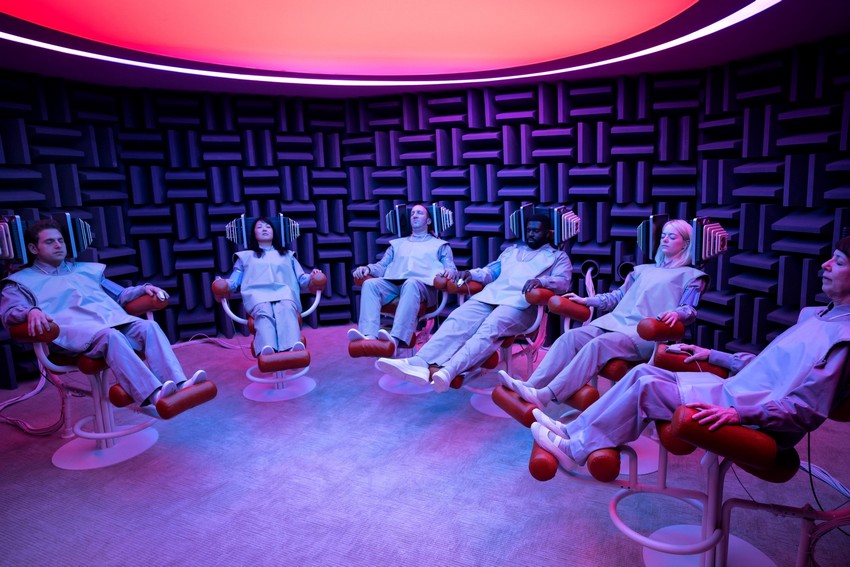 If you've seen the first teaser trailer for Maniac, Netflix's next big high-profile series, then you would know that… Well, actually all you would know is that it stars Emma Stone and Jonah Hill since that teaser was as uninformative as it was trippy. And hot damn was it trippy! That being said, I was fully onboard with it, ignorance and all, the moment I saw Cary Joji Fukunaga's name pop up on screen. Much like he did with the incredible first season of True Detective, Fukunaga will be helming all 10 episodes of Maniac, which marks his return to Netflix after 2015's stunning Beasts of No Nation.
Speaking of reprised collaborations, this is actually the first time Stone and Hill have acted together again since they had their breakout roles in 2007's Superbad. The actors have certainly come a long way since that R-rated teen comedy with Stone having won an Oscar and Hill being nominated for two. Based on the brand new trailer for Maniac though – which finally gives us a glimpse at what this show is actually about – I wouldn't be surprised to see their names mentioned in awards contention next year.
Maniac sees Stone as Annie Lindsberg, an aimless young woman who surrounds herself with broken familial relationships, while Hill plays Owen Milgrim, the fifth son in a wealthy family who has had his self-professed diagnosis of schizophrenia disputed for most of his life. Both try to find a solution to their problems by signing up for an experimental pharmaceutical test run by Justin Theroux and Sally Fields' Dr. James Mantleray and Dr. Greta Mantleray. The test does not quite go as planned. Check it out in the trailer below.
I think Hill's Owen says it best in that trailer: "My mind is playing tricks… I don't know what's real and what's not." Whatever the hell it is I just saw, I am most definitely intrigued. Created by The Leftovers' Patrick Somerville, Maniac is just stuffed with talent and I can't wait to get all trippy with it when the 10-episode first season premiers on Netflix on 15 September.
Last Updated: August 7, 2018