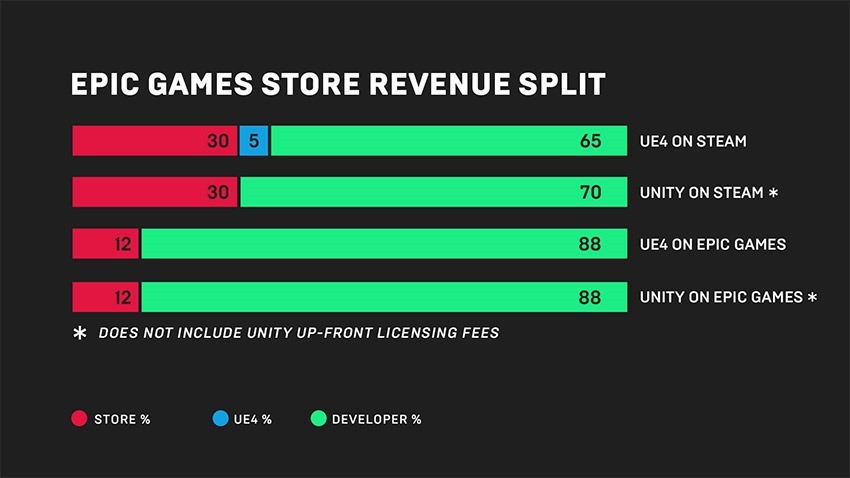 Valve recently updated its Steam revenue sharing terms to give more to developers – provided they were bringing in millions and millions of Dollars to Valve's ubiquitous platform. That new split gives Valve between 30 and 20 percent of the game's income – meaning developers and publishers get between 70 and 80 percent.
Fortnite and Gears of War developer Epic Games is launching its own digital platform that'll see devs walk away with 88% of the revenue.
"As a developer ourselves, we have always wanted a platform with great economics that connects us directly with our players," Epic Games founder and CEO Tim Sweeney said in a statement. "Thanks to the success of Fortnite, we now have this and are ready to share it with other developers."
It'll see every developer on their store – whether indie or mega publisher – get 88% of the revenue. On top of that, developers who release games on the store built using Epic's own Unreal Engine 4 will have a portion of their engine licencing fees covered, out of Epic's 12%.
"Developers receive 88% of revenue. There are no tiers or thresholds. Epic takes 12%. And if you're using Unreal Engine, Epic will cover the 5% engine royalty for sales on the Epic Games store, out of Epic's 12%."
While developers are incentivised to use Unreal Engine, the store will be open to all engines.
"We've built this store and its economic model so that Epic's interests are aligned with your interests. Because of the high volume of Fortnite transactions, we can process store payments, serve bandwidth, and support customers very efficiently. From Epic's 12% store fee, we'll have a profitable business we'll grow and reinvest in for years to come!"
While the last thing PC gamers need is a new store and launcher, one that's so developer-friendly might just be what the industry needs to shake up Valve's dominance. That's a company putting that Fortnite money to good use.
Last Updated: December 4, 2018