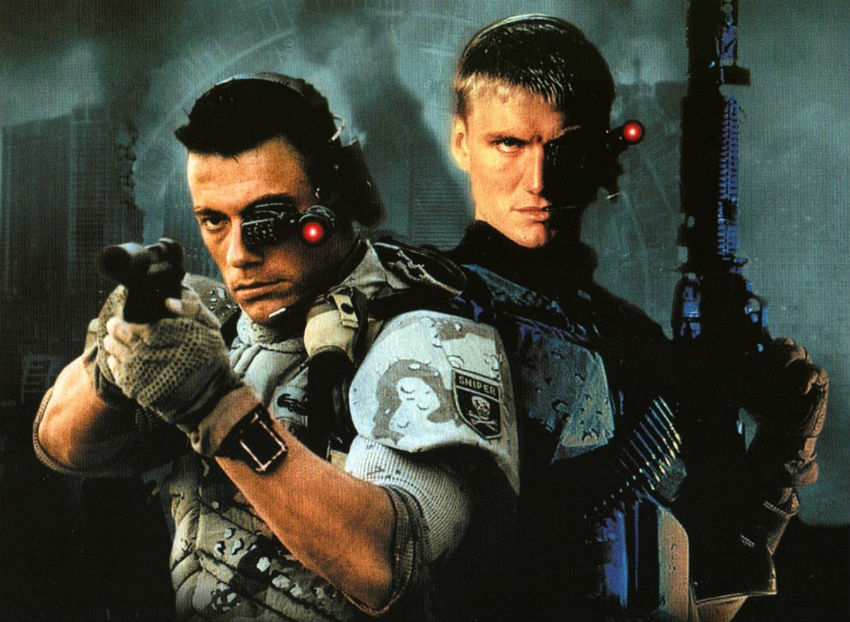 Fans of 1990s sci-fi action movies, listen up! That's if your ears haven't been cut off  to make jewellery for a crazy super soldier that is! In the long-running tradition of Hollywood, it appears a brand new Universal Soldier movie is on the way. And I do mean "brand new" as was revealed by screenwriter Richard Wenk during an interview with Discussing Film over the weekend.
Wenk is, of course, the screenwriter of Denzel Washington's The Equalizer movies, which in turn were based on an old TV series of the same name. And much like how those modern movies just used the bare bones of its source material for inspiration, Wenk's new script for Universal Soldier will be a "re-imagining" of the original.
I will say that I'm just finishing up a re-imagining — let's be clear about this it's not a remake and it is not a redo — but it is a re-imagining of a movie called 'Universal Soldier'…very much like 'The Equalizer,' it's the title that inspired me and not the movies…I'm just about to finish (the script) and turn it in this week.
Released back in 1992, Universal Soldier was directed by a young pre-Independence Day Roland Emmerich and respectively starred Jean-Claude Van Damme and Dolph Lundgren as Private Luc Devereaux and sadistic Seargent Andrew Scott, two soldiers killed in the Vietnam War. However, in the near future, both soldiers are resurrected – without their memories, but with genetically enhances strength, reflexes and healing – as part of a cutting-edge military program called Universal Soldier. Deveraux starts to regain his memories though, while Scott's psychoses also kick in again, causing him to go on a killing spree, with only Deveraux being able to stop him.
While the film was just barely a success at the box office (it earned $36 million on a $23 million budget) and received very middling to negative reviews, it would still spawn a long-running franchise of its own. A trio of direct-to-TV sequels was released in 1998 and 199 with a new cast, but these were widely panned and have actually been scrapped from the franchise's canon. The franchise was revitalized in 2009's Universal Soldier: Regeneration and and Universal Soldier: Day of Reckoning, a pair of direct-to-home-release sequels directed by B-movie action directing legend John Hyams and featuring martial arts star Scott Adkins as the new UniSol hero with Van Damme's Devereaux now turning villain. The movies were actually not bad, making up what they lacked in plotting and decent acting with very good action choreography.
Not that Wenk really cares about all of that. His take is going to be tossing out all of that, including there being all these different Universal Soldiers running around.
I had seen the movies and enjoyed them for what they were… but I didn't see those stories and that world to be relevant today, but I thought that the title Universal Solider and where we're going in terms of science, and also having something to say about war, would be interesting, so we sort of just took a whole other tact, and [are] hopefully building it to have this great franchise character. One, singular.
I grew up on bad 1990s action movies, many of them starring Jean-Claude Van Damme and Dolph Lundgren, so I remember Universal Soldier was a pretty big deal for me when it released. It's not exactly a revered classic though, so a new take on it shouldn't be considered too sacrilegous by the fans. And Wenk does have a point in that modern warfare tech could lend it some interesting story beats. It's still early days though as Wenk's script still needs to get the nod from producers before a director or star is even attached.
Last Updated: October 15, 2018