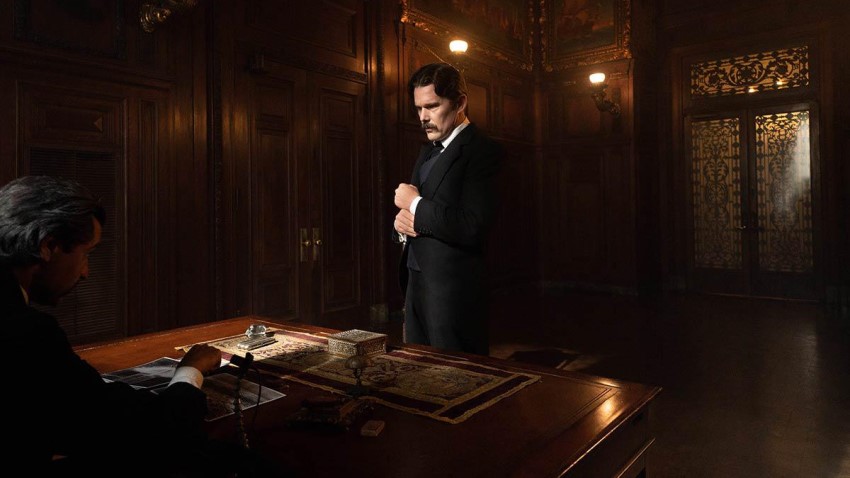 Nikola Tesla has become a popular figure in modern fiction, which isn't too surprising given his status as a pioneering electrical and mechanical engineer, inventor, and one of the founding members of AC/DC.
The latter is only partially true, as Tesla was one of the pioneers in the development of AC, or alternating current, and in direct competition with George "I invented the lightbulb" Edison, who was a proponent of DC, or direct current. Seeing as AC electric power transmission powers the world as we know it, I think it's safe to say Tesla won that battle in the end. That battle was also the subject of 2017's feature The Current War (which starred Nicholas Hoult as Tesla, alongside Benedict Cumberbatch and Michael Shannon), not to be confused with The Currant War – which is the on-going battle to get Kervyn to eat raisins.
Anyway, Tesla is the upcoming biographical drama from writer/director Michael Almereyda (Marjorie Prime), and stars Ethan Hawke as Nikola Tesla, along with Kyle MacLachlan, Jim Gaffigan, Eve Hewson, Hannah Gross, and Donnie Keshawarz.
The official plot synopsis is as follows:
Brilliant, visionary Nikola Tesla (Ethan Hawke) fights an uphill battle to bring his revolutionary electrical system to fruition, then faces thornier challenges with his new system for worldwide wireless energy. The film tracks Tesla's uneasy interactions with his fellow inventor Thomas Edison (Kyle MacLachlan) and his patron George Westinghouse (Jim Gaffigan). Another thread traces Tesla's sidewinding courtship of financial titan J.P. Morgan (Donnie Keshawarz), whose daughter Anne (Eve Hewson) takes a more than casual interest in the inventor. Anne analyzes and presents the story as it unfolds, offering a distinctly modern voice to this scientific period drama which, like its subject, defies convention.
Let's take a look
Well, there are plenty of sparks flying in that trailer – both literally and figuratively. Also flying is some historical accuracy, right out the window, because it's clear Tesla is leaning more into the 'drama' part of 'biographical drama'. While there's no denying the talent of actors like Hawke or MacLachlan, even they're not enough ground what looks like an overwrought drama playing fast and loose with the truth back down to earth.
What do you think?
Tesla is due for release in US cinemas and via on-demand on 21 August.
Last Updated: July 14, 2020