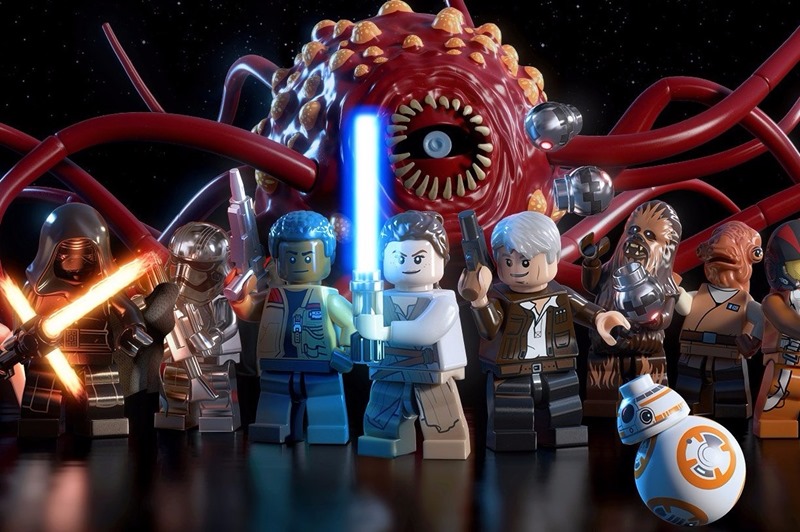 There's something to be said for quality over quantity. At the same time, if you're favouring the opposite side of that debate, going for break with quantity is also somewhat admirable. it's been a tactic of LEGO games in the past, to throw as many characters as possible at players and hope that nobody notices that there's very little difference between most of them at all. And that goes for not only the characters in one game, but several of them.
It's clearly working however, because my OCD demands that I collect everything in any game. Well played LEGO, well played indeed. LEGO Star Wars: The Force Awakens hits shelves soon, and with it comes 260 of these bricky characters to collect. The base game has 183 characters to start off with, while the DLC planned for LEGO Star Wars: The Force Awakens balances the light and dark side with 77 additions.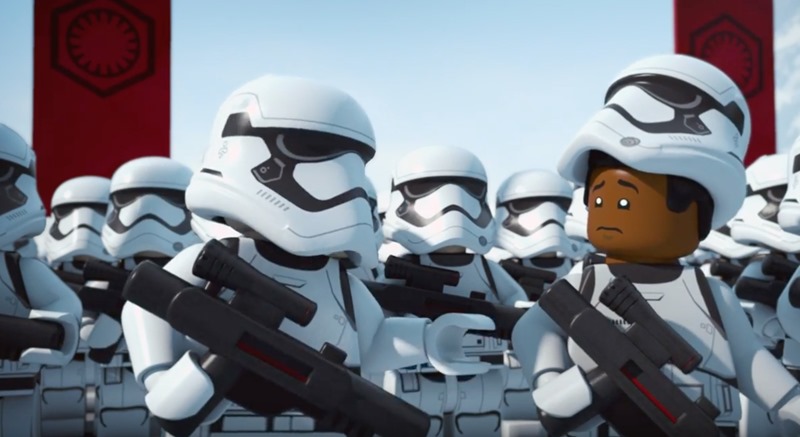 That's a hell of a lot of characters. Which is why I've decided to create this list, gleaned from Brickipedia. And also a drinking game! The idea here, is that you print out this list and have a shot every time you fail to recognise a character on it. I've been playing all morning, and the doctor says that I'm pretty much stuffed as I'm right at the bottom of the list of people waiting for a new liver. Crap. See how far you can get, without going blind due to alcohol poisoning:
LEGO Star Wars: The Force Awakens base game: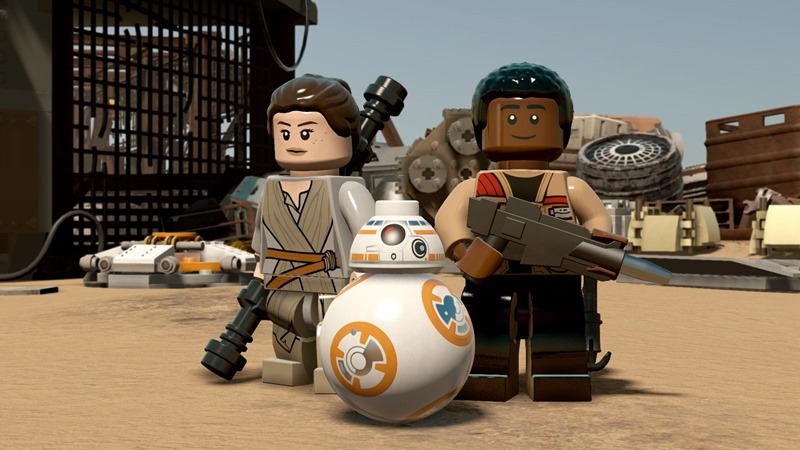 Adan Mose
Admiral Ackbar(Resistance)
Admiral Ackbar (Classic)
Admiral Statura
Anakin Skywalker
Anakin Skywalker (Podracer)
Athgar Heece
AT-ST Pilot
A-wing pilot
Bala-Tik
Bazine Netal
Bith
BB-8
B-U4D
Boba Fett
Bobbajo
Blass Tyran
Bollie Prindel
Caluan Ematt
C-3PO
C-3PO (Classic)
Captain Cypress
Captain Phasma
Chewbacca
Chewbacca (Wounded)
Chewbacca (Twon Ketee)
Chief Petty Officer Unamo
Constable Zuvio
Count Dooku
Cratinus
Crokind Shand
Croll Jenkins
Colonel Kaplan
Control room commander
Crusher Roodown
Darth Maul
Darth Vader
Dasha Promenti
Davan Marak
Death Star Trooper
Ello Asty
Star Wars Finn
Finn (Starkiller Base)
Finn (Takodana)
Finn (Junction Box)
Finn (FN-2187)
Finn (Helmetless)
First Order Fleet Engineer
First Order Stormtrooper
First Order Officer(Armored)
First Order Snowtrooper
First Order Snowtrooper Officer
First Order Flametrooper
FN-2112
FN-2199
First Order Tie Pilot
First Order Tie Pilot(Special forces)
First Order Crew
First Order Officer
Gaff Kaylek
General Hux
General Hux (Aerobics)
Genereal Leia
Genereal Leia (Formal)
Princess Leia (Classic)
Leia Organa Solo (Endor)
Leia Organa Solo (Ewok Village)
GNK-143
Goss Toowers
Gray Squadron Pilot
Greedo
Grummgar
Guvian Gunner
Guvian Security Soldier
Han Solo
Han Solo (Classic)
Han Solo (Stormtrooper)
Han Solo (Endor)
Han Solo (Starkiller Base)
Han Solo (Twon Ketee)
Hobin Carsamba
Hoogenz
Ilco Munica
Imperial Guard
Imperial Stormtrooper
Imperial Snowtrooper
Imperial Scout trooper
Infrablue Zedbeddy Coggins
Jawa
Jessika Pava
J.J. Abrams
Kanjiklub Gang Member
Kanjiklub Sniper
Kathleen Kennedy
Kaydel Ko Connix
Kinn Zih
Korr Sella
Kylo Ren
Kylo Ren (Hooded)
Kylo Ren (Unmasked)
Lando Calrissian
Lieutenant Bastian
Lieutenant Mitaka
Logray
Lor San Tekka
Luke Skywalker
Luke Skywalker (Episode VI)
Luke Skywalker (Episode IV)
Luke Skywalker (Episode VI)
Luke Skywalker(Stormtrooper)
Major Brance
Major Kalonia
Mantellian Savrip
Molator
Monnok
Maz Kanata
Mi´no teest
Min Sakul
Monn Tattch
Nien Numb
Nien Numb (Classic)
Niv Lek
Obi-Wan Kenobi (Classic)
Obi-Wan Kenobi (Episode III)
Officer Sumistu
Ottegan Warrior
Ottegan Acolyte
Oskus Stooratt
Ophi Egra
Oni Jass
Ozeer Tenzer
Padmé Amidala
The Emperor
Chancellor Palpatine
Pamich Nerro Goode
Petty Officer Thanisson
Poe Dameron
Poe Dameron (Flight suit)
Poe Dameron (D´Qar)
Poe Dameron (Helmetless)
Poe Dameron (Prisoner)
Prashee
Praster Barrun
Praster Ommeln
Pru Sweevant
PZ-4CO
Queen Amidala
Quiggold
Qui-Gon Jinn
Quinar
R2-D2
RA-7 Protocol Droid
Rancor
Razoo Qin-Fee
Rebel Fleet Soldier
Rebel Commando
Resistance General
Resistance X-wing Pilot
Rey
Rey (Junction Box)
Rey (Scavenger)
Rey (Resistance)
Rey (Starkiller Base)
Rey (Takodana)
Rey (Young)
Sace Skareeet
Sarco Plank
Sidon Ithano
Snap Wexley
SN-1F4
Supreme Leader Snoke
Tabala Zo
Tasu Leech
Teedo
Tusken Raider
Unkar Plutt
Varond Jelik
Wedge Antilles
Wicket
Wollivan
Yoda (Force Ghost)
Yolo Ziff
Zev Senesca
LEGO Star Wars: The Force Awakens DLC Characters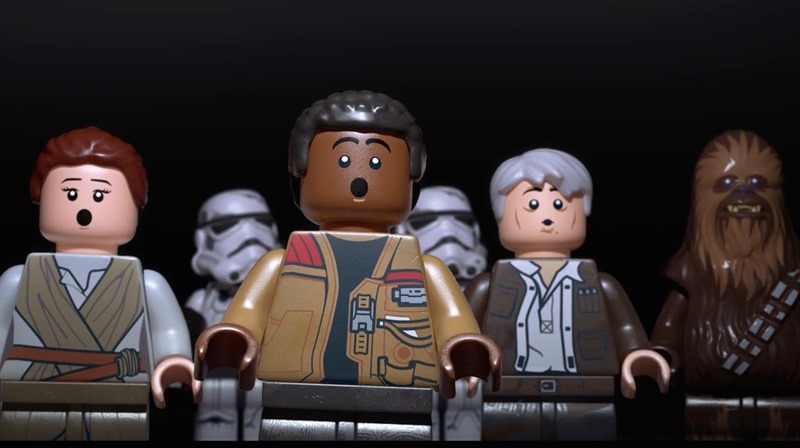 Aayla Secura
Ahsoka Tano
Anakin Skywalker(Damaged)
Asajj Ventress
Aurra Sing
Baash (Iktotchi)
Barriss Offee
Battle Droid Commander
Bib Fortuna
Bossk
Concept Art Boba Fett
Boushh
Cad Bane
Captain Panaka
Captain Rex
Chopper
Commander Cody
C'ai Threnalli
Colonel Datoo
Commando droid
Darth Maul
Dengar
Ezra Bridger
Gamorrean Guard
General Grievous
Graballa the Hutt
Han Solo (Hoth)
Hera Syndulla
Hondo Ohnaka
IG-88
Jabba the Hutt
Jango Fett
Jar Jar Binks
Jashco Phurus
Kanan Jarrus
Ki-Adi-Mundi
Kit Fisto
Kordi Freemaker
Laparo
Leia (Hoth)
Leia (Jabba's barge)
Lieutenant Rodinon
Lobot
Lt Wright
Luke Skywalker(Hoth)
Luminara Unduli
Mace Windu
Malakili
Max Rebo
ME-8D9
Naare
Naka Lit
Ohn Gos
Oola
Padmé Naberrie
Plo Koon
Poe Dameron (Jakku)
R5-D4
R3-Z3
Roger (Battle Droid)
Rosser Weno
Rowan Freemaker
Sabine Wren
Saesee Tiin
Savage Opress
Seventh Sister Inquisitor
Shaak Ti
Strono "Cookie" Tuggs
Strus Clan Leader
Strus Clan Raider
Super battle droid
Thromba
Ugnaught
Watto
Zam Wesell
Zander Freemaker
Zeb Orrelios
LEGO Star Wars: The Force Awakens is out this week. Today actually! Now if you'll excuse me, I'm going to go get my new liver the old-fashioned way. By tricking a tourist into a bathtub full of ice.
Last Updated: June 28, 2016