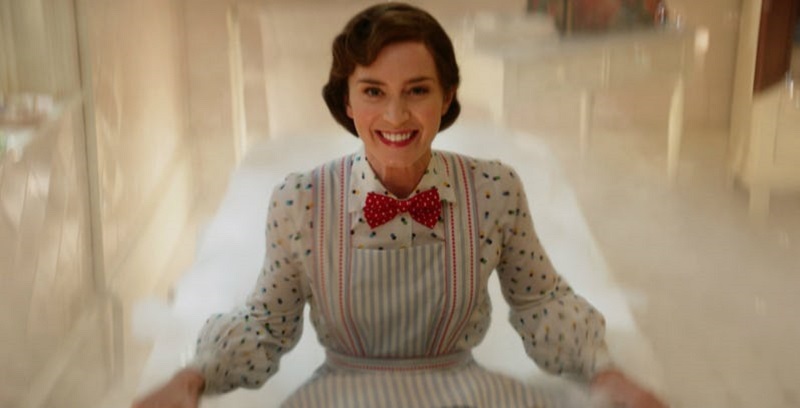 Disney may have a few more box office failures than they're used to this year with the likes of A Wrinkle in Time, Solo: A Star Wars Story and the recent The Nutcracker and the Four Realms all performing below expectations. But they're still rolling comfortably in the dough with all the money they've made from their Pixar and Marvel movies. Plus, they still have yet another trump card coming their way in December with the return of the beloved Mary Poppins.
And to make sure everyone is excited for the move they've released a new sneak peek along with a host of new posters. Everything we've seen about it has shown so far that it is definitely set to recapture much of the magic that made the original movie appealing to audiences, even to this day. It will no doubt have a wide appeal for the whole family when it comes out on December 19th. Not to mention leaving people on a nostalgia high.
A continuation of Disney's Oscar-winning 1964 Mary Poppins movie musical, Mary Poppins Returns takes place some 25 years after the events of its predecessor, in London circa 1935. Ben Whishaw and Emily Mortimer star as the now-grownup Banks children Michael and Jane, who are both reeling from a personal loss and struggling to make ends meet in the midst of the ongoing economic depression. Enter Mary Poppins (Emily Blunt, taking over from Julie Andrews), the Practically Perfect – and definitely magical – nanny who cared for the Banks family all those years ago, and has come back to help Michael, Jane, and Michael's children find some happiness in their lives again.
The movie, which is based on the popular series of children's book by P.L. Travers is directed by Rob Marshall and has a host of other top actors bolstering its appeal alongside Blunt with Meryl Streep, Colin Firth, Lin-Manuel Miranda and even Julie Walters herself all starring in the film.
The original Mary Poppins was the crowning achievement in Walt Disney's film repertoire when he was still alive being the only one of his films to ever be nominated for a Best Picture Oscar and ended up winning 5 awards off 13 nominations. It's doubtful this movie will prove as successful at the coming award season, but where Disney will most hope it can replicate the success of the original is in its box office returns hoping that it can be a massive success when it does come out. And I suspect that it will be.
Last Updated: November 16, 2018