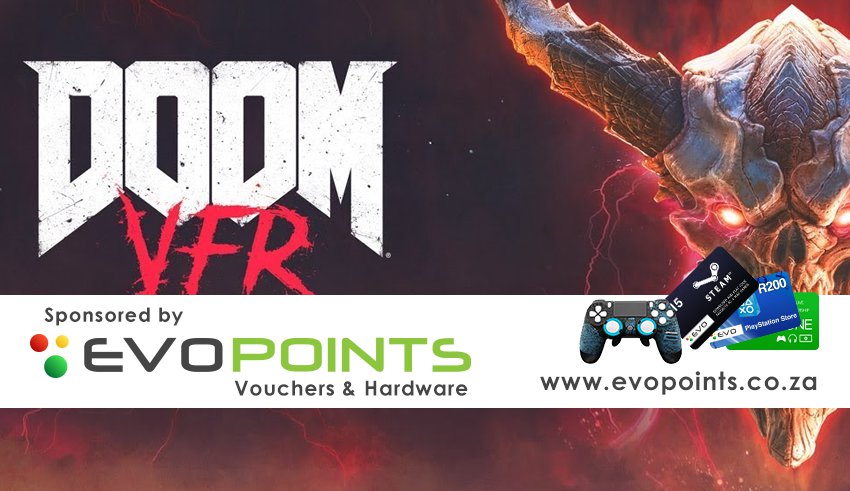 Welcome back to our weekly post of featured downloadable content available for different gaming platforms sponsored by www.evopoints.co.za. Here's this week's list of fresh downloadable games and content.
If you would like to purchase vouchers, you can click the category headers to go straight to the appropriate page on evopoints.co.za
————————————-
PC Gaming — [Steam Vouchers Available]
DOOM VFR
Dominions 5 – Warriors of the Faith
Black Mirror
STAR OCEAN – THE LAST HOPE – 4K Full HD
Weekend/Daily Sales and Promos:
Free Weekend – The Elder Scrolls Online: Tamriel Unlimited
Nicalis Publisher Weekend – up to 75% Off
The Classics Return – Up to 75% Off
PlayStation — [ PSN Vouchers & Subs Available ]
PS4

DOOM VFR
IRON SEA+FORT DEFENSE BUNDLE
Black Mirror
Firefighters: Plant Fire Department
Sky Force Reloaded
ACA NEOGEO SOCCER BRAWL
911 Operator
It's Quiz Time
PS Vita
To see all of the latest PlayStation content posts this week, click here for EU and US or check out the Online Sony Store.
Xbox — [ Xbox Live Vouchers & Subs Available ]
Xbox One

Rugby League Live 4 – World Cup Edition
Sky Force Reloaded
SOMA
Hand Of Fate 2
ACA NEOGEO WORLD HEROES 2 JET
Bush Hockey League
Paladins – Front Line Pack
Outcast – Second Contact
The Escapists 2 Special Edition
Black Mirror
Xbox Live Deals With Gold – Check it out here
Xbox One – Never Alone, Seasons after Fall, WonderBoy and More
Xbox 360 – Sine Mora, Frontlines, The Outfit and More
iTunes App Store
World of Warcraft
For all your codes, vouchers and subscription needs head on over to www.evopoints.co.za to get whatever you need.
Last Updated: December 1, 2017