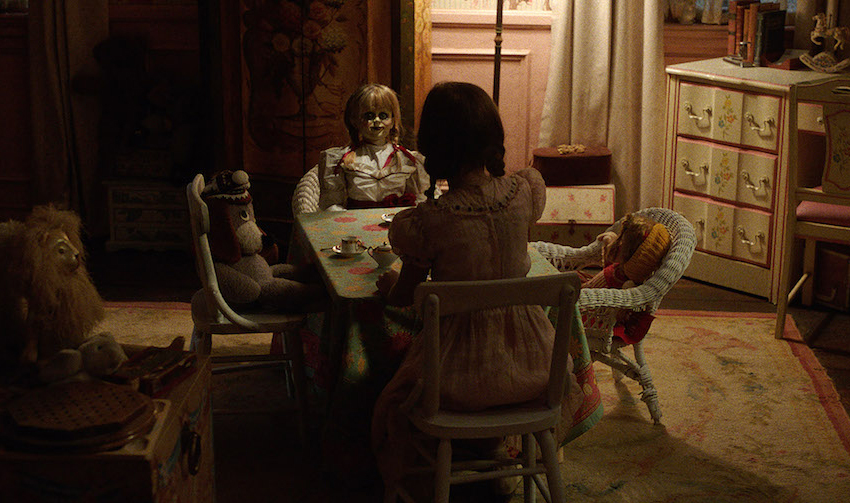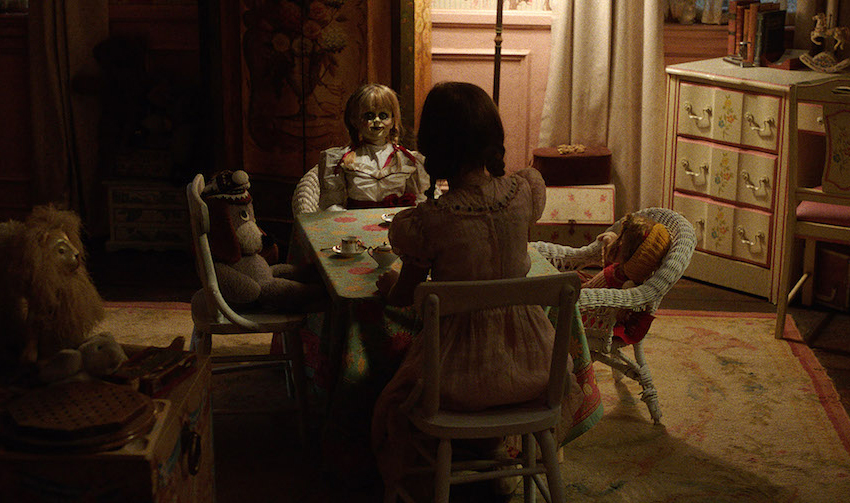 On Thursday evening, we'll be joining you guys to have the collective poop scared out of all of us at our screening for Annabelle: Creation. If this seems familiar, it's because we did exactly this for Annabelle back in 2014. A prequel to James Wan's fantastic horror The Conjuring, Annabelle wasn't quite my cup of tea. While plenty of you guys loved it, I felt that it relied too much on cheap jump scares instead of the constantly unnerving dread of Wan's original film.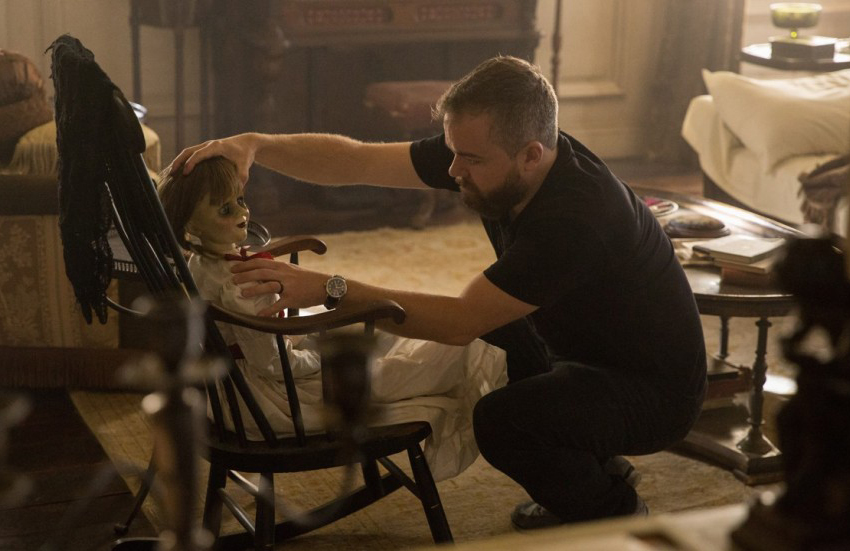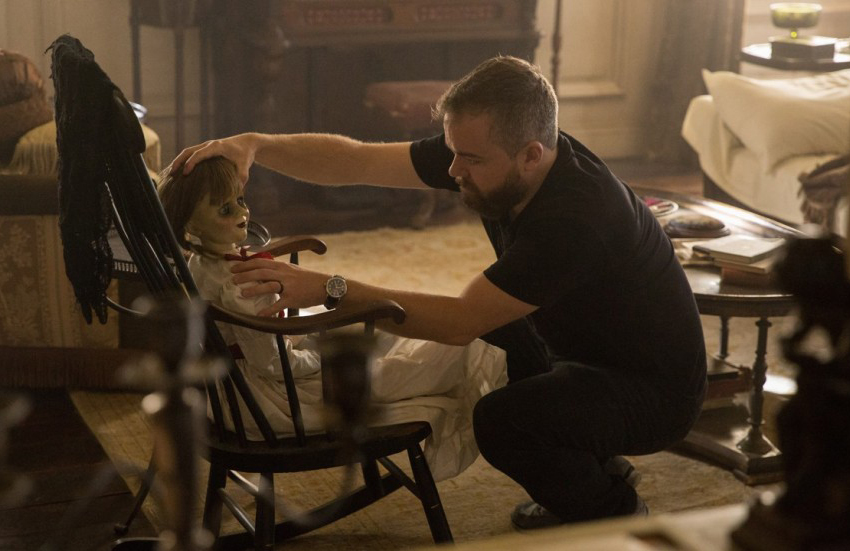 That was Annabelle though. Annabelle: Creation is a very different animal. A way scarier animal, to be more precise. The prequel to the 2014 prequel (yes, you read that correctly) has been racking up a mountain of critical praise – as well as the dollars – internationally, with much of its success being attributed to director David F. Sandberg. The Swedish born filmmaker first gained the public eye with the award-winning scary as hell short film Lights Out starring his wife Lotta Losten.
Deeply in debt and working as an animator at the time, that short film changed Sandberg's life as it gained the attention of several Hollywood players. Two of those were producer Lawrence Grey and James Wan himself who produced a feature film adaptation of Lights Out for Sandberg, with the 2016 release receiving tonnes of critical acclaim and making just short of $150 million off just a $5 million budget.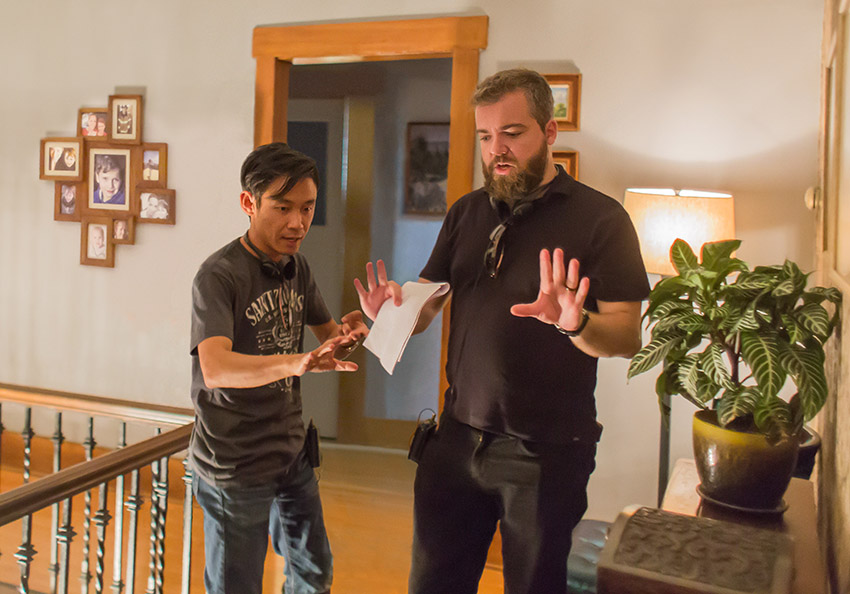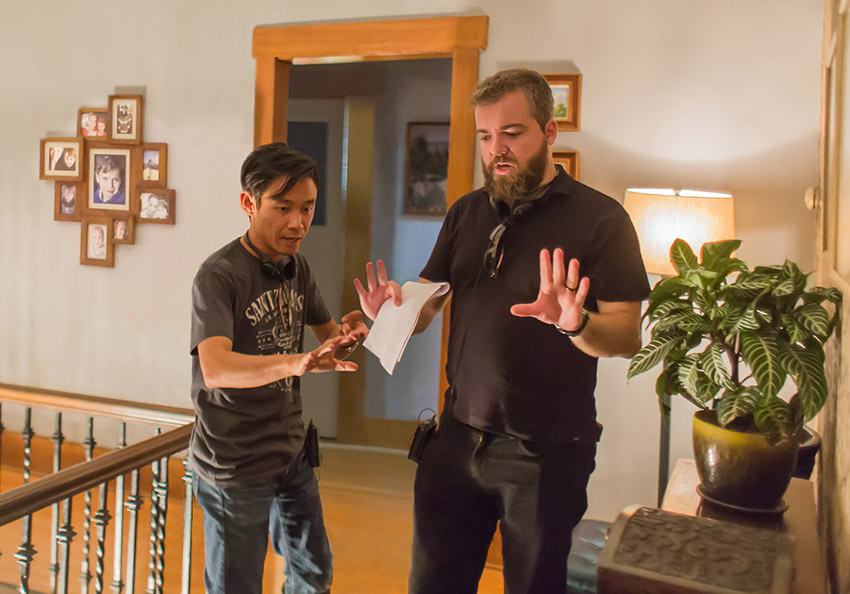 Having established a relationship with Wan – and with their shared affinity for old-school horror filmmaking that relied more on atmosphere than jumps – Sandberg was brought in to take the reins of the Annabelle prequel franchise with its second installment, which tells the story of how the demonic eponymous doll first came to be (As is the case with most of these things, it involves a creepy little girl and scary haunted house). And it would seem that despite the film being bigger than anything Sandberg had done before, he didn't need to adapt his filmmaking style all that much.
My approach wasn't that different from how Lotta Losten and I made our shorts back in Sweden. We've always let the location inspire our storytelling. This time I had a fantastic set designed by Jennifer Spence that was truly inspiring. It's somewhat of a cliché, but I wanted the house in the film to feel like it was an important character. It's a kind of purgatory for the characters; they're stuck there.
Sandberg continued, explaining what went into designing the house of Samuel and Esther Mullins, the unwitting creators of the doll.
In the early scenes, we wanted the house to feel like a comforting and happy place. We even added digital leaves to the tree outside to make it look more rustic and welcoming. But after a tragedy hits Mr. and Mrs. Mullins – the characters played by Anthony LaPaglia and Miranda Otto – I wanted the house to feel like life had left it. Now, the trees are naked and scary-looking; within its desert surroundings, the house feels almost hellish. It's super-hot and dusty and there's no life in there, anymore. It's just dead.

The house looks worn – the wallpaper, especially. The Mullins's bedroom is especially dilapidated; that's where Esther Mullins has been bedridden for many years and it's just her and the room, which is rotting away.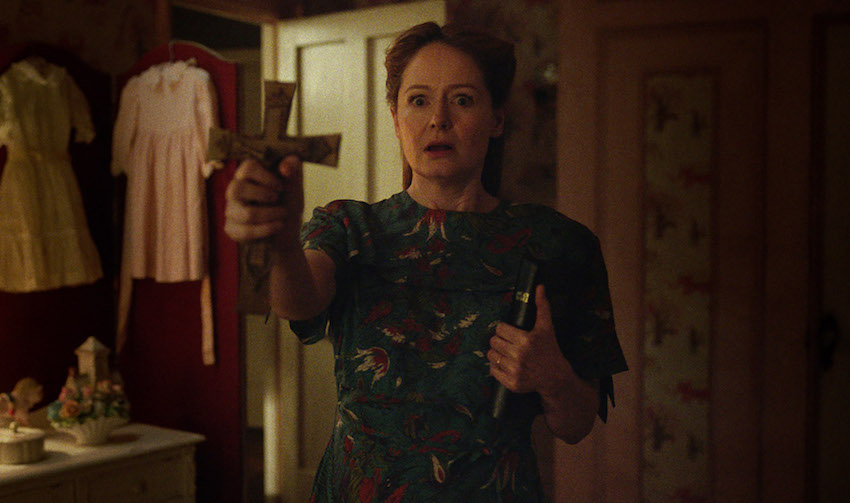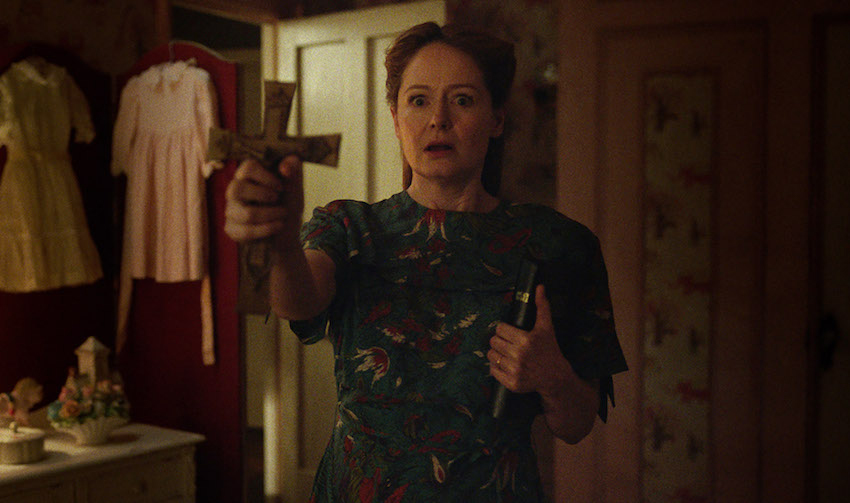 Miranda Otto's Esther Mullins has a bit of a mysterious purpose in the film, spending most of it either off-screen or hidden behind a rather ominous mask. That mystery was completely intentional to create suspense and tension, according to Sandberg.
I want to keep audiences guessing what's behind her mask for as long as possible. We spent a lot of time on the design of the mask. The first designs we looked at had a lot of scars, but that was something that audiences would expect to see. I wanted it to hide wounds that had never healed because they are demonic in nature.
The Mullins's are responsible for creating the doll Annabelle, which is here still in the very early stages of its "life" as opposed to the finished doll we would eventually meet in The Conjuring. Sandberg wanted to ensure that we witnessed that transition here.
The "non-possessed" version of Annabelle looks like an inanimate object. When she's possessed, her eyes become very lifelike. Our makeup effects house ADI is very good at that; when we visited their shop, I saw a gorilla and some monsters they created, whose eyes made it seem like there was a person inside the creature. I told ADI that that's what I wanted for Annabelle. When this doll looks at you, it feels like there's something behind those eyes; it's more than an inanimate object.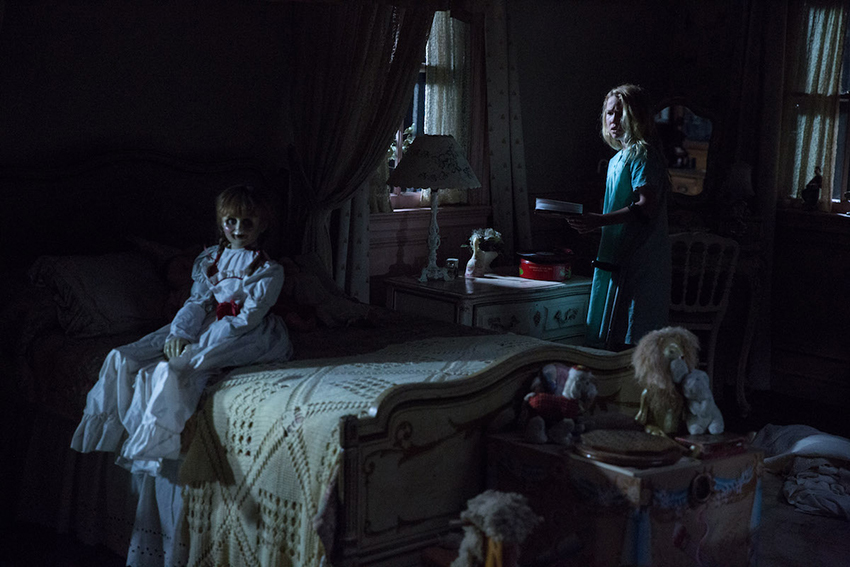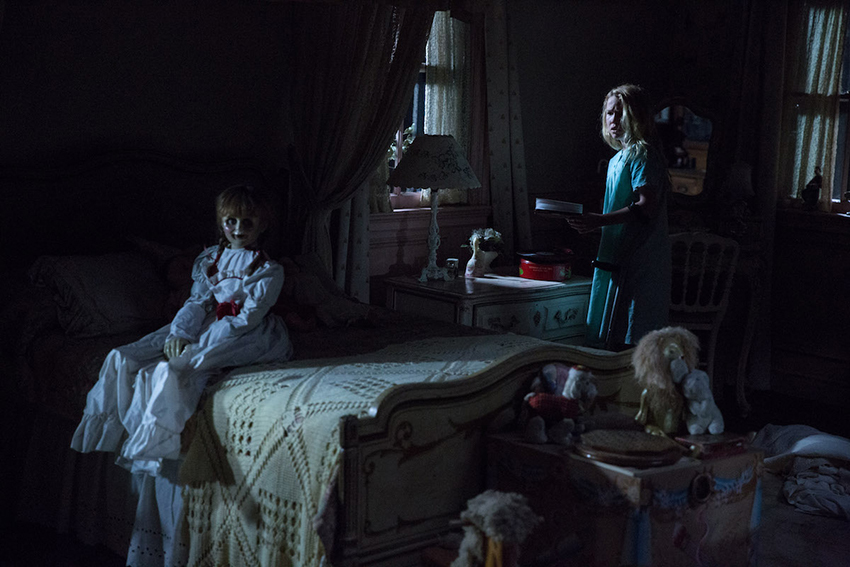 It would seem though that those more-than-inanimate eyes are not just reserved for on-the-screen creepiness, as it even affected the cast and crew, with Miranda Otto stating that she didn't want to be on set with the doll. With Annabelle: Creation boasting a huge group of child actors playing orphans in the care of the Mullins, did these youngsters have the same reaction to the doll as the adults?
I think they were kind of okay with Annabelle, even though they admitted she was creepy-looking. It was Stephanie Sigman, who plays Sister Charlotte, who was most disturbed by the doll.  She didn't want to hold it and avoided Annabelle whenever possible. In fact, Stephanie had heard that for the first Annabelle, a priest had blessed the set, so she asked that our set be blessed, too. And it was.
The doll was of course not the only scary aspect of Annabelle: Creation though, and these young were asked to portray some disturbing scenes. Was it difficult to get them to act in these situations?
They were all so professional that it was never a problem for them to act in the heavy or scary scenes. The youngest of the actors, Samara Lee, who's eight-years-old and a big horror fan. When I told Samara that she shares her name with a famous character in another horror film, she knew immediately what it was [The Ring]; in fact, she was named after that character!

Her favorite director is James Wan, who did the Conjuring films, and when The Conjuring 2 was released, Samara was among the first in line to see the film.

During our table read, Anthony LaPaglia asked Samara if our script was too scary. She replied, "No. I'm eight."  Samara wanted to do as much scary stuff as possible.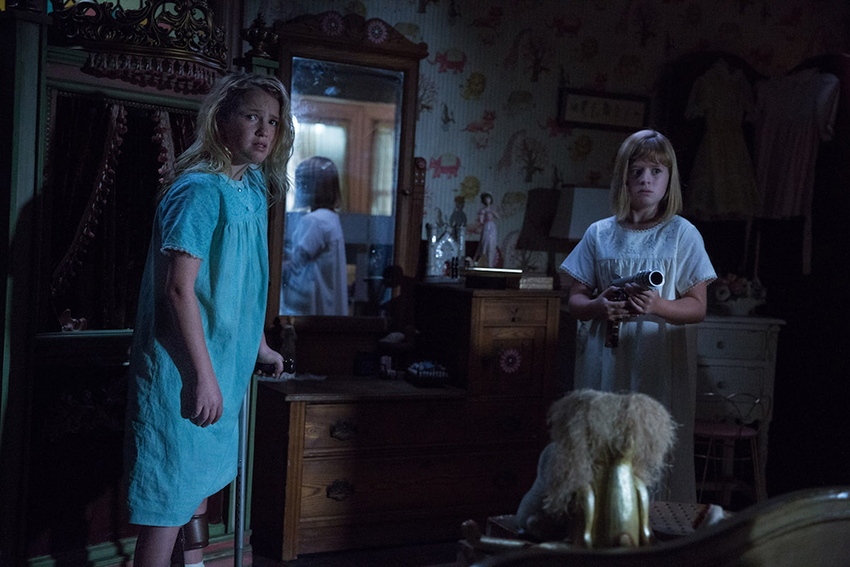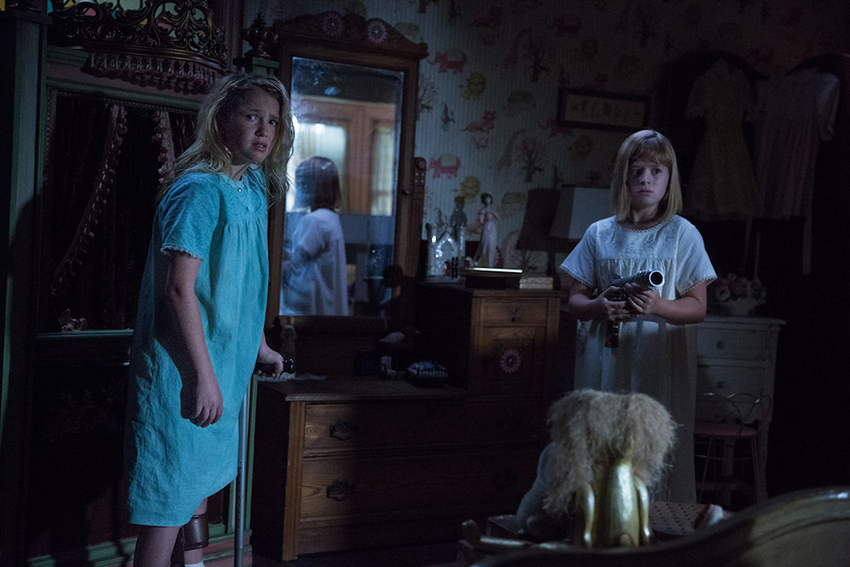 Sound design and music plays an incredibly important role in horror movies – some of the most iconic examples of the genre set your hair on end with just the right haunting musical motif. With Annabelle: Creation, Sandberg got to do the same as he worked with a full orchestra for the first time.
It was a great experience. The brass adds a lot to the scary moments, and we had a separate session with the string orchestra, where we had them explore weird sounds with violins and cellos. We used a lot of that in the movie. Some things the musicians wouldn't do, for fear of ruining their expensive instruments.
As previously mentioned, while I didn't find the first Annabelle to not be the greatest movie itself, watching it with an animated audience was one of the best movie-going experiences I've ever had (anybody who attended the Cape Town screening will clearly remember the guy with the shrilling scream). And that range of animated emotions is really what Sandberg is looking to evoke in his audience.
The best part of being in a theatre with an audience watching the film is the series of three emotions they express: anticipation, when they're whispering, "Is this thing coming?" or "No, don't go in that room!"; when they get scared and jump and scream; and, finally, when they laugh with relief at each other for jumping and screaming. Then that's what I'm hoping for.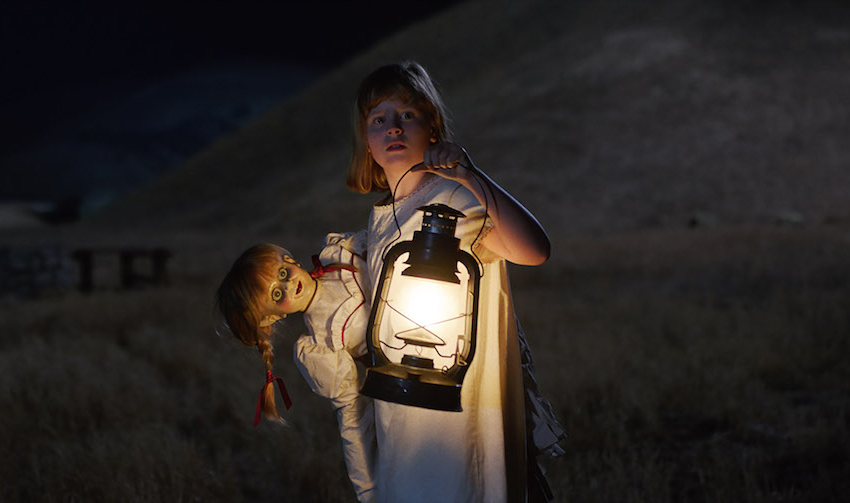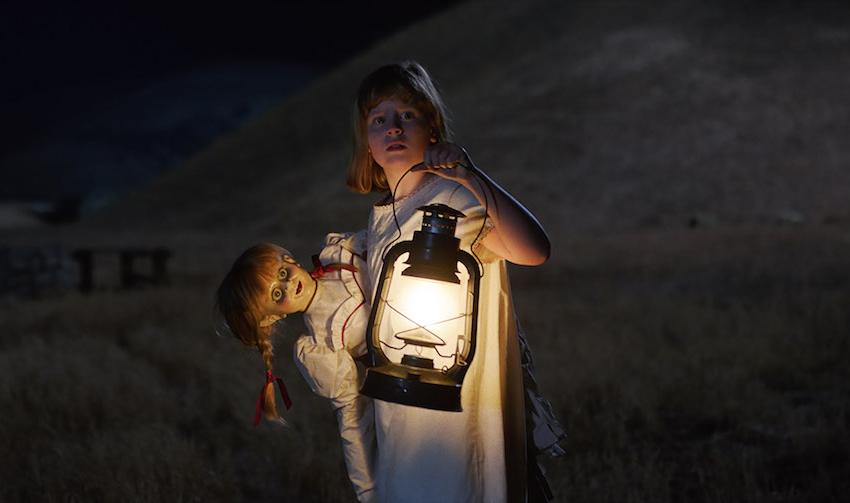 Based on all the early word of mouth, that and more is exactly what is going to happen to us on Thursday evening. For those of you not able to join us, don't worry as you'll get your own chance to experience the delicious horror Sandberg has cooked up when Annabelle: Creation opens the very next day. To get a taste of what's to come, check out the official synopsis and trailer below.
Several years after the tragic death of their little girl, a dollmaker and his wife welcome a nun and several girls from a shuttered orphanage into their home, soon becoming the target of the dollmaker's possessed creation, Annabelle.
Annabelle: Creation opens in local cinemas this Friday, 18 August 2017. This interview was provided courtesy of Times Media Films and is copyright © 2017 Warner Bros. Ent.  All Rights Reserved.
Last Updated: August 15, 2017