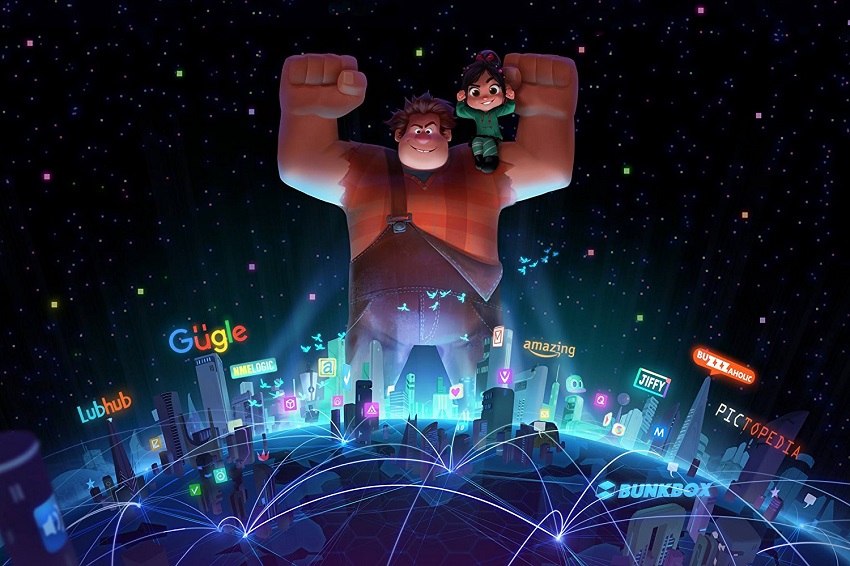 Ralph Breaks the Internet: Wreck-It Ralph 2: Dawn of Infinity Part 1 is the upcoming sequel to 2013's smash (hah!) hit Wreck-It Ralph. It sees John C. Reilly returning to the voice of former video game bad guy who just wants to be a good guy, along with his sidekick Vanellope (once again voiced by Sarah Silverman). The pair must venture out of their arcade and into the wild, confusing, and dangerous world of the internet in order to find a part to repair Vanellope's arcade cabinet.
It features an all-star voice cast of new and returning characters, including Taraji P. Henson, Kristen Bell, Kelly Macdonald, Mandy Moore, Alan Tudyk, Ming-Na Wen, Auli'i Cravalho, Jane Lynch, Jack McBrayer, and Anthony Daniels to name a few, with many of them appearing (so to speak) as Disney characters they've previously portrayed.
The official plot synopsis is as follows:
"Ralph Breaks the Internet: Wreck-It Ralph 2" leaves Litwak's video arcade behind, venturing into the uncharted, expansive and thrilling world of the internet—which may or may not survive Ralph's wrecking.

Video game bad guy Ralph (voice of John C. Reilly) and fellow misfit Vanellope von Schweetz (voice of Sarah Silverman) must risk it all by traveling to the world wide web in search of a replacement part to save Vanellope's video game, Sugar Rush.

In way over their heads, Ralph and Vanellope rely on the citizens of the internet—the netizens—to help navigate their way, including a webite entrepreneur named Yesss (voice of Taraji P. Henson), who is the head algorithm and the heart and soul of trend-making site "BuzzzTube."
Let's take a look:
I'm feeling a tad underwhelmed after watching that. Granted they showed very little of the actual plot which certainly sounds decent enough, but the few gags they did show didn't impress me that much either – especially since the last one is basically just a recycled version of an old Monty Python skit.
As Noelle said about in her review of the original Wreck-It Ralph, it's a smart and funny animated comedy with plenty for both young and old to enjoy. Based on the trailer I'd say the sequel seems to be skewed towards younger audiences. I didn't see that much here for older viewers, and if the movie is going to be relying on old internet memes for the bulk of its laughs then I think it could fall flat, because many of us have seen them a thousand times already.
Or maybe I'm just feeling grumpy. What do you think?
Ralph Breaks the Internet: Wreck-It Ralph 2 is due for release in the US on 21 November. It's directed by Phil Johnston and Rich Moore, and written by Johnson, Jim Reardon, and Pamela Ribon.
Last Updated: March 1, 2018