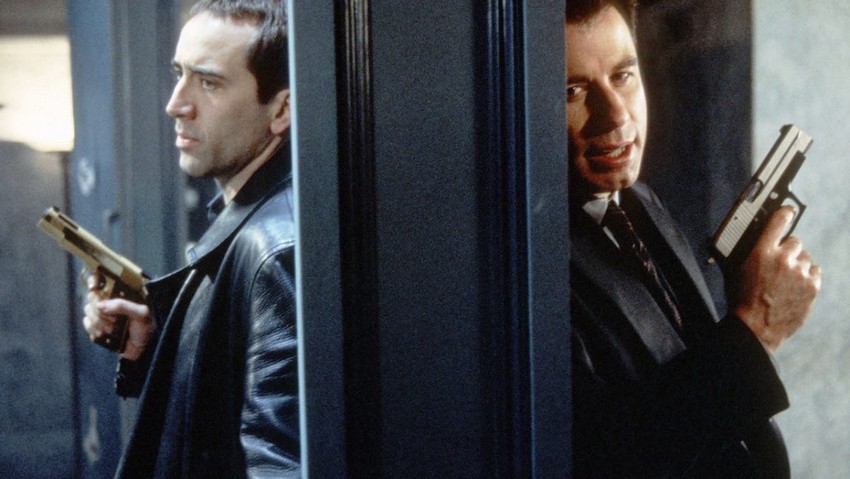 This coming Friday, Godzilla vs. Kong will be stomping its way into theatres, but director Adam Wingard already has his sights set on his next project that involves two cinematic titans facing off on-screen. As was surprisingly revealed last month, Wingard is currently working on a sequel to Face/Off, director John Woo's absolute classic 1997 action masterpiece that saw Nicolas Cage and John Travolta respectively as Castor Troy, an unhinged terrorist, and Sean Archer, the lawman obsessed with taking him down after Troy kills his son. The twist was that during the course of the movie, the two characters have their faces swapped and infiltrate each other's lives, allowing Cage and Travolta to go bonkers as they play each other.
It's a crazy concept that could also lends itself to bringing in a new cast for some more face-swapping shenanigans which is why many initially thought this new film would be a remake. Wingard was very quick to correct initial reports though that this will be a sequel. And he really means a proper sequel in every sense of the word as the filmmaker told Showbiz Cheat Sheet that he wants Cage and Travolta back to reprise their roles and continue their story.
Some people just assume when I say that that it just means it takes place in the world of Face/Off. To me, Face/Off isn't about a procedure or anything like that. It's not about the world that the characters exist in. It's about Sean Archer and it's about Castor Troy. That's what this movie is about. It's the continuation of that story. It's hard to talk about other than that but this is, to me, the definitive continuation of that saga.
According to Wingard, the script for Face/Off 2 (or whatever it will be titled – I'm going with 2 Face/2 Off) is "still in the early phases" with him and co-writer Simon Barrett "very close to turning in our draft to Paramount soon". Thus far the studio is onboard with the outline, but they need to sign off on the actual script. And once that is done, it will be up to Cage and Travolta to see if they agree with it before they can officially be attached to the project.
Now if you remember Face/Off, you're probably thinking that there's a big problem with Wingard's plan to bring back both actors. That's because [SPOILER ALERT], Castor Troy dies at the end of the film… Or does he?
Speaking to CinemaBlend, Wingard seems to imply that in the scene (as seen above), while we see a body, there are some discrepancies that could allude to Troy (in Travolta's body) still being alive.
Isn't it weird, whenever you look at the end of that film, where… you know the part where John Travolta takes the ring off of Castor Troy? You remember that part? They're in the ambulance together. Well, did you notice that Castor Troy has a bandage — that the medic has bandaged his wound? Just take another look at that scene.
Wingard seems to be suggesting that a paramedic wouldn't need to bandage the wounds of a dead man, and if you look closely, he's correct. Troy's wounds are indeed bandaged and he's strapped to the gurney like an alive, but critical patient. This could obviously just have been a flub on the part of the original production, but it looks like Wingard is going to spin that one thread out into a while new movie. We'll have to see if he can pull it off, and I have to admit that I'm kind of stoked to see what he can come up with.
Last Updated: March 24, 2021