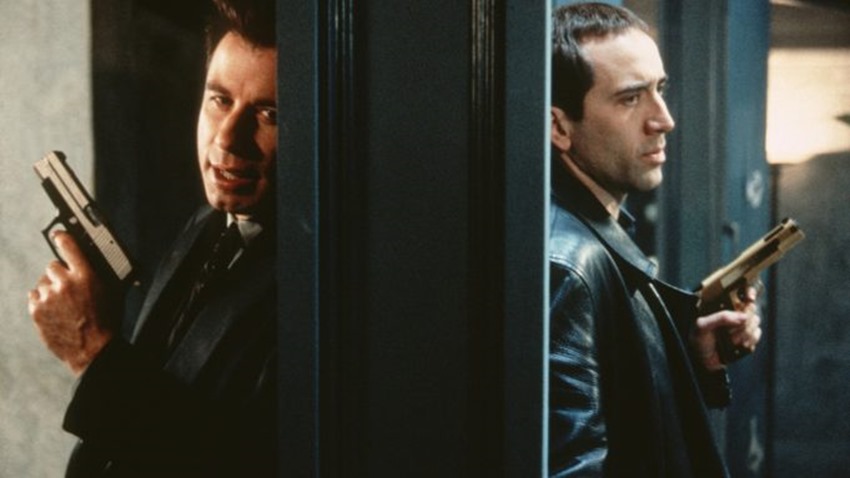 Face/Off is one of cinema's greatest films about frenemies, an absolutely unhinged spectacle of madness and cosmetic jumping the shark as viewed through the lens of John Woo during the height of obsession with cinematic pigeons. If that sentence is a bit of a mouthful, then Face/Off's entire plot is even more bonkers: Nicolas Cage and John Travolta, giving 200% in their roles of face-swapped arch-enemies out for blood as they engage in dual-wielding gun-fu action that's so deranged that it's actually genius. And peaches. Mmmm really gross musings about peaches.
That extravaganza of bullets and pigeons was a long time ago, as Face/Off was released way back in 1997. That technically leaves it ripe for a remake, which was exactly what was supposedly happening according to the likes of Deadline and Collider. According to initial reports, Godzilla vs. Kong director Adam Wingard will put his Kaiju-sized stamp on the series by helming a remake for Paramount Pictures. Wingard will also co-write the film alongside his usual film cohort Simon Barrett, with Fast 'n Furious producer Neal Moritz and Hacksaw Ridge's David Permut helping to slap the production together. However, since the news broke, Wingard has now taken to Instagram to clarify that this won't be a remake but rather a direct sequel to what he describes as a "perfect action movie".
Plot details are of course scarcer than sanity on a film set where Nic Cage is given free rein to act however he wants to. Will Travolta and Cage be back as Sean Archer and Castor Troy or will there be an entirely new cast of people cutting faces off and sewing them onto other people? If it seems like a wild swerve for Wingard to go from Kaiju on Kaiju action to… whatever the hell Face/Off is other than the maddest of drug trips, it's not that unusual! Wingard and Barrett have hopped between multiple genre films over the years, so the fella has some experience changing gears.
The question though, is how do you follow up John Woo's maddest hour? Kervyn's actually got a great idea that I'm going to copy over from our office chat:
This summer, FBI Special Agent Sean Archer is back on the trail of returned homicidal maniac Castor Troy. But when a wacky mix-up occurred while the two bitter rivals were both vacationing in the same Eastern European town with their families, they both find their face has been swapped with that of their respective nemesis' teenage daughter! It's double the faces, double the fun!

2 Face/2 Off! In theatres this summer!
Meanwhile, I've got two ideas of my own. The first is to lean heavily into the potential body horror of this film concept. Imagine reattaching a face, and seeing the body reject it? Imagine a stranger in your house, wearing the face of someone you love, but the face is rotting and the surgical scars are still fresh?
Either that, or the idea of Face-Off turned upside down. Literally.
Last Updated: February 12, 2021