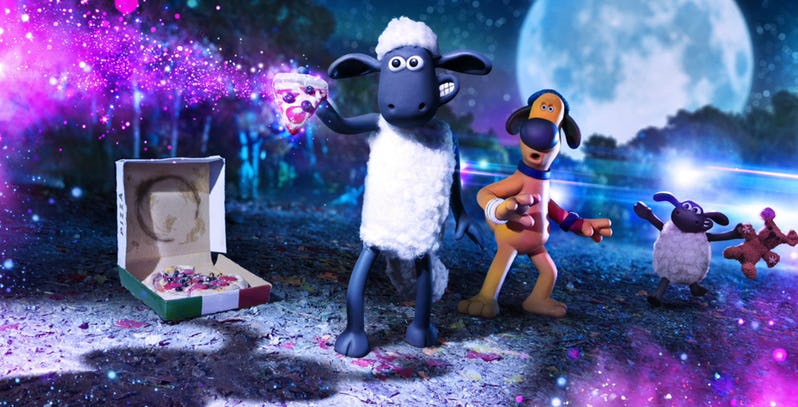 While the animation world continues to find ways of bringing more cutting-edge technology to their movies, it's almost refreshing to see a studio like Aardman Animation sticking to their old fashioned claymation techniques and storytelling. After trying their hands at several original film projects though, the studio is returning to one of their original successes in Shaun the Sheep and making a sequel in the only way that you seemingly can make sequels these days – by making it a whole lot bigger.
And by bigger, I mean outer space as this new movie sees our beloved sheep – who came to fame from some Wallace & Gromit shorts – come into contact with a strange alien creature that sees him needing to take extreme measures to help his new extra-terrestrial friend find his way home and safely out of the hands of human scientists. If you're familiar with Aardman films, then you should know more or less what type of film to expect, which this trailer appears to live up to:
This film looks like a typical Aardman style movie, which means it's likely to have a lot of decent laughs thrown in between the crazy characters and antics that will please fans, but if you aren't really a big fan, its unlikely to win you over either. I have enjoyed a lot their films in the past, but I will be honest that this trailer just doesn't do it for me.
Perhaps it's just that I am growing out of their brand of humour or maybe it's just the silly narration in this trailer that puts me off. If a movie needs a narrator to explain what is going on, does it not imply there is something wrong with the whole movie and idea? Hopefully, it's just me reacting poorly to this trailer and not a sign of what is to come when the movie releases in the near future.
You can read a full synopsis of A Shaun the Sheep Movie: Farmageddon (yes, that title is awkward) below:
Get ready for a close encounter of the furred kind. Watch the brand-new trailer for A Shaun the Sheep Movie: Farmageddon featuring the new track 'LAZY' by The Vaccines and Kylie Minogue. Shaun the Sheep's highly anticipated return to the big screen will herald the arrival of a mystery visitor from far across the galaxy… an impish and adorable alien called LU-LA who crash-lands near Mossy Bottom Farm, Shaun soon sees an opportunity for alien-powered fun and adventure as he sets off on a mission to shepherd LU-LA home. Her magical alien powers, irrepressible mischief and galactic sized burps – showcased in today's trailer – soon have the flock enchanted. Can Shaun and the flock avert Farmageddon on Mossy Bottom Farm before it's too late?
Last Updated: July 4, 2019