Ster Kinekor certainly hasn't skimped on the movies hitting home release this month. There are thirteen new DVDs to choose from in February, with the emphasis mostly on action and horror.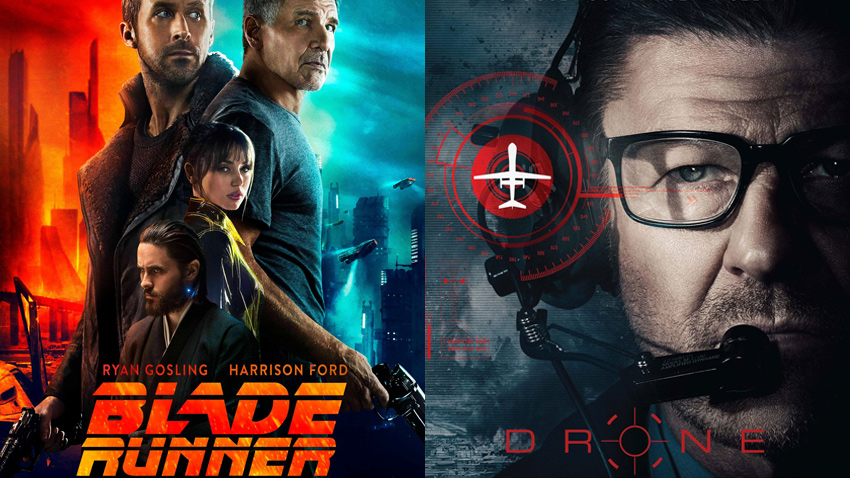 Blade Runner 2049
Genre: Thriller / Science-fiction
Thirty years after the events of the first film, a new blade runner, LAPD Officer K (Ryan Gosling), unearths a long-buried secret that has the potential to plunge what's left of society into chaos. K's discovery leads him on a quest to find Rick Deckard (Harrison Ford), a former LAPD blade runner who has been missing for 30 years.
It may have severely underperformed at the box office, but Blade Runner 2049 dazzled critics for the most part, going on to score five Oscar nominations, plus numerous other awards. Our own Kervyn referred to it as a masterpiece: a rare years-later sequel that pays satisfying tribute to the original – and surpasses it.
Critical Hit: 9.5/10
Rotten Tomatoes: 87%
Metacritic: 81
Drone
Genre: Thriller
Drone pilot and family man Neil (Sean Bean) has spent his career conducting deadly, covert missions overseas all from the comfort of his suburban hometown. When an enigmatic, Pakistanibusinessmann (Patrick Sabongui) shows up at his home seeking revenge, Neil must confront the consequences of his actions.
For some, Drone is a thought-provoking exploration of the morality and consequences of remote warfare. For others, it's heavy-handed and unnuanced. Bean works hard as a relaxed, relatable lead, but the film gets tangled in increasingly preposterous plot twists.
Rotten Tomatoes: 27%
Metacritic: 49
BOO Two! A Madea Halloween
Genre: Comedy / Horror
Madea (Tyler Perry) and the gang are back (once again) for this hilarious sequel. Madea, Bam and Hattie venture to a haunted campground and the group must literally run for their lives when monsters, goblins and the bogeyman are unleashed.
It's the sequel nobody really asked for, but the first Madea Halloween was a box office hit, so here we are. This said, apparently BOO 2! feels shoddily made and joyless. Not even long-time Tyler Perry fans were pleased. The result? Three Golden Raspberry Award nominations, with results pending.
Rotten Tomatoes: 6%
Metacritic: 17
Shot Caller
Genre: Crime / Drama
After a DUI sends him down the rabbit hole of the American prison system, successful businessman Jacob Harlon (Nicolaj Coster-Waldau) is transformed into Money, a stoic, ruthless prison gangster. As he navigates the brutality of his new home, adapting to its violent codes of ethics and rites of passage that will ensure his survival, he slowly loses his previous identity and his relationship to his former life, including his wife and son. The grip of his new family, the prison gang, extends beyond the prison walls. Upon his release, chased by the law enforcement, threatened by his incarcerated "protectors," Money must orchestrate one last dangerous crime. All is not what it seems. The ruthless process of fulfilling his obligations also becomes his path to sacrifice, retribution and self-definition.
Shot Caller may sound like a bag of prison movie cliches, and it kind of is, but the film has been given a harrowing, authentic treatment which elevates it into "worth watching" territory. Game of Thrones star Coster-Waldau also receives a rare big screen opportunity to really flex his acting muscles.
Rotten Tomatoes: 63%
Metacritic: 59
Voice From the Stone
Genre: Supernatural Mystery / Drama
Set in 1950s Tuscany, Voice from the Stone is the haunting and suspenseful story of Verena (Emilia Clarke), a solemn nurse drawn to aid a young boy who has fallen silent since the sudden passing of his mother. The more she observes the boy, the more Verena becomes convinced he has fallen under the spell of a powerful and otherworldly persona, one that seems to be quickly approaching on her.
Novel adaptation Voice From the Stone looks good as a moody, period-set supernatural tale. And Clarke admirably carries the movie with her expressiveness. Unfortunately, the overall film is more mildly eerie than chilling, and suffers from pacing issues.
Rotten Tomatoes: 36%
Metacritic: 42
The Crucifixion
Genre: Horror
When a priest, Father Anton (Corneliu Ulici) is jailed for the murder of a nun on whom he was performing an exorcism, investigative journalist Nicole (Sophie Cookson) strives to determine whether he in fact murdered a mentally ill person, or if he actually lost the battle with a demonic presence.
If you've seen one demonic possession movie you've seen them all. That's apparently the case with The Crucifixion, which, even worse, sticks to the tired formula of repeating shrill noises and jump moments ad nauseam to generate scares.
Rotten Tomatoes: 0%
Metacritic: TBD
Kill 'Em All
Genre: Action
After a massive shootout, a mysterious stranger (Jean-Claude Van Damme) arrives at a local hospital on the brink of death. Then, a foreign gang brazenly comes to the hospital to hunt him down. His nurse, the sole surviving witness to the follow-up shootout, must face an FBI interrogation that unlocks a plot of international intrigue and revenge. With enough twists and turns, KILL'EM ALL will keep you guessing until the final bullet is fired.
Kill 'Em All is filling the straight-to-DVD action quotient this month. No Metacritic reviews, no Rotten Tomatoes ranking, but user comments paint a lacklustre picture. Van Damme looks old and this Die Hard clone is more boring than badass, with no sense of fun.
Tulip Fever
Genre: Romance / Historical Drama
In 17th Century Amsterdam, an orphaned girl (Alicia Vikander) is forcibly married to a rich and powerful merchant (Christoph Waltz) – an unhappy "arrangement" that saves her from poverty. After her husband commissions a portrait, she begins a passionate affair with the painter (Dane DeHaan), a struggling young artist. Seeking to escape the merchant's ever-reaching grasp, the lovers risk everything and enter the frenzied tulip bulb market, with the hope that the right bulb will make a fortune and buy their freedom.
Delayed since 2014, Tulip Fever seems to have loads going for it – particularly its prestigious cast and lush aesthetic. The problem is that this period piece (re-edited several times over the years) feels over-plotted, lifeless and completely unengaging.
Rotten Tomatoes: 9%
Metacritic: 38
The Big Sick
Genre: Romance / Comedy
Based on the real-life courtship between Kumail Nanjiani and Emily V. Gordon, THE BIG SICK tells the story of Pakistan-born aspiring comedian Kumail (Nanjiani), who connects with grad student Emily (Zoe Kazan) after one of his standup sets. However, what they thought would be just a one-night stand blossoms into the real thing, which complicates the life that is expected of Kumail by his traditional Muslim parents. When Emily is beset with a mystery illness, it forces Kumail to navigate the medical crisis with her parents, Beth and Terry (Holly Hunter and Ray Romano) who he's never met, while dealing with the emotional tug-of-war between his family and his heart.
The Big Sick was one of the most successful indie films of last year, commercially and critically. In fact, it's even up for an Oscar for Best Original Screenplay. Witty, charming and emotionally satisfying, it's been celebrated as one of the rare standout romantic comedies of recent years.
Rotten Tomatoes: 98%
Metacritic: 86
The Whale Caller
Genre: South African / Drama
Based on the novel by renowned South African author, Zakes Mda. When the tourists at the seaside village of Hermanus have gone home, the Whale Caller (Sello Maake Ka-Ncube) lingers to woo a whale he has named Sharisha with cries from a kelp horn. When Sharisha fails to appear for weeks, the whale caller frets like a jealous lover, oblivious to the fact that the town drunk, Saluni (Amrain Ismail-Essop), an attractive woman wearing a silk dress, is infatuated with him. The two misfits eventually fall in love.
A local literary novel of the Magical Realism school gets an unsurprisingly arty adaptation. The problem, though, is that it feels more like an overacted stage production than a film. The big screen Whale Caller is trite and lacks the subtle thematic and character explorations of its source material.
The Last Word
Genre: Drama / Comedy
A one-time highly successful business woman, Harriet Lawler (Shirley MacLaine) has micro-managed every single aspect of her life. Why would her obituary be any different? And so she assigns the task to a local writer, Anne Sherman (Amanda Seyfried). When the first draft doesn't meet her expectations, Harriet sets out to rewrite her life's story before it's too late, with Anne dragged along as an unwilling accomplice. But as Anne slowly comes to realize, it's not Harriet's legacy she's helping to shape, it's her own.
Evidently you won't buy The Last Word for a single minute, but this pedestrian "curmudgeon reforms" tale is far from terrible. Contrived, and below the talents of MacLaine, but any opportunity to see the acting legend at work is to be appreciated.
Rotten Tomatoes: 37%
Metacritic: 40
Certain Women
Genre: Drama
This look at three women striving to forge their own paths amidst the wide-open plains of the American Northwest follows a lawyer (Laura Dern) who finds herself contending with both office sexism and a hostage situation; a wife and mother (Michelle Williams) whose determination to build her dream home puts her at odds with the men in her life; and a young law student (Kristen Stewart) who forms an ambiguous bond with a lonely ranch hand (Lily Gladstone). As their stories intersect in subtle but powerful ways, a portrait emerges of flawed, but strong-willed individuals in the process of defining themselves.
Highly acclaimed, Certain Women has been an indie circuit darling. Its slow pace and focus on the distinctly ordinary means it won't be for everyone, but if you like nuanced characters and authentic, heartfelt acting, add it to your must-watch list.
Rotten Tomatoes: 92%
Metacritic: 82
Sleight
Genre: Action / Crime
young street magician (Jacob Latimore) is left to care for his little sister after their parents' passing and turns to illegal activities to keep a roof over their heads. When he gets in too deep, his sister is kidnapped and he is forced to use his magic and brilliant mind to save her.
Sleight is evidently a little-known gem, dazzling despite its tiny budget. It's been compared to Chronicle due to its mix of gritty real-world superheroics and coming-of-age struggles. It doesn't quite reach its full potential but the performances are excellent.
Rotten Tomatoes: 73%
Metacritic: 62
Last Updated: February 9, 2018