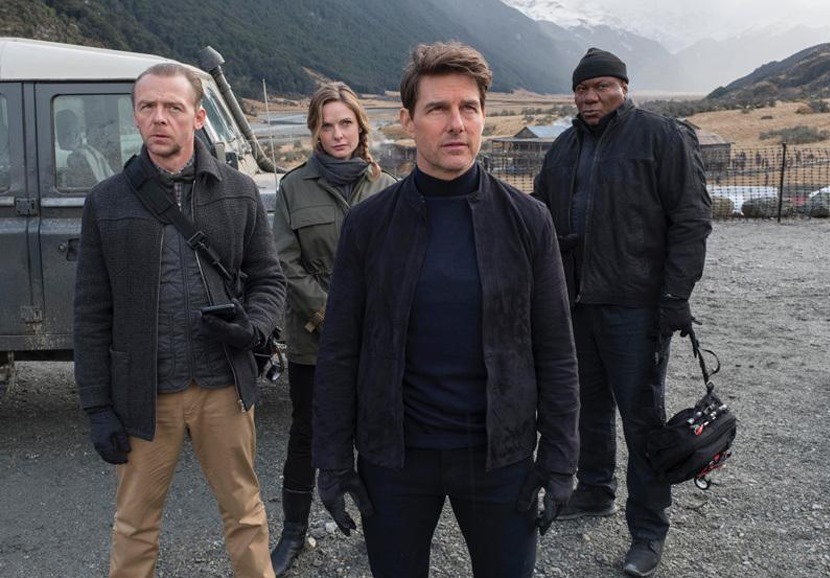 Tom Cruise is back in his seemingly regular attempt at suicide via Hollywood blockbuster with Mission: Impossible – Fallout. The sixth film in the franchise has already made plenty of headlines with Cruise breaking his ankle during one stunt (which he completed filming by the way, as an inhuman action demigod does), and also pulling off a few more, like doing an actual HALO jump that was so dangerous that they had to film it in the UAE because other countries wouldn't allow it for real. And based on the absolutely incredible praise the latest instalment in the spy action thriller has been drawing, it was totally worth it.
The first real sequel in the franchise, as it picks up very soon after the events of the already brilliant Mission: Impossible – Rogue Nation, Fallout sees Christopher McQuarrie writing and directing again with recent franchise members like Rebecca Ferguson as Ilze Faust and Sean Harris as baddie Solomon Lane returning alongside Cruise's Ethan Hunt and the rest of his team while Henry Cavill and his infamous moustache debut. The first press screening for the film happened in LA in the early hours of yesterday morning our time, and through the course of the day short reactions were posted to Twitter by those who were in attendance. And damn they were positive.
MISSION: IMPOSSIBLE — FALLOUT is easily the best action movie since Fury Road. just god-level stuff. the highest praise I can give a movie: I'm not even mad it's making me late to Radiohead.

— david ehrlich (@davidehrlich) July 12, 2018
The acting Rebecca Ferguson can do through a fucking motorcycle helmet is amazing. The CGI justice league mustache was worth it because Cavill's "Fallout" bathroom fight is legendary. Tom Cruise you're a psycho, never change. #MissionImpossibleFallout

— Zack Sharf (@ZSharf) July 12, 2018
MISSION: IMPOSSIBLE may be @TomCruise & @ChrisMcQuarrie's THE DARK KNIGHT. This is EASILY the best active film franchise, the best action movie of the summer, and between 10 & 100 times better than ANY Marvel movie. Cruise is the greatest movie star there is, was, & EVER will be.

— Jeff Sneider (@TheInSneider) July 12, 2018
MISSION: IMPOSSIBLE – FALLOUT. This movie is sex.

— Bilge Ebiri (@BilgeEbiri) July 12, 2018
#MissionImpossibleFallout is 2.5 hours of Tom Cruise proving he's Superman. I loved every insane minute.

— Nigel M. Smith (@nigelmfs) July 12, 2018
Mission: Impossible Fallout is relentless. It's intense and so flat out exciting that you laugh because you can't believe what you're seeing. It's incredible.

— Germain Lussier (@GermainLussier) July 12, 2018
HOLY. ****.

MISSION: IMPOSSIBLE — FALLOUT is a freakin' cinematic shot of adrenaline to the heart.

The most complete, balanced and awe-inspiring MISSION.

They don't make movies like this anymore — and I don't know if we'll ever see another star like @TomCruise in our lifetime. pic.twitter.com/VtZc5A1TcX

— Jake Hamilton (@JakesTakes) July 11, 2018
Let me let you guys in on a little film press secret: Getting to watch big movies before anybody else is cool. So cool that you tend to not be able to stop yourself from being swept up in the excitement of watching something with like-minded film geeks who all appreciate this art form as much as you do. As such, walking out of a cinema you almost always think of a movie a bit more glowingly than you do a couple of hours later when you sit down to write your review in an objective and analytical manner. Subsequently, early social media reactions should always be taken as skewing a bit more positive than the movie actually deserves. Except, it would appear, that's not the case here.
With the full review embargo dropping a couple hours ago, critics have now gone all in on assessing the movie… and they're still completely blown away by it. Fallout is currently sitting on an average critic score of 86% after 20 reviews on Metacritic, with 5 of them from some of the biggest publications on the planet giving the film full 100%. Here are a few snippets from the reviews:
…writer-director Christopher McQuarrie's Fallout is the closest the series has come to Ethan Hunt's own Skyfall or On Her Majesty's Secret Service – the sequel that fills in the IMF agent's personal backstory and the emotional sacrifices he's made chasing the lunatic villains of the world. It's a film with not just action, but stakes. Hunt's rubber mask drops long enough to give us a glimpse of the humanity underneath.

The plot of Fallout is too elaborate to possibly spoil. At times, I could barely make sense of all of its moving watchworks parts. Thankfully McQuarrie and Cruise just keep tightening the vise and throwing jaw-dropping set pieces at you like confetti: skydives through lightning storms, adrenalized Ronin-like car chases, hand-to-hand brawls in toilet stalls, and the sort of vertiginous, cliffhanging scrapes with certain death that elevate it all above any of its tentpole peers. At this point in Hollywood's franchise-fatigue cycle, it's rare to see a sequel (nevermind a fifth one) one-upping itself. Fallout is a unique exception that defies our seen-it-all cynicism. It's the kind of pure, straight-no-chaser pop fun that not only keeps taking your breath away over and over again, it restores your occasionally shaky faith in summer blockbusters.
Fallout doesn't stint on the state-of-the-art set pieces that have long been a series staple, ever since Cruise dangled above that motion-sensitive vault floor with Brian De Palma holding the strings.

Beyond these highlights, which get more and more spectacular as the film goes on, it has tricks in its story you don't see coming, and even the several scenes in, yep, dingy basements — McQuarrie is the most subterranean schemer in the business — pay off with nifty reversals that justify every beat of their seemingly drab exposition.

…This finale has got to rank among the most eye-poppingly gorgeous action sequences ever shot: huge hat-tip to the generally amazing British cinematographer Rob Hardy (Annihilation) for saving such lavish visual treats for dessert.
Man oh man, what a ride. If there's a way to have more pure, exhilarating fun in a movie theater, I am not aware of it. Mission: Impossible – Fallout is the type of movie where you leave the theater with so much adrenaline pumping through your veins that you just don't know what to do with yourself after.

There was a time when I thought I wanted Tom Cruise to go back to making dramatic movies and really act. I have changed my mind. I just want Cruise to keep making Mission: Impossible movies. When Cruise is 85, I want the plot to be "to save Earth, Ethan Hunt has to go get Elon Musk's space car because a remote detonator is inside, and drive it back to Earth," and then Cruise actually gets in a spaceship and goes and gets it. I'm in! Sign me up for six more of these movies.
Of course there are some less-than-enthused critics, but for the most part, these are folks who have never been fans of this franchise so that's not too surprising. Even so, these people aren't getting anywhere close to lambasting the movie and almost universally agree that their perceived criticisms can still be overlooked thanks to Cruise and co's incredible action efforts. Personally, as somebody who has loved this franchise since day one (although, MI2 was admittedly quite the stumble), I'm beyond pumped to see this now. Luckily, that won't be too long from now as Mission: Impossible – Fallout is scheduled to release locally on 27 July.
The best intentions often come back to haunt you. MISSION: IMPOSSIBLE – FALLOUT finds Ethan Hunt (Tom Cruise) and his IMF team (Alec Baldwin, Simon Pegg, Ving Rhames) along with some familiar allies (Rebecca Ferguson, Michelle Monaghan) in a race against time after a mission gone wrong. Henry Cavill, Angela Bassett, and Vanessa Kirby also join the dynamic cast with filmmaker Christopher McQuarrie returning to the helm.
Last Updated: July 13, 2018