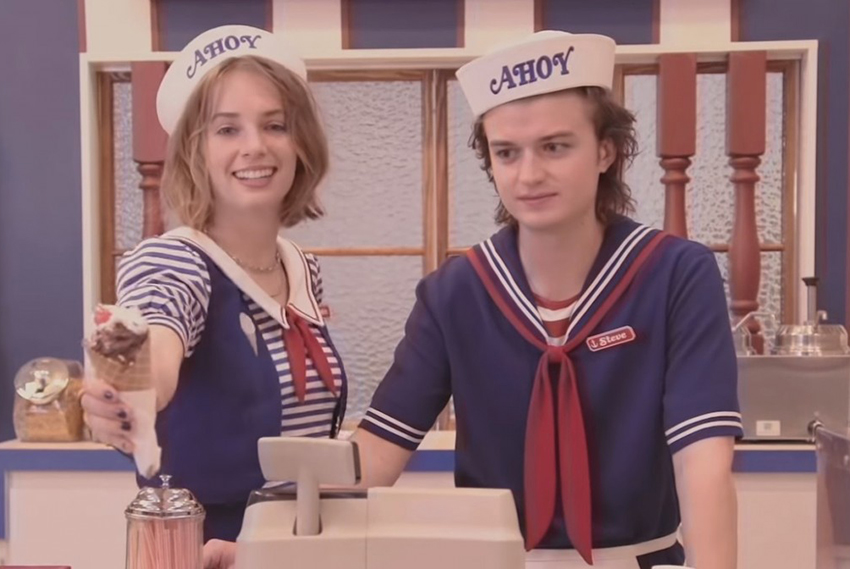 I don't know if you guys noticed since it's played down so much, but Stranger Things is actually set in the 1980s. I know! Shocking, right? Sarcasm aside, Netflix's breakout horror show has been on the forefront of the wave of 80s nostalgia that has gripped pop culture lately, and is arguably the best example of how to do this type of throwback correctly. For the show's upcoming third season, that is set to continue as we follow the beloved group of intrepid heroes as they unearth more macabre mystery and spine-chilling intrigue in their small hometown of Hawkins, Indiana. Oh and also a mall.
Yes, Hawkins is moving on up in the world and getting a brand new mall in the form of Starcourt, which is described as "one of the finest shopping facilities in America and beyond with options for the entire family!" And we get to see The Starcourt and all its oh-so-80s icons – these references will probably be way more recognizable for the American crowd –  in the first teaser for Stranger Things season 3.
This teaser doesn't really give us any serious information regarding the story for the upcoming season, but we do get to see everybody's favourite awesomely coiffed douchebag-turned-hero Steve Harrington (Joe Keery) at his new job serving ice cream. This is also our first look at the still-unnamed character played by series newcomer Maya Hawke – real-life daughter of Ethan Hawke and Uma Thurman – who is seemingly Steve's Scoops Ahoy co-worker. Check it out below.
As Variety points out, the reference at the end to Starcourt Industries may just hint at a much larger, probably nefarious, corporate entity that is moving into Hawkins. It's probably also not a stretch to think that Netflix is setting up the mall as a location for some significant portion of the action. As to when we'll get to see that action, while Netflix is keeping mum on a release date, Starcourt Mall's opening date of "next summer" could provide a clue. Season 2 of Stranger Things opened in October last year to coincide with Halloween, so maybe season 3 will latch onto the US summer vacation? What better time to hang out at a new mall?
As for that previous season of Stranger Things, the show pulled in quite a few Primetime Emmy Award nominations last week, including nods for Best Drama Series as well as Best Supporting Actress in a Drama Series for Millie Bobby Brown and Best Supporting Actor in a Drama Series for David Harbour. It also notched up an additional seven Creative Arts Emmy Awards nominations for the brilliant technical work gone into realizing its monstrous scares.
Last Updated: July 17, 2018