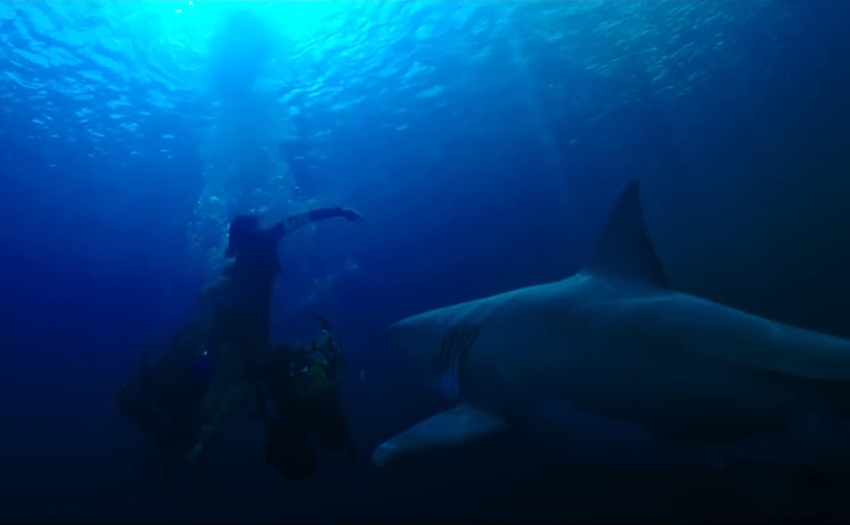 In case you missed yesterday's box office report, sharks are really big right now. Like, literally really big right now as giant shark movie The Meg was the biggest movie in the world over the weekend. Of course, sharks have always been (figuratively) big when it comes to movies as Hollywood has churned out a steady stream of projects about the undersea apex predators ever since Steven Spielberg invented the summer blockbuster with Jaws back in 1975. And over the last few years, we've seen a couple more added to that list, with last year giving us 47 Meters Down.
Directed by British filmmaker Johannes Roberts, the film followed Claire Holt and Mandy Moore as two sisters who experience disaster on a Mexican holiday when they go shark-cage diving. As the cable holding the cage snaps. they plummet down 47 meters to the ocean floor, leaving them trapped, running out of air, and surrounded by great white sharks. Originally planned to be a straight-to-DVD and VOD release under the title In the Deep, distributor Dimension Films sold the rights to Entertainment Studios who decided at the last minute (DVD review screeners had already been sent to press) to instead give it a theatrical release. The gamble paid off as the $5 million production, now billed as 47 Meters Down, earned $61.7 million worldwide becoming one of the most profitable releases of 2017.
With that kind of return on investment, it didn't take long for a sequel, imaginatively named 48 Meters Down, to be greenlit. After what seems like a traditional title change later though, we now have the first look at the film (kind of) which reportedly sees "Five backpackers, diving in a ruined underwater city, quickly learn they are not alone in the submerged caves". This first teaser trailer is actually comprised mainly of footage from the first film, but it does serve as a reminder to folks about what type of thrills the sequel will bring as producer James Harris told Collider that "[47 Meters Down: The Next Chapter] will take the claustrophobia of cave diving and the thrill of shark encounters and move everything to the next level."
Although Holt and Moore aren't back (really, how unlucky would they have been if this happened to them again?!), Roberts is directing again with a cast of mostly unknowns. 47 Meters Down: The Next Chapter is still only quite early along in production – hence the lack of new content in the trailer – so you should only expect this one to make a splash at cinemas on 28 June 2019.
Last Updated: August 14, 2018