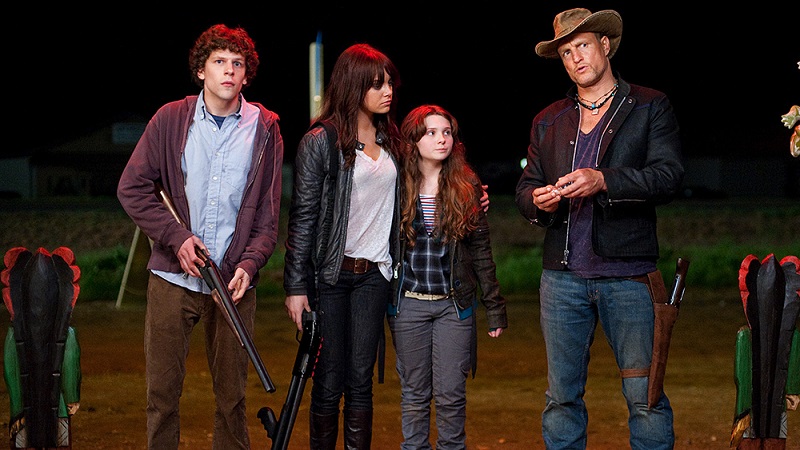 I'm really not one to care about viral challenges. I did not dance and sing next to a moving car, dump a bucket of ice water on my head, or pretend to be a mannequin. With that being said, even I got into the #10YearChallenge on Facebook just to that I could remind myself how I've aged like a fine wine in a decade. Okay, maybe not a fine wine. More like cheap box wine you buy at a 7-Eleven.
Some people are luckier though to have aged much more gracefully than I did. Case in point: the cast of Zombieland 2 who have done their own #10YearChallenge as they reunite for the long-awaited sequel to the 2009 cult classic zombie horror/comedy. This was revealed through the film's first official poster which doesn't give us our first look at Woody Harrelson's Tallahassee, Jesse Eisenberg's Columbus, Emma Stone's Wichita, and Abigail Breslin's Little Rock, but also give us the sequel's official title!
Zombieland: Double Tap. I like it. The name is of course in reference to Columbus' long list of hilarious (but effective) rules to surviving the zombie apocalypse the characters find themselves in. "Double Tap" is appropriately the second rule on the list, right behind arguably the most important rule of "Cardio".
The official plot synopsis for the upcoming sequel has yet to be released, but SuperBroMovies claims to have some inside info on just what will go down, including the new types of undead they have to deal with. PLEASE NOTE: This is still very unconfirmed info even if it rings very true.
Zombieland 2 will follow the charismatic group of zombie slayers following the events of the first film as they settle into their post-apocalyptic lives. They've chosen a more luxurious lifestyle and decided to set up camp in the White House. After a disagreement between Columbus (Jesse Eisenberg) and Wichita (Emma Stone) causes the group to split, Little Rock (Abagail Breslin) runs off with Berkeley (Avan Jogia), a guy she just met.

The group then sets off to rescue Little Rock, but, of course, they aren't alone in the world. New types of zombies have overrun the world, they include Homers (dumb ones), Hawkings (smart ones) and Ninjas (deadly ones). Along the way, Tallahassee (Woody Harrelson) meets his match in the form of a female zombie-hunting badass named Nevada. This makeshift family will have to use all their skills and follow Columbus' survival rules if they want to make it out alive.
Besides for returning cast mentioned above, we've heard reports that not only will Bill Murray be reprising his cameo role from the first film, but fellow Ghostbuster Dan Aykroyd will also be showing up. Zombieland: Double Tap will also be bringing the band back together behind the camera as director Ruben Fleischer (Venom) and screenwriting duo Rhett Reese and Paul Wernick (Deadpool 1 & 2) will all be returning, fresh off their recent successes. The sequel is scheduled for release on 11 October 2019.
Last Updated: January 30, 2019