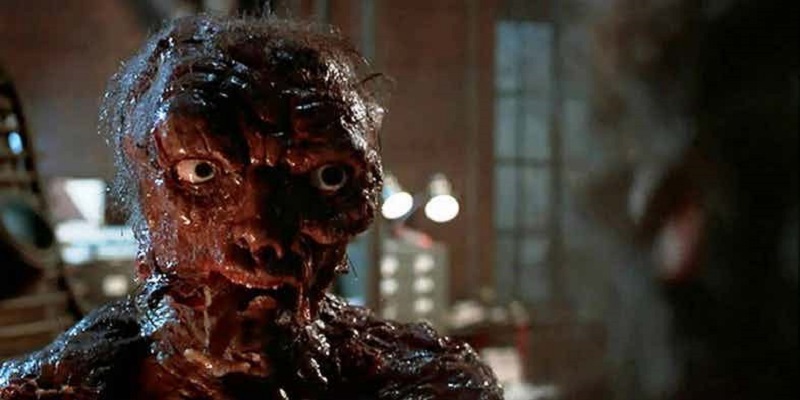 The Fly was one of the best horrors of the 80s. David Cronenberg's story of a brilliant but eccentric scientist who mutates into a fly-human hybrid after an experiment gone wrong was an incredible mix of clever sic-fi and slow building terror as you watched Jeff Goldblum transform into a human fly. The Fly was also a remake of a 1958 Kurt Neumann film.
So, I guess it's fitting that the film is now getting another remake. Deadline reports that the remake is currently in development at Fox with J.D. Dillard (Sleight) in talks to direct the film and write the script alongside Alex Theurer. The plan is reportedly to tell the story in a modern way and make it appeal to a younger market. What that entails and means, I have no idea. Perhaps the studio secretly thinks that if the last remake was a lot more successful than the original film, then perhaps this remake could be even more successful.
One thing I would like to see in a modern retelling of this story is the improved visual effects. The 1986 featured some incredible use of make-up for its time and even won an Oscar for Best Makeup. In today's world of computer animation and motion capture however, I'd imagine they could recreate a lot of this better digitally and make it look even more frightening and convincing.
Having a relative newcomer such as Dillard work on the film could be seen as a risk, but the director's debut film Sleight was incredibly well received and showed he had talent to craft a gripping story that is also visually appealing, something which would certainly work for this remake.
The Fly will definitely look to reboot the story from a fresh perspective and not try and act as a sequel in any way, which is probably a good thing because The Fly actually did have a sequel, The Fly 2, and it was awful, so I'd prefer not to talk about it.
No word yet on any planned release dates for the film, but I guess before they can start thinking about that – they need to find a star for the film. The Fly helped blast Jeff Goldblum into the big time. Perhaps it could do the same for someone else. Who do you think could be cast as The Fly in this remake?
Last Updated: March 15, 2017