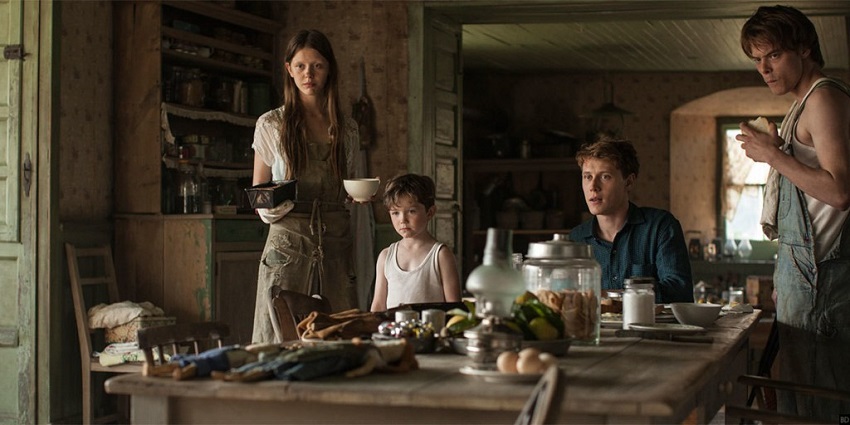 Marrowbone is the upcoming drama/horror movie from Spanish writer Sergio G. Sánchez, who steps behind the camera for his feature movie directorial debut. He's best known as the writer behind the drama/thrillers The Impossible and The Orphanage.
George MacKay (Captain Fantastic), Charlie Heaton (Stranger Things), Mia Goth (A Cure for Wellness), and Matthew Stagg (Macbeth) star as four English siblings who move to America to start a new life following the death of their mother. However they soon find that their isolated coastal home has secrets of its own, and that they may not have moved far enough to escape their past.
The official plot synopsis is as follows:
Four siblings seek refuge in an old home after the death of their mother, only to discover that the house has another, more sinister, inhabitant.
It's received a pretty mixed reception from critics following its screenings at film festivals and its limited international releases, highlighted by Sánchez earning both a Best New Director nomination at the Goya Awards (under the auspices of the Spanish Academy of Motion Pictures and Arts) and winning the Worst Spanish Director award at the parody Yoga Awards (the Spanish equivalent to the Razzies).
It appears as if this is the very definition of a marmite movie. Let's take a look:
Well for one thing I can see why he earned a best new director nomination. This looks absolutely stunningly shot, with some especially gorgeous landscapes on display. The plot doesn't seem to have much new to it, which is neither a good thing nor a bad thing really because it depends on how the cast pull it off. Fortunately Sánchez has assembled a good cast, with the always excellent Anya Taylor-Joy (The Witch, Split) complementing those already mentioned above, who look like they're up to the task.
I suspect this will be a very slow-paced, yet tense, affair. What do you think?
Marrowbone is due for release via on demand, iTunes, Amazon, and in US theatres on 13 April
Last Updated: February 13, 2018