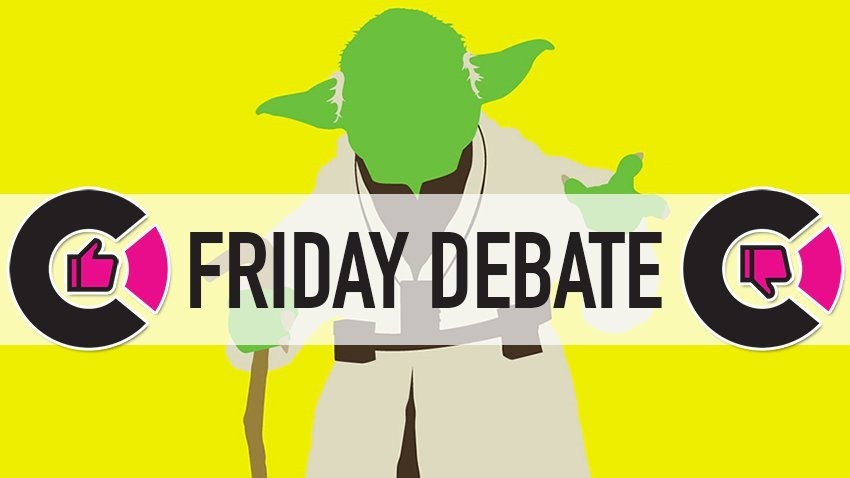 Today is Star Wars day! That's great for the millions and millions of people who revere the franchise. I am, as most of you know, not one of those people. And usually, those people grumble online about people who celebrate today. I'm not going to be one of those people.
While I like Star Wars enough, It's just never resonated with me in the way that it does with its most devoted adherents. I get it though! For many, it's an important part of who they are, especially those who experienced the original trilogy decades ago. While Star Wars means little to me, I asked the office what it meant to them.
"While I'm no obsessive Star Wars fan, as a child Star Wars evoked a sense of wonder, and gave me many hours of imagining swashbuckling space adventures in a galaxy far, far away," Trevor said. "As an adult I still enjoy the movies for the simple escapism they provide. It's the animated side of the Star Wars universe that's had the greatest impact on me, by introducing my favourite character in all of fiction – Ahsoka Tano."
For Craig, it's "the ultimate good versus evil tale, that is rich in character and action. It's the movie that got me into science fiction and fantasy and started my love affair with movies"
Noelle believs that Star Wars is the best blend of Sci-fi and Fantasy.
"Thanks to the current one-movie-a-year release schedule, I have a bit of franchise fatigue right now, to be honest. That said, for me Star Wars is the perfect blend of sci-fi and fantasy. There's always a sense of wonder as you're presented with these intricately realised worlds and alien unrestrained by the usual "dude in a suit" designs. What got me into the series when I was a little girl was Return of the Jedi's Ewoks, and looking at that now, I appreciate how the series wasn't afraid to open the door to kids. Also, to see a tough, competent female character key in establishing a relationship with ferocious teddy bears was amazing, and inspiring. Return of the Jedi's Leia is still an icon to me today."
For Darryn? It's all about the story.
"We're all the products of stories, and it doesn't get any grander than Star Wars. The classic tale of rebels fighting back against overwhelming odds, of how heroes are forged in the heat of battle and how even the smallest change can make the biggest difference. Star Wars is so many things to so many people, a grand epic legend that'll outlive us all.

But to me? It'll always be a great story. One that I'll never get tired of, as new generations tell new tales within that eternal narrative."
Ultra Star Wars fan-nerd Kervyn, Star Wars is all about imagination.
"The best thing that George Lucas ever gave us with Star Wars is not The Force or lightsabers or even the world's most famous asthmatic. No, it it's imagination. Pure, unbridled, wondrous creativity. It's a rich and complex world so full of potential that any story you imagine can be told in it, whether it be high-fantasy quests, familial drama, political thrillers, romance, pirate adventures, comedies, action blockbusters, and so much more. Whether you like movies, books, comics, cartoons, or video games, the possibilities are endless. Be who you want to be, enjoy what you want to enjoy. There's something uniquely magical for anybody willing to step into this galaxy far, far away. I stepped into that galaxy by complete accident as a 7-year old kid (an anecdote for another time), and three decades later not only has my fiery passion for this world never ceased, but I'm still discovering more wonder in it all the time. The Force is still with me."
Well then. What does it mean to you?
The views and opinions expressed in this article are those of the author(s) and do not necessarily reflect the official policy or position of Critical Hit as an organisation.
Last Updated: May 4, 2018