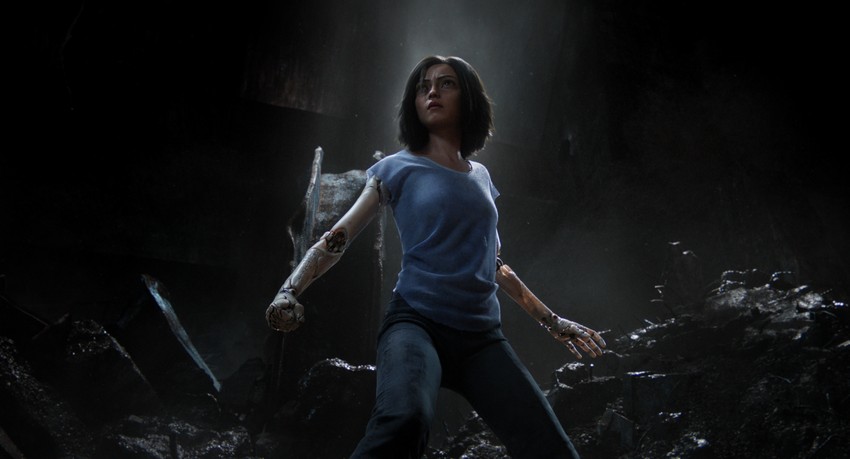 I've got a friend, Thomas, and he got really emotional last night about the new trailer for Alita: Battle Angel. The upcoming sci-fi blockbuster directed by Robert Rodriguez and shepherded by producer James Cameron is based on Yukita Koshiro's 1990 manga series Battle Angel Alita which was also adapted into an OAV (original video animation) in 1993, and it's with the latter that Thomas discovered this tale and promptly fell in love with it. The film brought him to tears thanks to the characters, the story, the music, the themes about how "mankind is garbage" and "our future is not as bright as depicted in the original art". Those are Thomas' words. He's French with English being his second language, so he's not always the most intelligible (unless lots of cursing is involved), but about this, he got positively philosophical.
I mention all of this so that you know that there are people out there who care deeply that Rodrigeuz and Cameron get this big-screen live-action adaptation right. And based on the reaction of many out there after seeing this first full trailer drop last night, it definitely appears that they are. It could be argued that this new preview for Alita: Battle Angel shows a little too much, but what it shows looks incredible. Gorgeous sci-fi visuals, tight action, big jaw-dropping moments… and those eyes.
Yes, they're still going with the large anime eyes on the cybernetic Alita (played by Rosa Salazar) and they're still slightly creepy-looking, but even that can't distract from just how good this film is shaping up. Cameron has been trying to make this movie happen since 2000, but it appears it was worth the wait. Check it out below.
Visionary filmmakers James Cameron (Avatar) and Robert Rodriguez (Sin City) create a groundbreaking new heroine in Alita: Battle Angel, an action-packed story of hope, love and empowerment. Set several centuries in the future, the abandoned Alita (Rosa Salazar) is found in the scrapyard of Iron City by Ido (Christoph Waltz), a compassionate cyber-doctor who takes the unconscious cyborg Alita to his clinic. When Alita awakens she has no memory of who she is, nor does she have any recognition of the world she finds herself in.

Everything is new to Alita, every experience a first. As she learns to navigate her new life and the treacherous streets of Iron City, Ido tries to shield Alita from her mysterious past while her street-smart new friend, Hugo (Keean Johnson), offers instead to help trigger her memories. A growing affection develops between the two until deadly forces come after Alita and threaten her newfound relationships. It is then that Alita discovers she has extraordinary fighting abilities that could be used to save the friends and family she's grown to love. Determined to uncover the truth behind her origin, Alita sets out on a journey that will lead her to take on the injustices of this dark, corrupt world, and discover that one young woman can change the world in which she lives.
Alita: Battle Angel also stars Christoph Waltz, Keean Johnson, Jennifer Connelly, Mahershala Ali, Ed Skrein, and Jackie Earle Haley. It is scheduled for release on 21 December.
Last Updated: July 24, 2018