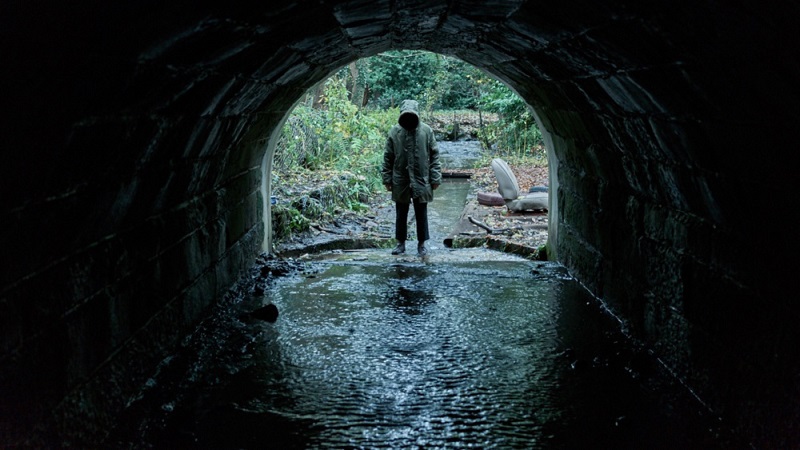 Do you know what's better than a chilling scary story? Three scary stories. Where most horror movies look to take on only one ghost at a time, this new movie from the twisted minds of Jeremy Dyson and Andy Nyman looks to take on three chilling tales all at the same time.  While most movies of this type which try to tell multiple separate stories tend to not quite work out as the different stories tend to feel too disconnected and distracted from one another, Ghost Stories look to have quite a unified vision  – and based on this trailer, looks incredibly frightening:
The movie, which is oddly (at least for a horror) based off a play of the same name from Dyson and Nyman and sees Nyman play the role of Philip Goodman a professor of psychology and legendary "belief buster" who gets entangled in three defend supernatural encounters when he receives a letter from a mentor and parapsychologist (Leonard Bryne) who went missing 15 years earlier. The different stories will each challenge Goodman's strong belief in the rationale over the supernatural and probably scare the wits out of him and the audience at the same time.
The three "ghost stories", which all centre around characters played by Martin Freeman, Alex Lawther and Paul Whitehouse, are apparently each increasingly more terrifying, which should ensure that there is little let-up in tension for the audience, which is really what you want from a good horror movie.
In fact, the pair might be onto something with this seemingly terrifying movie in that they will be able to remove a lot of what makes a traditional horror story lose its tension. Most horror movies are often built around a frightening premise that might scare you at first but run out of excitement as each scare becomes too similar from the last and the mystery begins to unravel. Having three separate stories allows each to feature more unique scares without the audience getting tired of it all.
Perhaps it's a little early to say if the formula is a success or not, but as a trailer alone, it's a definite win. Ghost Stories is out in the UK quite fittingly on Friday April 13, but does not have a release date for South Africa yet. If you're a fan of horror films, this is definitely one to look out for.
Last Updated: January 16, 2018