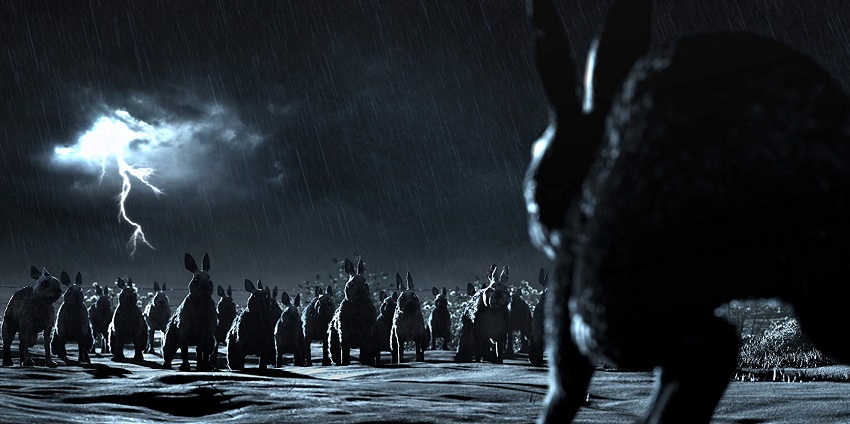 Christmas, unlike a certain George R.R. Martin book, is coming! It's the time of year full of friends, family, food, fun, fpresents, and festive films celebrating all that's good and wholesome in the world. Or, if you're the BBC and Netflix, the perfect time to traumatise yet another generation of young children by killing a bunch of bunnies right in front of their bright eyes. Bah, humbug.
The pair have teamed up to bring a new animated adaption of Richard Adams' classic 1972 children's tale, Watership Down, to the small screen. The four-part miniseries will air just before Christmas and features an absolutely stellar voice cast which includes James McAvoy, Ben Kingsley, Olivia Colman, John Boyega, Nicholas Hoult, Gemma Arterton, Daniel Kaluuya, Taron Egerton, Rosamund Pike, and so many more.
For those of you who weren't exposed to the 1978 movie or the TV series that aired at the turn of the millennium, the story follows a group of rabbits who're forced to flee their home when humans begin to encroach upon their habitat. They have to undertake a dangerous journey to find a new home, but encounter many dangerous adversaries and experience tremendous heartbreak along the way. It may be a children's story, but the book tackled a number of serious themes including the struggle between the individual and the collective, freedom and oppression, and the conflict between reason and emotion.
The official plot synopsis is as follows:
Set in the idyllic rural landscape of southern England, this tale of adventure, courage, and survival follows a band of rabbits on their flight from the intrusion of man and the certain destruction of their home. Led by a stouthearted pair of brothers, they journey forth from their native Sandleford Warren through the harrowing trials posed by predators and adversaries, towards a promised land and a more perfect society.
Let's take a look:
That animation takes a little while to get used to – it looks like something I'd have expected to see a decade ago. The classic story is all there though, and you definitely can't complain about the voice cast. It'll be interesting to see how true this adaption remains to the original story, or whether they soften a few of the blows.
What do you think?
Watership Down is set to premiere on the BBC on 22 December, and on Netflix on 23 December.
Last Updated: December 5, 2018