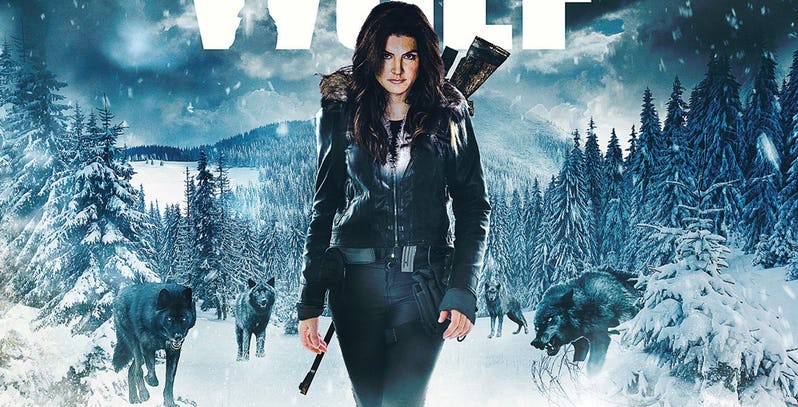 Not sure what it is with popular WWE or MMA stars, but they seem to have a desire for more than just the ring and want to break into the lucrative movie-making business just as much. Already we have the likes of Dwayne Johnson, John Cena and Dave Bautista amongst some of the biggest movie stars in the world and while women have been less successful in breaking into the big time, Gina Carano is probably the closest to doing so having acted in big films like Fast & Furious 6, Deadpool and a starring role in the upcoming Star Wars The Mandalorian series.
Those were all supporting roles though and now she gets the opportunity to show that she can hold her own as a strong female action-hero in this new action thriller titled Daughter of the Wolf. The movie is written by Nika Agiashvili (Tbilisi, I Love You) and directed by David Hackl (Saw V) and sees Carano play a military specialist whose son is kidnapped and held for ransom, where she takes matters into her own hands to hunt the assailants and get her son back. Clearly, they didn't do enough in checking out her military resume before kidnapping her son. Needless to say, they deserve what's coming to them:
Difficult to say what to make of this movie based on this trailer. Carano looks capable enough in the role, though the movie is definitely a lot more low-budget than your typical action film and certainly lands in B-grade territory. That is not necessarily a bad thing if you want just want an escapist action film. The jury is still out on her acting ability, but the film does a least star Richard Dreyfuss in the role of the chief antagonist who certainly brings a lot of energy into this movie. I doubt he can save this film from being mediocre though.
Daughter of the Wolf is making its way to On Demand services on June 14th, so expect to see it available on streaming services in the near future.
Last Updated: May 21, 2019