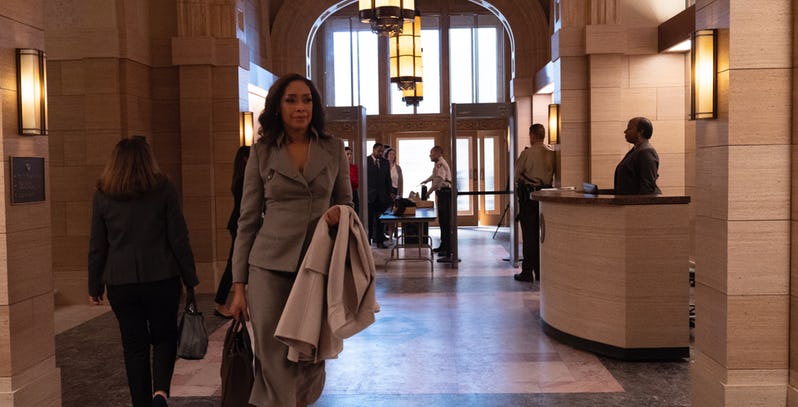 With one of their main cast members deciding she'd rather be a princess than an actress, the future of Suits was always in doubt. And even if it has been renewed for one more season, it should be no surprise that the producers are always looking beyond the legal series to the future. And that future is currently a spin-off focusing on the popular character Jessica Pearson, played by Gina Torres.
Suit-ably called Pearson, the new series will focus on Pearson's life in Chicago politics as she leaves New York city having being disbarred from practising law. Instead, she's decided to use her manipulation and backstabbing skills to an arena that is better suited to it: politics. And just howeasily will she adapt to a world where everyone is just as good as conniving as her? Well, we now have a first trailer to find out:
I think its clear from this trailer that nothing changes and the Jessica Pearson we got from Suits is exactly the same one we will be getting in this new show. Although the city and profession might have changed, this whole series definitely feels like it will be a continuation of Suits and I expect it to play out very similarly. Perhaps the biggest challenge for Torres will be that this time, the show is squarely focused on her, whereas Suits was a clear ensemble with her character being more of a supporting player. Still, if you're a fan of Suits, this will likely appeal to you too.
Pearson is expected to release sometime later this year. An official synopsis of the series is below:
PEARSON centres on the world of recently disbarred NYC powerhouse lawyer Jessica Pearson (Gina Torres) as she adjusts to down and dirty Chicago politics. Newly appointed as Chicago Mayor Bobby Novak's (Morgan Spector) right hand fixer, Jessica is quickly embroiled in a crooked and dangerous new world where every action has far-reaching consequences. With her compulsion to win, Jessica is forced to reconcile her unstoppable drive with her desire to do the right thing – two things very much at odds.
Last Updated: January 30, 2019