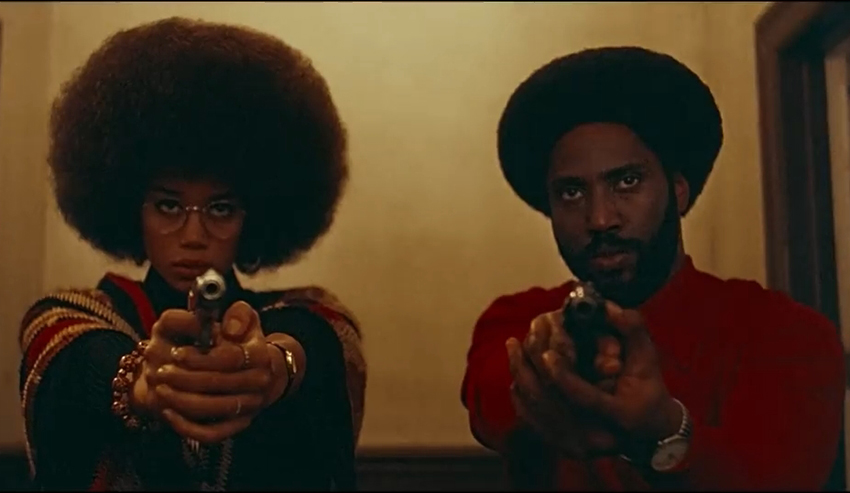 When Jordan Peele's Get Out dropped into cinemas last year with the force of a racially charged nuclear bomb, it blew audiences' minds and announced Peele's arrival as one of the most electric young African American filmmakers out there who was not afraid to tackle sensitive social topics while still thrilling. If that sounds familiar, it's because similar praises were once heaped on Spike Lee decades ago. Since then though, while Lee has remained fairly busy and been an important filmmaking voice in America, his output has definitely been lacking the fire of his early days. That all changed last night.
Lee's latest, a so-crazy-it-has-to-be-true bit of American history called BlacKkKlansman, dropped a fiery hot trailer last night at the very same time that it debuted at and then promptly blew the roof off Cannes Film Festival and looking at this preview, I can definitely see why! Co-produced by none other than the aforementioned Peele, Spike Lee's latest joint stars Denzel Washington's son, John David Washington, and tells of the (sur)real events that took place in the early 1970s when a young black police detective answered a classified ad in the local newspaper for new members of the Ku Klux Klan and managed to brazenly bullshit his way over the phone to eventually reach the very top of the white extremist group. It's like a Dave Chapelle skit, only true and it looks both fiery and funny as hell! Check out the trailer below.
From visionary filmmaker Spike Lee comes the incredible true story of an American hero. It's the early 1970s, and Ron Stallworth (John David Washington) is the first African-American detective to serve in the Colorado Springs Police Department. Determined to make a name for himself, Stallworth bravely sets out on a dangerous mission: infiltrate and expose the Ku Klux Klan. The young detective soon recruits a more seasoned colleague, Flip Zimmerman (Adam Driver), into the undercover investigation of a lifetime. Together, they team up to take down the extremist hate group as the organization aims to sanitize its violent rhetoric to appeal to the mainstream.
BlacKkKlansman received a massive ten-minute long standing ovation after its premiere at Cannes last night, and social media was abuzz with adulations for Lee from those who got to see it. Many are praising the how Lee and his cast – which includes Star Wars' Adam Driver, Spider-Man: Homecoming actress Laura Harrier, and That 70s Show's Topher Grace as a bumbling young version of former Grand Wizard of the Ku Klux Klan, David Duke – pull no punches and for how timely this movie feels in the light of the racial violence and the rise of "Alt-right" in Donald Trump's America. The film has already received a nomination for Cannes' prestigious Palme d'Or award and is currently the frontrunner to take it. If this plays as well as those who have seen it says it plays, then look for it draw a sizable audience and slingshot its way to major awards contention when it releases on 10 August.
Last Updated: May 15, 2018