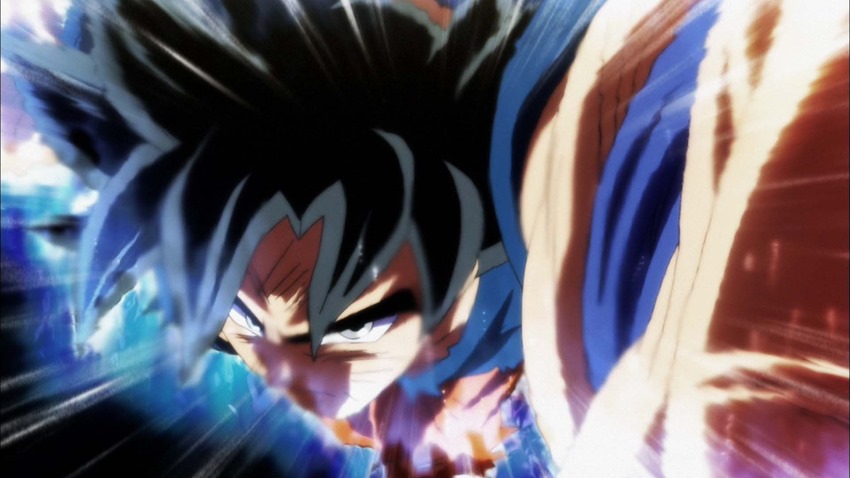 I'm starting to think that Goku may have more power-ups than I have fingers, and my mom drank Uranium while I was in the womb. Going through hair colours like Lady Gaga's touring wardrobe, Goku's no stranger to the odd power-up here and there. What began with the Kaio-Ken in Dragon Ball Z quickly evolved to what appeared to be the zenith of that power during the Frieza saga: Super Saiyan.
That form would see several upgrades over the years, going from an Ascended Super Saiyan through to Super Saiyan 3 and GT's (probably non-canonical) Super Saiyan 4. Dragon Ball Z: Battle of Gods would introduce Super Saiyan God mode, as well as the more refined and efficient Super Saiyan Blue form. Get ready for another new form then, as Goku now has another trick up his sleeve.
今日の悟空はかっこよすぎ!!!
身勝手の極意!いいね!#ドラゴンボール超 pic.twitter.com/BdsgH1Vb8K

— だいき (@DB_Black01) October 8, 2017
今週のドラゴンボールは面白すぎた✨
覚醒した悟空カッコいい #ドラゴンボール超 pic.twitter.com/kH0xsGMYWc

— セブン (@Seven00918) October 8, 2017
泣きました#ドラゴンボール超 pic.twitter.com/hKr4MlqtkX

— かなき(アニヲタ卒業) (@Kanaki0527) October 8, 2017
孫悟空、新形態へ。#ドラゴンボール超 pic.twitter.com/tm0LTErLuC

— ガッチャン (@taiuifchn) October 8, 2017
According to Kotaku, Goku's new form is currently titled "Migatte no Gokui", or "The Key of Egoism" when translated. It's official name so far is Ultra Instinct, and it's a power-up that has been used by both the god of destruction Beerus and his attendant Whis. Essentially allowing a user "react to and counter any threat without having to acknowledge it". That leaves the brain free to come up with new strategies, while the body adapts to any attack used against it.
Imagine Forza 7 with every assist on then, but with fists. I think, look this is a weird analogy. As for power? It's stated that Goku's Ultra Instinct Omen may be more powerful than his previous plateau, which was a combination of Super Saiyan Blue and the Kaio-Ken techniques, dialled up to a magnification of 20.
Currently used against Jiren in Dragon Ball Super, Ultra Instinct didn't ensure a victory for Goku as he had yet to master the form. Which will probably all change in a few episodes or so. Probably.
Last Updated: October 10, 2017