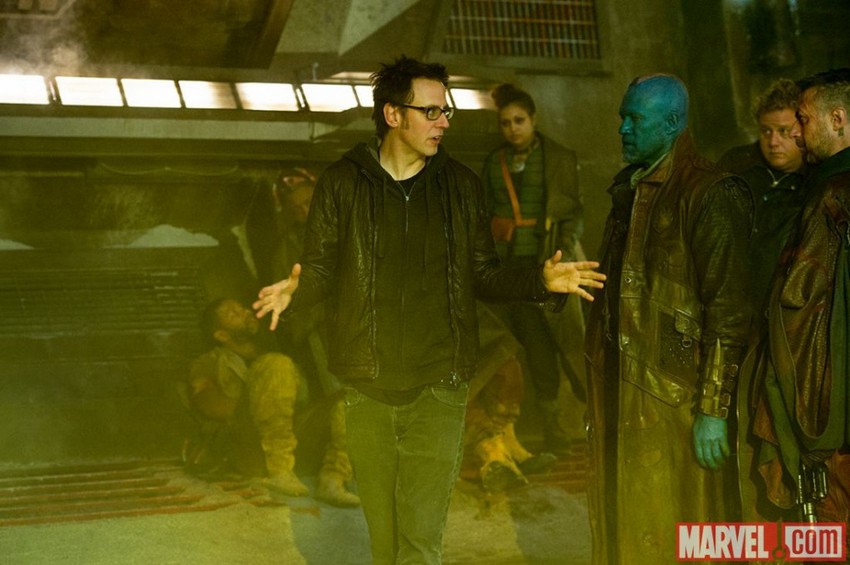 Marvel is skipping this year's San Diego Comic-Con so no announcements were expected this weekend from the comic book movie studio, however one was made late last night and it's most definitely not the good kind. According to an official statement from the Disney-owned Marvel, Guardians of the Galaxy franchise writer/director James Gunn has been fired in light of a slew of highly offensive tweets that have been discovered in the filmmaker's Twitter history.
Gunn, one of the most vocal filmmakers on social media, has regularly been engaged in verbal battles online with conservatives and right-wing activists due to his strong political opinions, particularly his anti-Trump stance. And it was conservative news website the Daily Caller who first unearthed the tweets in question, before being pounced on by right-wing commentator Mike Cernovich. The tweets in question has since been deleted but they saw Gunn making jokes about paedophilia, rape, 9/11, AIDS and more. Some of these "jokes" included saying "I like when little boys touch me in my silly place," and "The best thing about being raped is when you're done being raped and it's like 'whew this feels great, not being raped!'".
Walt Disney Studios chairman Alan Horn responded very quickly, indicating in a press statement that all ties have severed with the Gunn.
The offensive attitudes and statements discovered on James' Twitter feed are indefensible and inconsistent with our studio's values, and we have severed our business relationship with him.
Gunn's Twitter profile was taken down shortly after this fiasco erupted, but the filmmaker has since reinstated and issued a series of tweets in his own defence.
1. Many people who have followed my career know when I started, I viewed myself as a provocateur, making movies and telling jokes that were outrageous and taboo. As I have discussed publicly many times, as I've developed as a person, so has my work and my humor.

— James Gunn (@JamesGunn) July 20, 2018
2. It's not to say I'm better, but I am very, very different than I was a few years ago; today I try to root my work in love and connection and less in anger. My days saying something just because it's shocking and trying to get a reaction are over.

— James Gunn (@JamesGunn) July 20, 2018
3. In the past, I have apologized for humor of mine that hurt people. I truly felt sorry and meant every word of my apologies.

— James Gunn (@JamesGunn) July 20, 2018
4. For the record, when I made these shocking jokes, I wasn't living them out. I know this is a weird statement to make, and seems obvious, but, still, here I am, saying it.

— James Gunn (@JamesGunn) July 20, 2018
5. Anyway, that's the completely honest truth: I used to make a lot of offensive jokes. I don't anymore. I don't blame my past self for this, but I like myself more and feel like a more full human being and creator today. Love you to you all.

— James Gunn (@JamesGunn) July 20, 2018
Gunn, who has always been known for his oddball humour, started his career working on shlocky B-grade affairs from infamous film studio Troma and then made his name as an indie provocateur with offbeat films like the grimly violent Super. In 2014 though, Gunn's fame shot into the stratosphere when he took the Guardians of the Galaxy, one of Marvel's lesser known, weirder properties and turned it into a record-breaking global smash hit, full of extremely offbeat humour and characters. That was followed up in 2017 with Guardians of the Galaxy Vol.2 which continued the franchise's incredible success, with both receiving wide acclaim and grossing a combined $1.6 billion.
Even though Marvel has not officially announced any films past next years Avengers 4, Gunn had publically indicated that he was working on Guardians of the Galaxy Vol.3 and it had even been widely reported that the film would be crucial in determining the future direction of the Marvel Cinematic Universe. In light of what has happened, Marvel has not yet indicated who will replace Gunn, a very daunting task as a lot of what made the previous two films so successful was Gunn's very offbeat approach including his personally curated Awesome Mix Vol.1 and 2, the retro music soundtracks that were intrinsic to both films.
More on this story as it develops.
Last Updated: July 21, 2018