WARNING: THIS POST CONTAINS SPOILERS FOR AVENGERS: INFINITY WAR AND POSSIBLE SPOILERS FOR THE UPCOMING AVENGERS 4!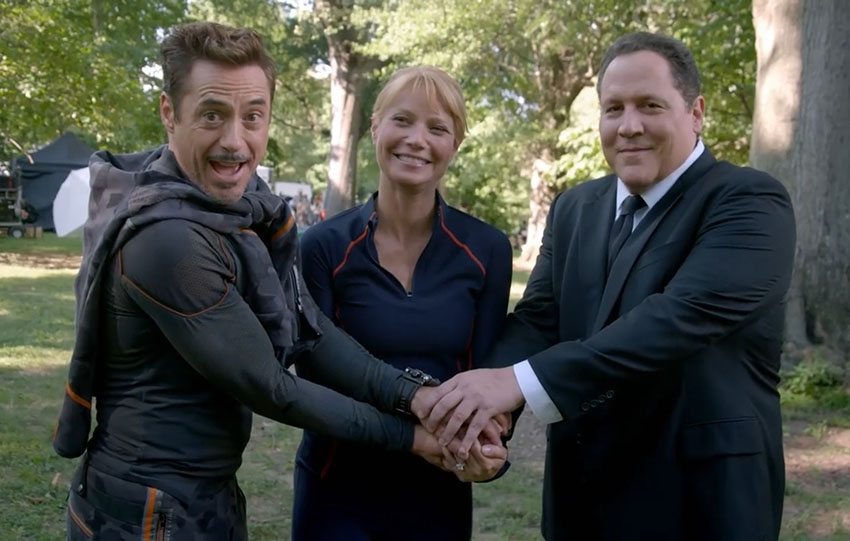 During production, both Avengers: Infinity War and the upcoming still-untitled Avengers 4 were shrouded in so much secrecy that I still have to say "still-untitled Avengers 4" despite Marvel's Phase 3-ending landmark movie now being less than a year away. Of course, it doesn't matter how airtight you make your production, somebody almost invariably slips up because people have lips and love to move them in public. This is why repeat offender tattletale Tom Holland got given a fake script for Infinity War (not that it did him much good) as the Spider-Man actor is infamous for letting out details in interviews. Well, whatever spoilerific affliction he has, has now apparently also jumped to Gwyneth Paltrow.
Speaking to the official Avengers: Infinity War Magazine of all places (via ComicBook.com), Paltrow discussed the lengthy relationship her character Pepper Potts has had with Robert Downey Jr.'s Tony Stark ever since they launched the Marvel Cinematic Universe together in 2008's Iron Man, and may just have slipped up on something that we didn't know yet.
Pepper and Tony have had a real long journey together," Paltrow states. "She obviously starts as his dutiful assistant, and then the relationship evolves, and now this decade later they're married, and they have a child. Their relationship has evolved in all of the ways that great romances evolve.
Wait, what? A child? In the opening scenes of Infinity War, Tony suspects that Pepper is pregnant, but it's played off more as a light gag, but Paltrow is seemingly confirming this now. So why is this important? Well, if they already have a child by the time Avengers 4 rolls around, it would imply that there's some kind of big time jump happening between the two movies. That would mean that there's no quick-fix turnaround and those that survived Thanos' erasure of half the universe with his Infinity Gauntlet finger-snap have had to live with this new reality in which their friends and family no longer exist. That adds some potentially serious dramatic weight to affairs.
We knew from some leaked Avengers 4 set pics that there appear to be some weird time-travel/alternate timeline shenanigans happening with scenes set during past events in the MCU. If that is how things get reset, could it be that whatever the heroes have to do to undo everything that happened may just result in Tony potentially having to sacrifice his new future family? That would be heartbreaking for a character we've seen mature as time goes on, but it's not like Marvel is above stomping our hearts to smithereens. I mean, have you heard what Groot's final words in Infinity War actually was?!
Last Updated: May 10, 2018