This article was sponsored. The editorial and content is entirely created in-house, unless otherwise specified.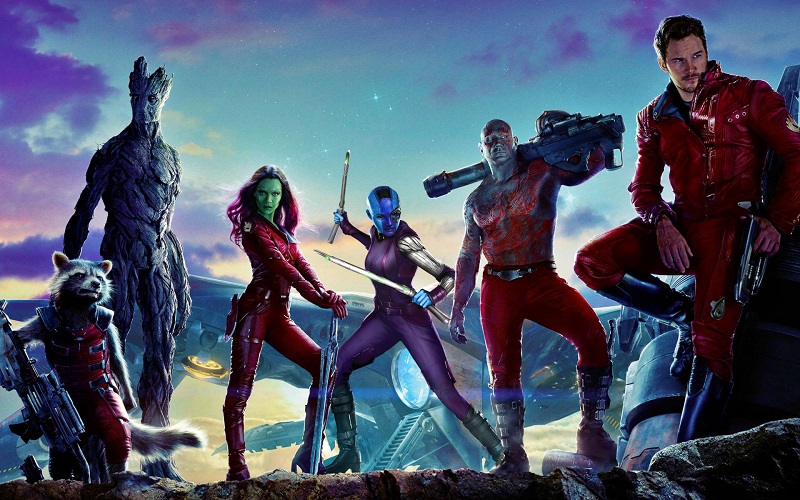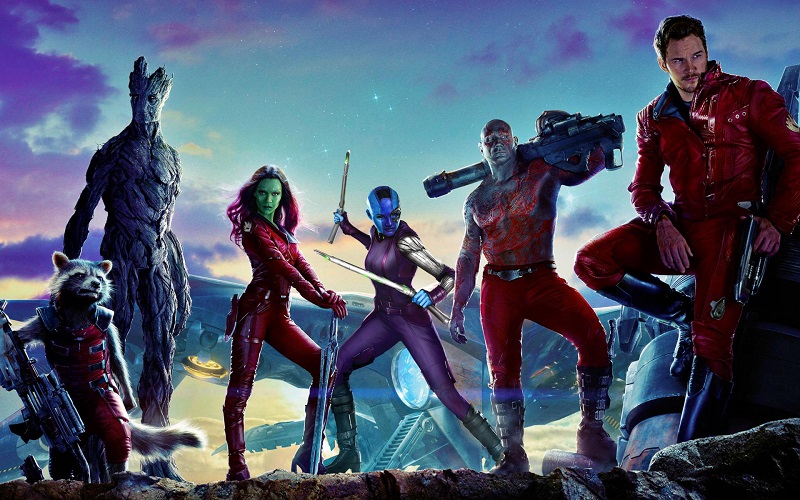 In a genre that increasingly gets accused of being awfully samey, Marvel's Guardians of the Galaxy certainly stood out from the crowd. Part of this might have to do with it probably being the only film in existence that is a space adventure featuring a talking raccoon with a penchant for automatic weapons and a living tree that can only communicate by telling you its name. A larger, and more profound part though, was played by the film's incredible foot-tapping soundtrack.
Actually, soundtrack is far too simple a description as writer/director James Gunn wove a selection of both classic and little known 1970s/1980s pop/rock/blues anthems into the very tapestry of the film. Awesome Mix Vol.1 actually existed as part of the narrative in the form of a mixtape created by hero Peter Quill's mom for him to listen to on his walkman before he was abducted by aliens 30 years ago on the night that she passed away. Besides for offering some truly amazing (now often mimicked) needle-drops for Gunn to stage the action around, it actually offered up an emotional hook to proceedings. It was also really weird, as Gunn would have pointed out to him.
The filmmaker revealed to Rolling Stone that while making the film, a few Marvel Studios employees noted that "Nobody is going to want to hear this music." One ooga-chaka amazing trailer later though thanks to Blue Suede's "Hooked On a Feeling" and suddenly everybody wanted to hear this music. Just as Guardians of the Galaxy was a record-breaking box office smash hit itself, so too "Awesome Mix Vol. 1" would go on hit the #1 spot on the US Billboard 200 chart, becoming the first soundtrack album in history consisting entirely of previously released songs to do so. It's been certified platinum having sold over 1 million copies in the US alone. Now "Awesome Mix Vol. 2" is here!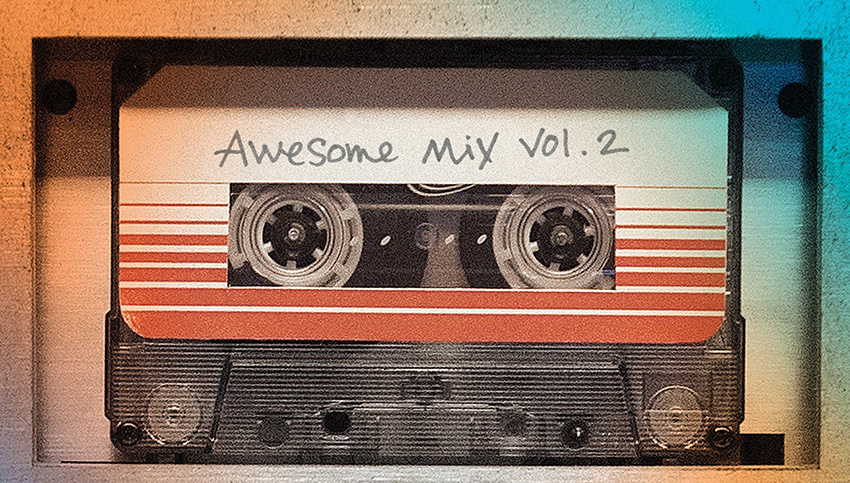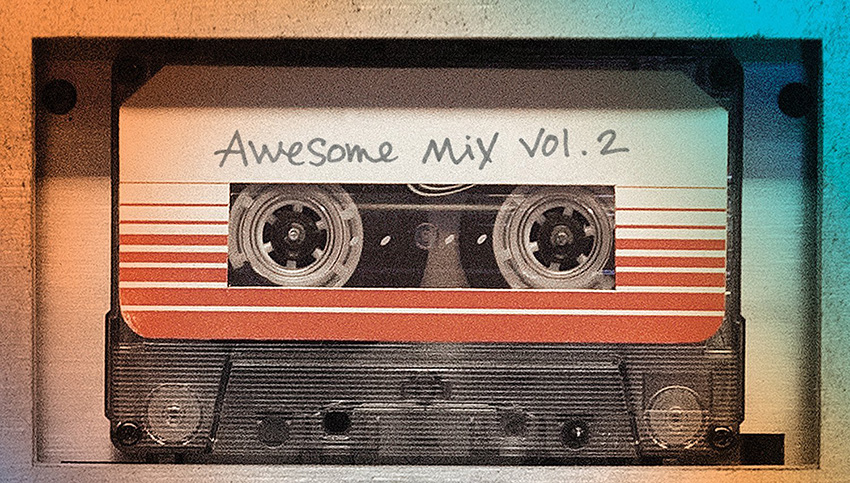 As shown at the end of the first film, Chris Pratt's Peter Quill discovers a second cassette mixtape left behind for him by his late mother, and now we finally know what's on it. Whereas the first film's soundtrack consisted mainly of "songs that people had heard but probably didn't know the name of", the bigger scope and budget of Guardians of the Galaxy Vol.2 meant that Gunn could now go after some much more famous tracks to fill out his audio vibes. Not too famous though as Gunn explains that "One of the most exciting things was knowing I would be making bands that may have been forgotten suddenly be a topic of conversation."
And converse we definitely will when it comes to this incredible setlist, which Gunn broke down track for track to explain the reason for its inclusion on "Awesome Mix Vol. 2".
1. "Mr. Blue Sky," Electric Light Orchestra
"I've always said that if the Guardians had a house band, it would be ELO," says Gunn, "and 'Mr. Blue Sky' is one of my favorite songs by them. We had a hard time getting the rights. We had to really fight to get the song, and I personally appealed to Jeff Lynne." Lynne had previously approved a song for the first Guardians that Gunn ended up cutting, which made the process harder this time. But in the end, Gunn says, "I think we made him an offer he couldn't refuse."
2. "Fox on the Run," Sweet

"Fox on the Run" is a trailer-only song that doesn't actually appear in the film, much like "Spirit in the Sky" from the first soundtrack LP.
3. "Lake Shore Drive," Aliotta Haynes Jeremiah

"'Lake Shore Drive' is a song that I grew up with," says Gunn. "It was a regional hit and only in, like, St. Louis and Chicago, so a lot of people don't know it, but it is truly one of the catchiest songs ever written, and I knew that there were a thousand places that I could've used it easily in Guardians because it's so easy to fit into the movie."
4. "The Chain," Fleetwood Mac
"There are two songs that are the most deeply embedded into the fibers of the film," says Gunn. "'The Chain' is one because it is about the Guardians, at least in the way we use it, and we use it a couple of times in the movie. And the other one is 'Brandy,' which is an incredibly important song in the movie. Both happen to be two of my favorite songs from the Seventies."
5. "Bring it On Home to Me," Sam Cooke
"It's just a really beautiful song," says Gunn. "In Quill's mind, it's about Quill and Gamora."
6. "Southern Nights," Glen Campbell
Campbell's groovy 1977 version of Allen Toussaint's song was a childhood favorite for Gunn: "It's a little bit of a different flavor for the movie."
7. "My Sweet Lord," George Harrison
"It was one of the first songs that I picked out to try to use in the movie and it has to do a little bit with the origin of Ego," says Gunn, referring to Peter Quill's alien father (full name: Ego, the Living Planet), played by Kurt Russell. "And there's this big creation myth about how he came about and it was kind of lined up with that. I've always been into Hindu creation myths and there's some similarities there."
8. "Brandy You're a Fine Girl," Looking Glass
Gunn has long adored this cheeseball 1972 smash ("It's always a song I've sort of sadly, tragically related to"), which plays a key emotional role in the new movie, appearing in the very first scene.
9. "Come a Little Bit Closer," Jay and the Americans
This 1964 hit, one of the oldest songs on the soundtrack, scores an action scene that Gunn previewed at Comic-Con where the heroes "enjoy a little bit of ultra-violence while it's playing and it's really fun."
10. "Wham Bam Shang-A-Lang," Silver
Ever since the first film, fans and friends have been proposing Seventies songs to Gunn for the new soundtrack – and almost always, he'd heard them before. But when someone sent him this sugary pop tune, it was entirely new to him, and he loved it. "It was so weird," says Gunn. "For a minute I wasn't sure if I was being tricked because I had never heard the song. I wasn't sure if was a modern band doing a retro version of a song or if it was actually an old song."
11. "Surrender," Cheap Trick
By including this 1978 Cheap Trick classic, Gunn repays a favor to the band, which let him use "If You Want My Love" in his 2011 indie film Super for nearly nothing.
12. "Father and Son," Yusuf / Cat Stevens
Gunn was inspired to use this thematically appropriate 1970 ballad after hearing Howard Stern attempt to perform it on acoustic guitar on his show.
13. "Flashlight," Parliament
It's hard not to picture Baby Groot dancing to this one. "You'll see," says Gunn. "But it's just one of my favorite funk songs."
14. "Guardians Inferno," The Sneepers featuring David Hasselhoff
This comedic original, co-written by Gunn and score composer Tyler Bates, is meant as a sort of Guardians take on Meco's disco Star Wars theme. Gunn is particularly proud of a line that rhymes "procyon lotor" – i.e., "racoon," as in Bradley Cooper's Rocket – with "motor." They recruited David Hasselhoff as vocalist largely because he's supposed to be one of Peter Quill's childhood heroes.
That is a massively eclectic mix of tunes. I mean, David Hasselhoff? This isn't even Germany! So where does Gunn find the ideas for all these musical nuggets? Simple: Peter Quill's quirky mom.
"She's a music lover, but she's completely not elitist. If it's something that's thought of as goofy and pop, she likes it. If it's cool or funk, she likes it. She just likes hooks and melodies. She's a very quirky, young girl who fell in love with, you know, as it ends up, an alien. And falling in love with an alien is right up there in Meredith Quill's alley. She's an oddball, like her son."
Guardians of the Galaxy Vol.2, which is already sounding like one of Marvel's best releases yet, will hit cinemas early next month – Friday, May 5. Awesome Mix Vol. 2 however actually releases tomorrow, Friday 21 April!
Last Updated: April 21, 2017