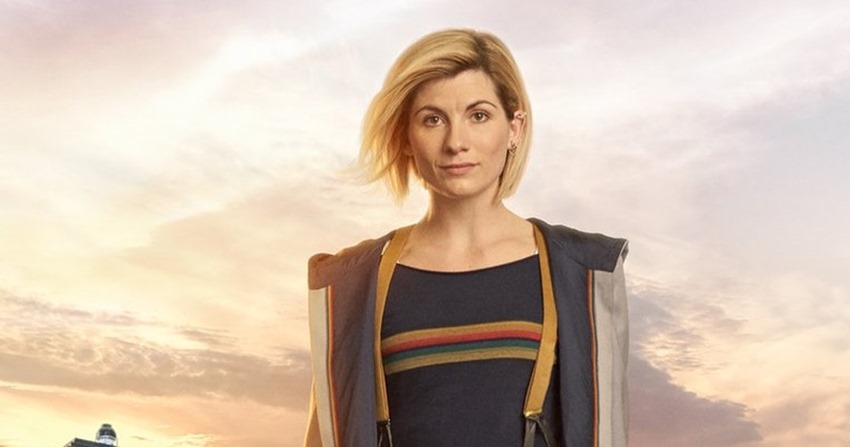 True story: You're not a Doctor until you've got your Doctor threads. Specifically an eclectic collection of clothing that captures the character of a certain galactic physician who wanders through all of time and space in a blue telephone box that happens to be larger on the inside, just like my face. Oooh, self-snap.
Anyway, each Doctor throughout the 50+ years of Doctor Who has sported clothing which ties into their character. Colin Baker's sixth Doctor weaponised fashion into a garish walking distraction, Peter Davidson's fifth Doctor went full Anglophile with his Victorian cricketer ensemble and Peter Capaldi's departing Doctor ditched his more mature threads from his first season for a simpler and more comfortable combination of hoodies and velvet blazers.
There's a new Doctor taking over from Capaldi this year however, and with that regeneration comes a wardrobe change. Here's your first look at Jodie Whitaker suited up and ready to explore every corner of the universe:
New series. New Doctor. New look! #DoctorWho pic.twitter.com/0zIew8QiuS

— Doctor Who Official (@bbcdoctorwho) November 9, 2017
I'll say this: The more I look at this outfit, the more I like it. It's uniquely Whovian in it's design, blending odd choices into a combination of garments that will no doubt have a certain visual flow when Whitaker's Doctor finds herself running away from an angry barrage of Dalek death-lasers. Like other Doctor outfits, it also harkens back to the past: The long coat is reminiscent of David Tennant's tenth Doctor, but it happens to be designed in a manner that also echoes the Cricker coat worn by Davidson's Doctor.
The suspenders are peak Matt Smith's eleventh Doctor, while the print on Whitaker's shirt is a cheeky nod to the legendary scarf worn by Tom Baker's fourth incarnation of the character. I'd even hazard a guess that the boots are another nod to Paul McGann's run as the character, shortly before he regenerated into the War Doctor.
That's not the only thing that's changing though! The TARDIS is also getting another slight exterior facelift, this time sporting a darker blue and booting the St. Johns Ambulance logo of Doctors 11 and 12. It's all great, and I can't wait to see Whitaker's take on the character in the latter half of 2018. What could be better than this sneak peek at Whitaker then? All the cool fan art that has popped up in the last few hours (via io9), that's what:
I mean like.. Obviously. #JodieWhittaker #DoctorWho #bbc #13thDoctor pic.twitter.com/trsVe1crNd

— Rob Jackson (@B10n1c_Ch1mp) November 9, 2017
LOVE the new Who look!
This is as far as I could get on my lunch break. Will finish when I get home. https://t.co/5h4OzfVOJ5#JodieWhittaker #DoctorWho #13thDoctor #fanart pic.twitter.com/5O7tWNvcON

— ⭐Thanksgiving Lee⭐️ (@LeeCherolis) November 9, 2017
I've never before been so compelled to draw fanart of an actress. I LOVE her. #DoctorWho pic.twitter.com/SnbM13VtKq

— ZestyDoesThings (@ZestyDoesThings) November 9, 2017
The 13th Doctor ☆ Really excited to see more of her! #DoctorWho pic.twitter.com/74W9I2EIfu

— Violet (@MrtViolet) November 9, 2017
Who is she. pic.twitter.com/sUqeyqrxhS

— Stephen Byrne (@StephenByrne86) November 9, 2017
The Wanderer in the fourth dimension. – Here's my full artpiece for The 13th Doctor herself, #JodieWhittaker. #DoctorWho #Artwork #Poster pic.twitter.com/jY1irzIEqG

— JOLLYv❄️rtex (@WhoviVortex) November 9, 2017
hey 🙂@DoctorWho_BBCA @bbcdoctorwho #DoctorWho #DoctorWho13 #JodieWhittaker pic.twitter.com/cshVkUbXOp

— FrancescoFrancavilla (@f_francavilla) November 9, 2017
13th Doctor #DoctorWho pic.twitter.com/VWnYjLGm4g

— โมกัด✂ (@Mogamoka2) November 9, 2017
I'm probably going to be sobbing like a Sontaran that was left behind while the rest of his squad got to go on a suicide mission, when this year's Christmas special says goodbye to Capaldi.
Last Updated: November 10, 2017