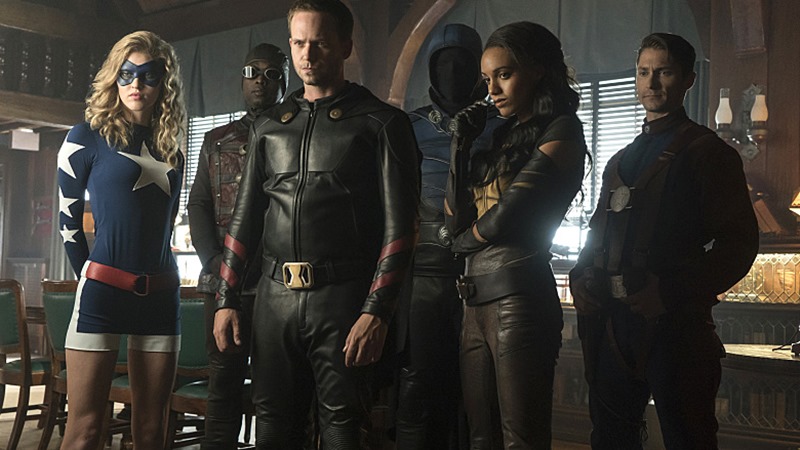 Look, I'm going to be honest with you guys: DC's Legends of Tomorrow was a mixed bag of good and bad. Sort of like a packet that contains Swiss milk chocolate drops and Turkish delights, Legends of Tomorrow was sometimes smooth and delicious, and at other times sticky and horrendous. Also I hate Turkish Delights, so come at me bro. (Warning, contains spoilers, obviously)
Anyway, when the series worked it was fantastic. It was DC's Guardians of the Galaxy, only starring a cast with a lot more firepower as they faced an immortal villain and the dreaded might of a limited special effects budget. Season the first ended on a high note however. Vandal Savage was finally stopped, the Time Masters were wiped from the history books and we got a surprise cameo from none other than a Justice Society of America member.
That's where season two of the new series kicks off, as the Legends meet the JSA who include Sarah Grey as Stargirl, Dan Payne as Obsidian (with a version voiced by Lance Henriksen, Matthew MacCaull as Commander Steel, Maisie Richardson-Sellers as Vixen, Kwesi Ameyaw as Dr Mid-Nite and Patrick J. Adams returning as Hourman.
Here's a bunch of new photos ahead of the second season premiere, and an official synopsis for the first episode via Collider:
TEAM WORK — The Legends travel to Nazi-occupied Paris, but find themselves surrounded by the Justice Society of America (AKA JSA.) The Legends discover a time aberration that threatens the JSA, but the JSA wants nothing to do with them or their help. Nevertheless, the Legends force their way into the JSA's mission to intercept and seize a mysterious package. Nate (Nick Zano) is desperate to prove that he should be part of the team, but he has a secret that he shares with his grandfather Commander Steel (Matthew MacCaull) that might make it difficult.

Ray (Brandon Routh) is so focused on impressing the JSA, he puts himself and Vixen (Maisie Richardson-Sellers) in danger. Meanwhile, Stein (Victor Garber) has stepped in as the leader with Rip (Arthur Darvill) gone, but when decisions aren't being made Sara (Caity Lotz) seems to be the one calling the shots.
If the JSA looks a bit cheesy, well they're meant to. They operated primarily during the peak of World War Two in the 1940s, and they've got fashion to match that…golden age. While season one of Legends of Tomorrow dealt with Vandal Savage as the primary threat throughout that season, season two will see a new mystery menace pop up as they patrol the timeline. Here's the official synopsis for what's to come:
After the defeat of the immortal villain Vandal Savage and the corrupt Time Masters who colluded with him, a new threat emerges. Dr. Nate Heywood (Nick Zano), an unconventional and charming historian, is thrust into the action upon making a shocking discovery – the Legends are scattered throughout time.
Nate must find a way to rescue season one's beloved team of heroes and rogues, including billionaire inventor Ray Palmer (Brandon Routh), who has created an exo-suit with the power to shrink him to miniscule size, as the Atom; Sara Lance (Caity Lotz), the White Canary, a trained assassin; Professor Martin Stein (Victor Garber) and Jefferson "Jax" Jackson (Franz Drameh), who together form the meta-human Firestorm; and Mick Rory (Dominic Purcell), aka Heat Wave, a career criminal.

When the Legends encounter the J.S.A (the Justice Society of America, the precursor to DC's Justice League) in the 1940s, Amaya Jiwe (Maisie Richardson-Sellers), aka Vixen, joins the team. While the team reunites, a mystery looms – the fate of former captain Rip Hunter (Arthur Darvill).
Once reunited, the Legends continue their new mission to protect the timeline from temporal aberrations – unusual changes to history that spawn potentially catastrophic consequences. When Nate, the grandson of J.S.A. member Commander Steel, unexpectedly finds himself with powers, he must overcome his own insecurities and find the hero within himself.

Ultimately, the Legends will clash with foes both past and present, to save the world from a mysterious new threat.
And hopefully we'll see Jonah Hex return. Finally, the iconic cowboy was done some justice on the small screen this year.
Last Updated: October 3, 2016