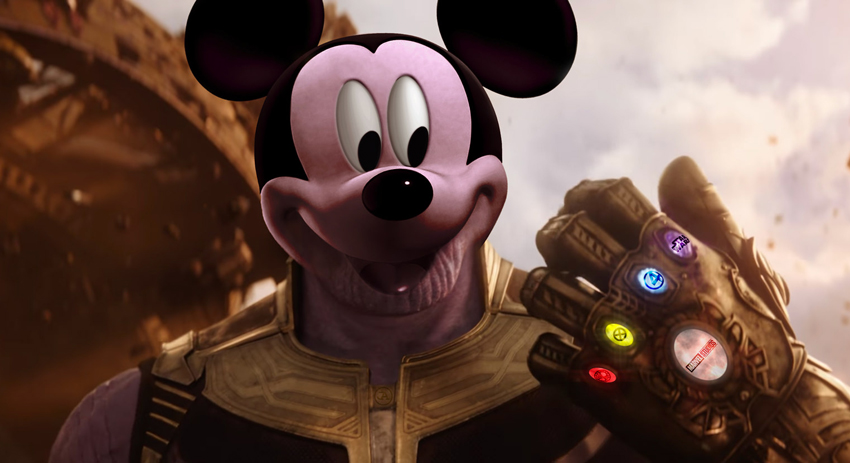 All hail our new rodent overlords! Yes, the House of Mouse has taken its biggest step so far in what is clearly a campaign for world domination as Disney's acquisition of Fox is now complete as of midnight 20 March 2019 (which is still in a couple of hours once the US catches up to us). This merger is nothing short of historic, as it's one of the biggest deals the industry has ever seen and will see Disney take control of all of Fox's movie and TV assets.
Disney first announced their intention to purchase Fox's assets back in December 2017. While Fox had from the start declared Disney to be their top pick for the deal, things were complicated when Comcast threw their potential buyer hat into the ring. A bidding war ensued, but Disney ended up on top, eventually agreeing to a deal that would see them pay Fox an eye-watering $71.3 billion (up from the original offer of $52 billion) along with stock options in Disney itself. For that ludicrous sum of money, Disney would get Twentieth Century Fox, Fox Searchlight Pictures, Fox 2000 Pictures, Fox Family and Fox Animation; Fox's television creative units, Twentieth Century Fox Television, FX Productions and Fox21; FX Networks; National Geographic Partners; Fox Networks Group International; Star India; and Fox's interests in Hulu, Tata Sky and Endemol Shine Group. Fox would meanwhile spin off their news and sports broadcast networks into the newly minted Fox Corporation.
If you want to read the really boring legalese giving the breakdowns of all the entities, you can go read Fox's official press release. Disney has released its own press release which at least sounds like it was written by a real human being. In the announcement, Walt Disney Company CEO Bob Iger stated that "This is an extraordinary and historic moment for us—one that will create significant long-term value for our company and our shareholders. Combining Disney's and 21st Century Fox's wealth of creative content and proven talent creates the preeminent global entertainment company, well positioned to lead in an incredibly dynamic and transformative era."
What this means for us is that the House of Mouse now owns some of the biggest movie and TV franchises in history, including Avatar, The Simpsons, Die Hard, Alien, X-Files, Family Guy and Home Alone. Of course, widely considered to be the crown jewels in the acquisition, is the fact that the Disney-owned Marvel will now finally get back the cinematic rights to the X-Men, Deadpool, and Fantastic Four which the comic publisher sold off to help stave off bankruptcy decades ago. For the first time since they've started making their own movies, Marvel will now finally be able to use all their characters in their own cinematic universe. Excelsior!
Unfortunately, this united MCU that fans have been dreaming of for years comes at a steep price, and I'm not just talking about all the zeroes on the cheque Disney has to sign over. According to a report from THR, this merger of the two conglomerates will see a potential 7 500 employees on both sides of the aisle lose their jobs. Ouch.
One other very interesting detail in all of this is that Disney will also take over Fox's 30% stake in Hulu giving it the majority ownership of the streaming service. What makes this intriguing is that Disney is about to launch Disney+, the studio's own streaming service, which means it technically just became its own competitor. To be fair though, with Disney+ being pegged for family-friendly fare, owning Hulu will give Disney a home for their more adult content. This will possibly include a resurrection of the now defunct Marvel/Netflix shows like Daredevil and The Punisher. So all hope is not lost, Iron Fist fans. All 13 of you!
On top of this, there's also the fact that Disney now also owns Fox's distribution rights for the Star Wars Original Trilogy. Maybe we will now finally get that re-release of the theatrical versions of the films instead of George Lucas' Special Editions, which fans have been crying for for ages now. After all, a re-release is sure to make a ton of money, and Disney has never shirked an opportunity for that.
So what do you guys think of the deal being complete? Of course, as a fan of Marvel's work – and also totally not a fan of what Fox has done with their characters – I couldn't be happier. However, the job losses and anti-trust concerns do sour things a bit. It's often joked about, but we are legit witnessing the start of the monstrous megacorps sci-fi writers used to just postulate about. This is Disney's world now, and we're just living in it.
Last Updated: March 20, 2019