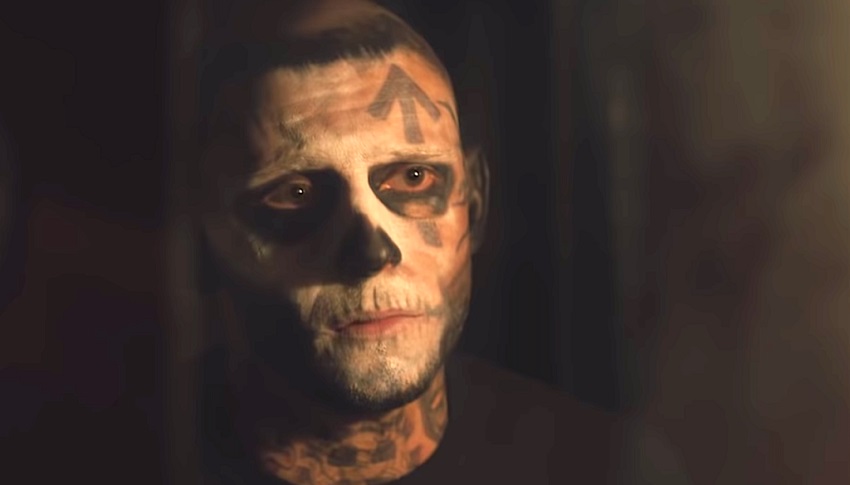 Skin is the upcoming biographical drama that's based on the life of former Neo-Nazi skinhead gang member Bryon Widner. It's written and directed by Israeli filmmaker Guy Nattiv, who won the Oscar for Best Live Action Short Film earlier this year for his short film also titled Skin, but which bears no relation to this tale.
Jamie Bell (Billy Elliot, Snowpiercer) stars as Widner, a violent white supremacist who co-founded the Indiana-based Vinlanders Social Club which at one time was one of the fastest-growing skinhead organisations in the US. However after getting married in 2005 and becoming the step-father to three girls, and the birth of his own son in 2006, he sought to reform his life in order to create a better life for his children and prevent them from carrying down his own dark path.
That change would not be painless though, as he was the target of death threats and harassment from his former group, and his reintegration into broader society was hampered by his extensive tattoos that symbolised white power and violence.
The plot synopsis is as follows:
Based on the 2012 [sic] MSNBC documentary, Bryon Widner was one of the FBI's most sought after white supremacists. Covered in racist tattoos from head to toe that he earned performing hate crimes, he conducts a destructive life and is headed down the path of no return. When he meets Julie and her three young daughters from previous relationships, the responsibilities of fatherhood give him the desire to leave the movement behind.

He endures death threats and harassment from his old gang while attempting to turn his life around. With the help of the FBI and SPLC, he undergoes 25 brutal tattoo removal surgeries in exchange for decoding the tattoos covering his body, which culminates in the arrest and conviction of his former gang.
Let's take a look:
When they say change is painful I don't think they meant it quite so literally. This looks incredibly intense, with a powerhouse performance from Jamie Bell in the lead of an excellent cast which includes Danielle Macdonald, Mike Colter, Bill Camp (at his smarmy manipulative best), Vera Farmiga, and Mary Stuart Masterson.
What do you think?
Skin is due for release via DirecTV Cinema on 27 June before opening in theatres in the US on 26 July.
Last Updated: April 23, 2019