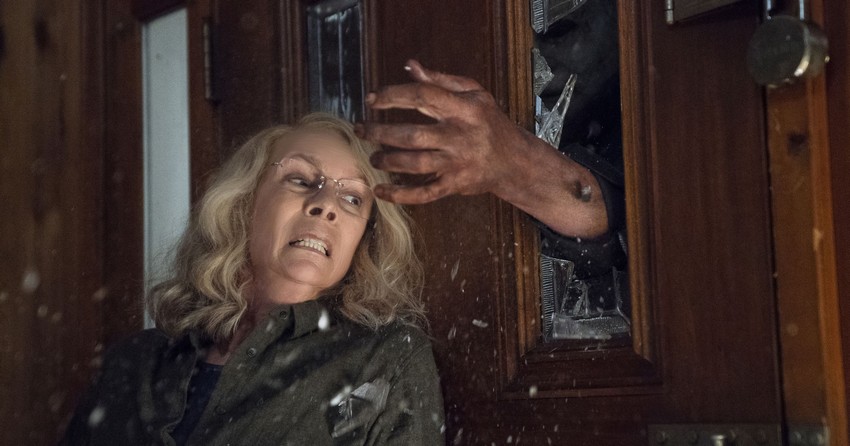 Michael Myers is back! But he may not be able to get up to his stabby ways as easy as he once did if this first trailer for the upcoming Halloween reboot/sequel/rebooquel is anything to go by! Jamie Lee Curtis returns to the role of heroine Laurie Strode and she has definitely learnt a thing or two about self-defence since we last saw her. Seeing as the last time we saw her, Laurie had come down with a serious case of death thanks to being stabbed and thrown off a roof, you may be a little confused right now.
Well, not as confused as you would be if you tried to understand the continuity of the slasher franchise which began with John Carpenter's original 1978 classic. Since that original film, we've had sequels, spinoffs, and reboots, who were all very selective in whether they actually recognized the existence of the previous films, so it should come as no surprise that director David Gordon Green and co-writer Danny McBride's upcoming revisionist take is actually a direct sequel to the original film which completely ignores everything else.
Speaking to ComingSoon.net, Green revealed though that while they wouldn't be acknowledging the events of these other films, they will be paying their respects to them.
Anyone who's a fan of any of these films will find nice little Easter Eggs acknowledging our salute to the filmmakers that have preceded us in the stories and mythologies as they've unfolded. For us, it was a clean slate type of opportunity, where if there was a little inspiration or mirror image of something it's very subtle in the movie because we want to start fresh for a new generation but with great appreciation for the previous.
In the first trailer for the new Halloween, it gets casually revealed that Michael Myers and Laurie Strode being siblings – a plot twist from Halloween II – wasn't true, which is one of the changes that McBride was really happy they could make with this new timeline.
I was pushing for that removal right off the bat. I just felt like that was an area where he wasn't quite as scary anymore, it seemed too personalized. I wasn't as afraid of Michael Myers anymore because I'm not his f***ing brother so he's not coming after me. Also you've seen it, so wouldn't it be interesting just to see what would happen if it wasn't that, and what does that open up for us if it wasn't this random killing that has affected this character, so it just seemed like new territory to bite off.
New territory that was plotted out with the help of an old hand as Carpenter himself met with Green and McBride to help work out the story and even composed the new film's music, just like he did the iconic original. And damn is it chilling in this new trailer. Check it out below!
Jamie Lee Curtis returns to her iconic role as Laurie Strode, who comes to her final confrontation with Michael Myers, the masked figure who has haunted her since she narrowly escaped his killing spree on Halloween night four decades ago.
Halloween also stars Judy Greer, Andi Matichak, Will Patton, Virginia Gardner, and Nick Castle and is scheduled for release on 19 October.
Last Updated: June 11, 2018