Look, most people are strapped for cash in January, so they're probably not adding much to their DVD collection. Even if they were in the mood to splurge, the selection out from-Ster Kinekor this month is largely underwhelming. In fact, it includes two of the worst-reviewed movies of 2017.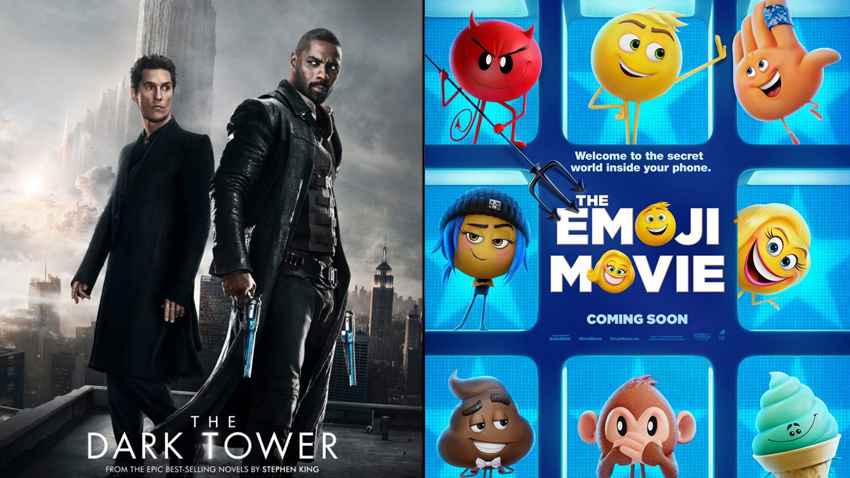 The Dark Tower
Genre: Action / Adventure / Fantasy
There are other worlds than these. Stephen King's The Dark Tower, the ambitious and expansive story from one of the world's most celebrated authors, makes its launch to the big screen. The last Gunslinger, Roland Deschain (Idris Elba), has been locked in an eternal battle with Walter O'Dim, also known as the Man in Black (Matthew McConaughey), determined to prevent him from toppling the Dark Tower, which holds the universe together. With the fate of the worlds at stake, good and evil will collide in the ultimate battle as only Roland can defend the Tower from the Man in Black.
The Dark Tower takes Stephen King's incredibly rich, complex lore and gives it the most trite, fantasy-movie-for-tweens treatment imaginable. Idris Elba is hands-down the best thing about the movie, and even he can't save it.
Critical Hit: 4.5/10 or 3.5/10
Rotten Tomatoes: 16%
Metacritic: 34
The Emoji Movie
Genre: Animation / Comedy
The Emoji Movie unlocks the never-before-seen secret world inside your smartphone. Hidden within the messaging app is Textopolis, a bustling city where all your favorite emojis live, hoping to be selected by the phone's user. In this world, each emoji has only one facial expression – except for Gene, an exuberant emoji who was born without a filter and is bursting with multiple expressions. Determined to become "normal" like the other emojis, Gene (voiced by T.J. Miller) enlists the help of his handy best friend Hi-5 and the notorious code breaker emoji Jailbreak. James Corden, Anna Faris, Jennifer Coolidge, Patrick Stewart, and Maya Rudolph also lend their voices to this film from Sony Pictures Animation.
Despite a critical panning, a closer look at The Emoji Movie reviews suggest the film is more meh than monstrously bad. Descriptors like "hollow," "derivative" and "unfunny" have been thrown about. As for the opinion of the Critical Hit crew, watch this space.
Rotten Tomatoes: 9%
Metacritic: 12
Fun Mom Dinner
Genre: Comedy
Four moms whose only common ground is their kids' preschool class, decide to get together for a harmless "fun mom dinner." The night begins as a disaster, but the combination of alcohol, karaoke, and a cute bartender, leads to an unforgettable night where these seemingly different women realize they have more in common than motherhood and men. With Toni Collette, Molly Shannon, Bridget Everett, Katie Aselton, Adam Scott, Adam Levine and Paul Rudd.
Joining the ranks of Girls Trip, Bad Moms and Bridesmaids is this R-rated "women gone wild" comedy. Despite its strong comedic cast, the film is let down by a script that is more safe and fluffy than raucously funny. Harmless but unoriginal.
Rotten Tomatoes: 35%
Metacritic: 46
First Kill
Genre: Action / Thriller
In order to reconnect with his son Danny (Ty Shelton), big shot Wall Street broker Will (Hayden Christensen) takes his family on a hunting trip to the cabin where he grew up. While out hunting with Danny, the trip takes a deadly turn when they stumble upon several robbers and witness the murder of one of the criminals. After becoming entangled in a bank heist gone bad that results in the kidnapping of Danny, Will is forced to help the kidnappers evade the police chief (Bruce Willis) and recover the stolen loot in exchange for his son's life.
He may be playing a dad now but those Midichlorians sure are keeping Hayden Christensen fresh-faced. Pity he's starring in an action-thriller more clunky than clever. At least First Kill is bland as opposed to full-blown bad.
Rotten Tomatoes: 15%
Metacritic: 39
Finders Keepers
Genre: Comedy / South African
A strip joint janitor and a club patron strike up an unlikely friendship as they evade gangsters and Russian mobsters, and try to secure the release of a kidnapped stripper, by trading her for a lucky fish they have stolen. Starring Dalin Oliver, Neels van Jaarsveld, Lise Slabber, Grant Swanby, Stuart Taylor, Irshaad Allie and Tyrel Meyer.
This South African answer to Snatch and Lock Stock… apparently chose guys in their late teens and early twenties as its target audience. The result? Rapidly escalating ridiculousness, lots of crudity, stripper butt and a distinct lack of sophistication.
A Mermaid's Tale
Genre: Family / Fantasy
A Mermaid's Tale is an enchanting modern fairy tale, the story of Ryan ((Caitlin Carmichael)), a 12-year-old girl forced to move with Matt (Jerry O'Connell), her father, to the dying fishing town where he was born, and to live with Art (Barry Bostwick), her crusty mean old grandfather. As she tries to fit in and make new friends she discovers a secret cove, home to a playful pod of dolphins and Coral (Sydney Scotia), a mysterious girl. As they become fast friends, Ryan learns that Coral is a mermaid and uncovers a secret that will help the girls both save the town in a touching, mythic story of friendship and redemption.
The trailer for A Mermaid's Tale looks terrible in terms of performance and production value. Judging by a handful of online reviews though, it's a cheerful adventure for young girls, completely devoid of cynicism, rivalries and other darker emotions. 100% family safe.
Holiday Joy
Genre: Family / Comedy
A dissatisfied teen (Bailee Madison) who recently lost her mother suddenly wakes up as a member of the idyllic family next door, but begins to miss her old life after watching her father and brothers living without her. Also with French Stewart.
Here's another little-seen, unreviewed movie for girls just entering their teens. Super-predictable and sanitised for family viewers, Holiday Joy is a life-switch tale that ultimately offers life lessons about appreciating what you have. You know the drill.
All We Had
Genre: Drama
For fifteen-year-old Ruthie Carmichael (Stefania Owen) and her young mother, Rita (Katie Holmes), life has never been stable. Fleeing Rita's latest boyfriend, they find themselves living out of their beat-up car, and heading east in search of a better life. When money runs out and their car breaks down, they become stranded in a small town where Rita ultimately lands a steady job waitressing at Tiny's, a local diner where they begin to develop a family: tender-hearted Marty, the owner of the diner, and Pam, a transgender waitress with big dreams who becomes Ruthie's closest friend.
One of the more highly rated films of the January DVD batch, this novel adaptation is also directed by star Katie Holmes. You'll be watching All We Had for its strong performances and credible examination of a mother-daughter bond. The plot sinks under cliched drama, though.
Rotten Tomatoes: 42%
Metacritic: 48
Edge of Winter
Genre: Drama / Survival
Recently divorced and laid off from his job, Elliot Baker (Joel Kinnaman) is desperate to spend more time bonding with his sons, Bradley (Tom Holland) and Caleb (Percy Hynes White). What starts as family day trip to teach his boys how to shoot turns into a nightmare when they become stranded. As they retreat to a desolate cabin, Elliot's mounting fear of losing custody pushes him to the edge. The brothers quickly realize that the man responsible for keeping them safe has now become their biggest threat.
From mothers and daughters we move to fathers and sons for this slow-burn drama-thriller. Edge of Winter is carried by its acting, but the degree to which you enjoy the movie really depends on whether you find the suspense mounting, or the whole project sinking into overwrought silliness.
Rotten Tomatoes: 48%
Metacritic: 50
100 Streets
Genre: Drama
100 STREETS, a powerful ensemble drama, follows three contrasting and interwoven stories as they play out in one square mile of modern day London. A former rugby player, Max (Idris Elba), struggles to find a life off the field while fighting to save his marriage to former actress Emily (Gemma Arterton). Kingsley (Franz Drameh of CW's LEGENDS OF TOMORROW) is a small time drug dealer desperately seeking a way off the street. While completing his community service for a misdemeanor, Kinsley meets Terence (Ken Stott), a local thespian, who gives him the push he needs out of his dead end life and into a very different, creative world. George (Charlie Creed-Miles), a cab driver, and his wife Kathy (Kierston Wareing) dream of having kids, but a devastating road accident puts their hopes on hold even testing their otherwise strong marriage. Anybody can make a wrong turn, but it's the journey that allows us to find the right path.
Once again this month, it's evidently a case of Idris Elba shining in a film that doesn't match his talents. British interlinking-lives drama 100 Streets has its moments, and impressive leads, but ultimately buckles under predictable melodrama.
Rotten Tomatoes: 42%
Metacritic: 44
S.W.A.T. Under Siege
Genre: Action / Crime
When a DEA and SWAT cartel takedown ends in a shootout, SWAT agent Travis Hall (Sam Jaeger) seizes a mysterious prisoner taking him into custody. Before long, the SWAT compound is under siege by wave after wave of assault teams attempting to recover the prisoner known only as 'The Scorpion' (Michael Jai White) for the tattoo blazed across his back. When Travis discovers that his prisoner is a Secret Ops double agent planted within the cartel, it's up to him and his expert SWAT team to keep 'The Scorpion' and his billion dollar secrets safe. Also with Adrianne Palicki.
S.W.A.T. Under Siege is there to scratch your C-grade action movie urges this month. This said, only Michael Jai White (remember him?) delivers in a movie that has disappointed even the hardcore skop, skiet and donder crowd.
Last Updated: January 18, 2018