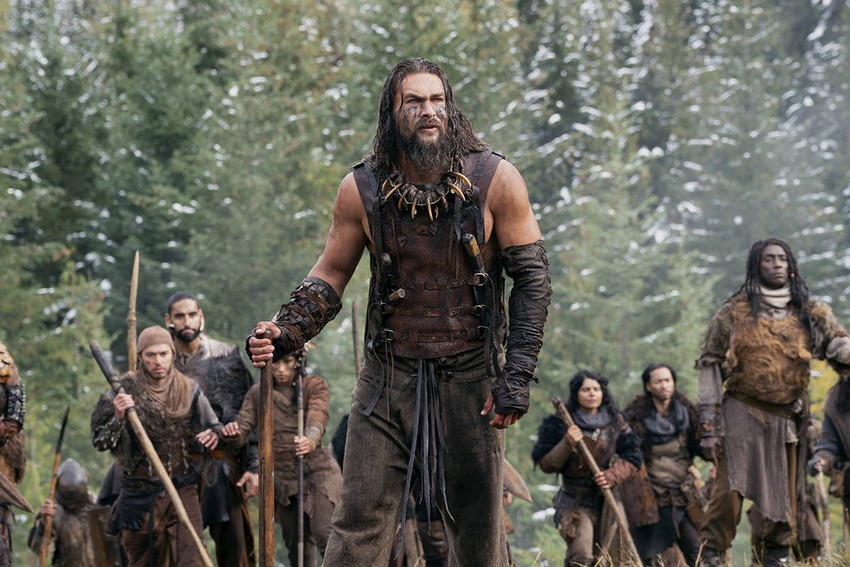 They say that in the land of the blind, the one-eyed man is king. Well, what if the person has two eyes… and they both work? That's essentially the premise for Apple TV+'s upcoming big-budget fantasy series See which is set in a dystopian future in which mankind has completely lost the ability of sight. Go-to (Aqua)man of action Jason Momoa is one of the blind warriors in this harsh world – with the so-silly-it's-badass name of Baba Voss – whose wife gives birth to two miraculous twins with fully functional peepers. Cue the manic religious screeching from other leaders like Queen Kane – played by Blade Runner standout 2049 Sylvia Hoeks – to kill the kids because clearly they must be the result of evil witchcraft and their birth means the end of the world. Y'know, again.
If that premise and lead cast aren't enough to entice you, Apple is clearly positioning See as their big Game of Thrones-sized contender in the increasingly crowded fantasy TV series crowd. And I'm not just referring to the obvious link with Momoa who shot to fame playing Khal Drogo in HBO's Emmy-winning epic. See is penned by Steven Knight, the creator of Peaky Blinders and writer of such great movies as Eastern Promises and Locke. And directing the affair (or at least the pilot) is Francis Lawrence, the filmmaker behind the Hunger Games franchise. Apple isn't playing around here and their efforts are looking pretty awesome based on the first trailer that dropped last night!
I've been a fan of Momoa's from before his Game of Thrones days when he was a wildman being hunted by the Wraith, so I'll watch pretty much everything he's in. It helps that this is looking phenomenal though. Not to mention, playing Baba Voss' wife is Hera Hilmar, the Icelandic actress who first caught my attention in Da Vinci's Demons and whose work I've thoroughly enjoyed. So yeah, I'm fully onboard for this. And now we know we don't even have to wait that long to see See (or pay much for it) as it will premiere with Apple's streaming service launch on 1 November.
Last Updated: September 11, 2019