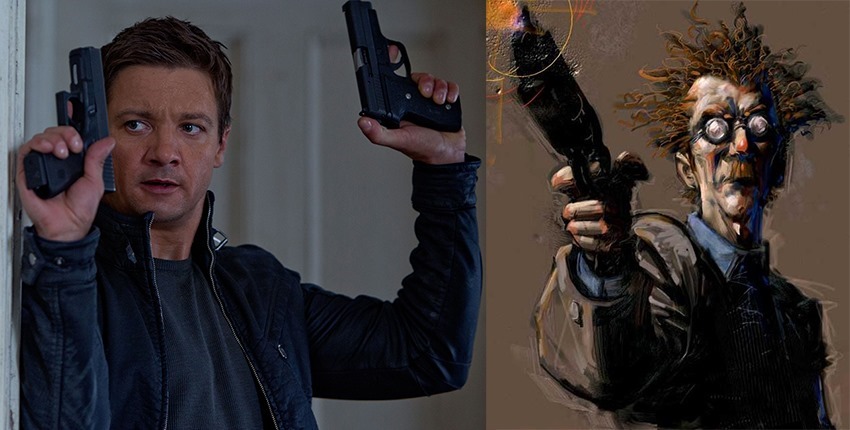 After a case of life imitating art and Todd McFarlane's planned Spawn feature film reboot being stuck in development hell for ages, things are finally moving along swiftly. The comic book creator penned his own script to direct himself and got acclaimed producer Jason Blum and his Blumhouse Productions on board last year. Recently they landed Oscar-winner Jamie Foxx to play the title role of Al Simmons, the ex-Special Forces soldier betrayed, killed and sent to Hell for his crimes where he cuts a deal with the devil to become a general in Hell's army for a chance to see his wife again. Plot twist: the Devil tricks him and sends him back to Earth years later as a monstrous being when his wife has already remarried.
Now the final piece of the Spawn reboot puzzle has clicked into place as Deadline reports that Jeremy Renner has been cast as the film's lead. Yes, you read that right: the lead. Renner will be playing Detective Maximilian "Twitch" Williams, one half of the iconic comic book duo of Sam and Twitch, the police partners who have been mainstays in the Spawn comics since the beginning as they investigate the supernatural goings-on around them. Max won't be featuring in this movie reboot though.
As for Renner's Twitch being classified as the lead when its actually the name of Foxx's antihero character plastered across the front of the comics as well as this movie, McFarlane revealed to ComicBook.com last year that with his plans to have this movie be more of a small scale horror as opposed to a superhero blockbuster and with Spawn being portrayed a silent monstrous entity, Twitch is who has to carry most of it.
There's two big roles in the script. There's obviously sort of Spawn himself, although in a weird way it's not the biggest role, and then there's the cop. The cop is this character Twitch who's been there since issue #1. Twitch is the role in this one, and I sort of refer to him as my sheriff Brody, who is the sheriff in the Jaws movie. Although it was called Jaws, Jaws didn't really talk a lot in his movie, right? He just kind of showed up at the opportune time to make the movie worthwhile.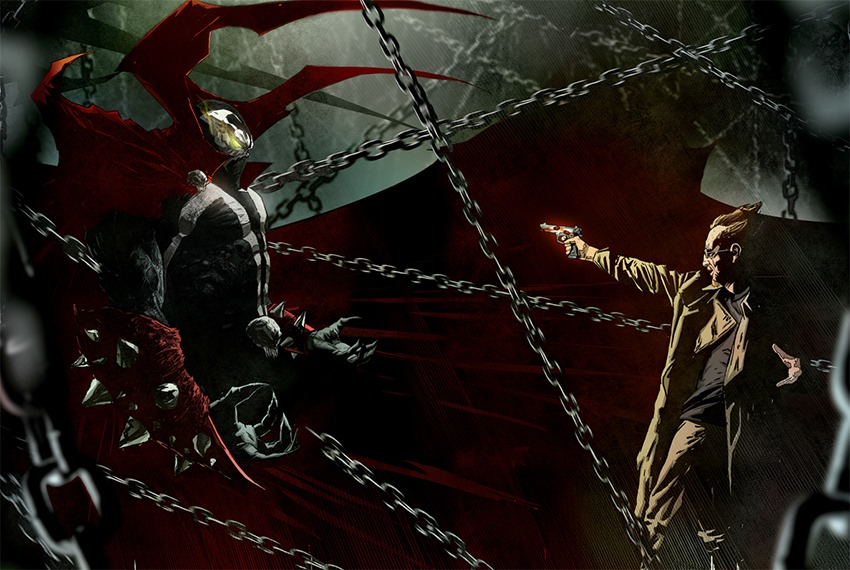 McFarlane also revealed to Deadline that Renner was his first pick to play the brainy Twitch, just like Foxx was for Spawn. With Renner as Twitch though, they needed somebody who could balance out the otherworldy intensity of the demonic Spawn.
We needed as strong a person as possible because he will be the face of the film. I took my naïve Hollywood approach again, and said let's start at the top and work down. Jeremy was at the top. I'm a huge fan of his. The character doesn't need to be a bodybuilder or GQ handsome. I was looking for somebody who's a person you've met before; I needed someone who can pull off the grief of an average human being. I've seen Jeremy do that in more than a few of his movies. He was at the top of my list, just like Jamie.
The comic book legend continued, explaining how despite Renner's massive popularity playing Hawkeye in the Marvel Cinematic Universe, it's his more grounded roles like that in Taylor Sheridan's brilliant Wind River that make him ideal to compliment Foxx.
Spawn is King Arthur and Twitch is Sir Lancelot, and this isn't about physicality, or jumping over buildings. This is more a brawn and brain combination, and the first film I think of with him is The Hurt Locker, the army grunt doing the job, and that spilled out into all these roles leading up to Wind River. There was a sense of melancholy to that character that is important and that was a movie also made by a first time director, but one who wrote the thing and so wasn't nervous about trying to get what you want. Jeremy had the experience of working with the first timer and saw that if you put a good crew together, the whole is way better than the parts and you don't have to worry.
Now that the film's lead is in place, McFarlane and Blum need to get somebody on-board to distribute the film which will boast a $10-12 million budget. That relatively meagre price tag will help to offset the fact that the film will probably be R-rated, and McFarlane is an untested filmmaker. He does recognise that "as a first time director, I guess I'm the weak link," but having the likes of Foxx and Renner's name up top should make things much easier.
Last Updated: July 11, 2018